Meet Zachary Slack | Owner of Sky Guys on Cedar Creek Lake – Real Estate Photography/Videography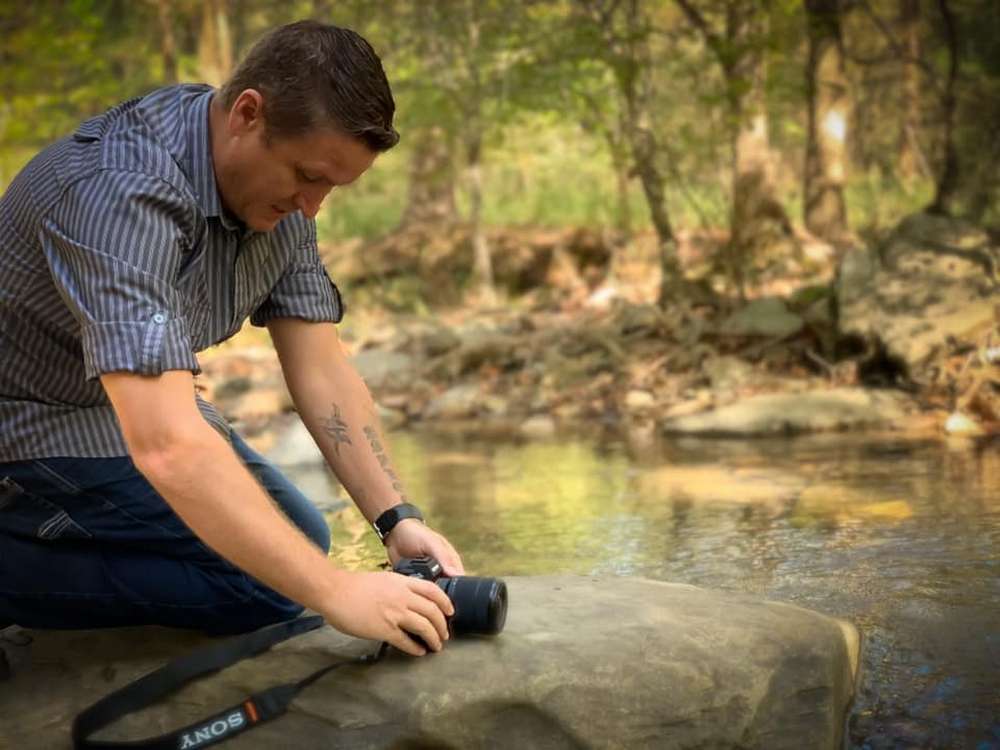 We had the good fortune of connecting with Zachary Slack and we've shared our conversation below.
Hi Zachary, how has your work-life balance changed over time?
In today's society family heads are being pulled in many directions. Add owning your own business to the equation and it can easily get out of control ,which can have a dramatic effect on how we perform each assignment we have relating to work and home life. That being said, with the growth we experience in our town, as well as our own family, we admit it is a true challenge at keeping what is most important in the forefront of our minds each day. But in doing so it has proved successful in many areas. We have gained several clients over the three years we have been in business, and also acquired a couple of new family members. Both of these changes are exciting, and both require attention and prioritizing. So we "buy out the time" and use that time as wisely as we can.
Are there any people, organizations, or books that contribute to your success?
Once upon a time I came home from my 9-5 job and told my wife, "I think I am going to open up an escape room with our friend." Sort of annoyed, she looked at me and said, "Pray about it first. Give it a month to see where you are directed and then you can say that again." I went back to my business partner at that time and his wife said the same thing. All four of us were guided by the power of prayer and the effect it can have on some of the biggest decisions we face in our work and home lives. That endeavor did run its course but another lay ahead. So with a good friend behind me, a supportive wife beside me and prayer in front of me is what I credit to the story of Sky Guys on Cedar Creek Lake.
Fast forward to today and the credit must go to our clients. These men and women lead personal and professional lives of their own – many similar to mine. That said, it has been a real pleasure getting to know them and having them understand my stand on the importance of a work/home balance and keeping Sunday open for what is most important to us. Our clients are the oil to the machine that makes up Sky Guys. But their understanding of the fact that I am also a father, husband and Christian man is what contributes to my contentment with the service that I render.
How did your story begin? Have you learned any life lessons along the way? What sets you apart from other businesses?
I have always had an interest in technology. It's fascinating how quickly it changes. I stepped into my profession by helping my son learn how to use his drone which was gifted to him by my mother (his grandmother). It was a pretty elaborate toy. I quickly saw the possibilities of what one could do with the technology within. My son allowed me to spend time tinkering with the idea of creating a business out of his "toy". The images a drone can capture is what inspired me to become a photographer.
I used (and continue to use) many platforms and tools to educate myself on not only how to use a drone but how to market a drone service. Going back to my comments about balance, it was not a walk in the park. Time played a big role in preparing for the test required to pass in order to become certified and responsibly (and legally) operate my equipment.My wife joined me in my endeavor to create Sky Guys. She has experience pushing and branding businesses on social media which helped us quickly introduce SkyGuysCCL.com to the realtor community. She has a balancing act of her own with a full-time job outside the home and working part-time cultivating our business either before, after or on her days off her own job.
One of the life lessons that we have learned along the way is that as a married couple who works together, it's extremely wise to recognize when to pause talking about work and when to put work away for the day. Cultivating our business is NOT more important than cultivating our marriage, our family and our spiritual lives. We think this is what sets us apart from bigger companies that offer the same services we do. We know the happiness living a simple life can bring.
Here's your chance to share your favorite places, people and things to do in your area. Pretend Do you have someone coming and visiting you for the week. Where would you go? What would you do? What would your week look like?
We regularly make time to enjoy one of life's real pleasures – good food and association with great friends. We frequently dine at our favorite restaurant in Gun Barrel City, El Portal De Jaripo (aka Fernando's). We are huge fans of their Margaritas and complimentary salsa.
After lunch we'd head to Big Daddy's flea market where you'll find a variety of pop-up shops and food truck-like 10×10 rented spaces that serve a variety of foods, crafts and goods. You will always run into a neighbor or local familiar face, so we seem to never greet a stranger.After unloading our Big Daddy finds we'd head to my wife's workplace at Beacon Hill to watch the sunset over a panoramic view of the lake. It is one of the most beautiful places on Cedar Creek Lake. Her Boss, Joe McGinley, has invited Sky Guys to use the scenery to explore and practice with new equipment. McGinley (and Beacon Hill) also plays a role in Sky Guys' beginning. If you are looking for a place to build your dream home, you won't be disappointed in taking a tour.
Over the course of the week we'd share our love of coffee at Doc's Daily Grind on Market Street in Mabank, massages by Jessica Smith at Magnolia Bodyworks and pick up a souvenir at Lakehouse Outfitters in the Log Cabin area closer to the south end of the lake.
It's hard to say one specific person or place that is more interesting than another, but at Cedar Creek Lake you will find a community full of warm people who, during the snow we experienced in February, will literally give you the shirt off their back. The Monitor Newspaper has many stories of neighbors and businesses who willingly offered up their own homes to strangers. So regardless of where you go or what you do, you will meet some of the most generous and hard working Cedar Creek Lake lifers in the community.
Website: SkyGuysCCL.com
Instagram: @SkyGuysCCL
Facebook: https://www.facebook.com/SkyGuysCedarCreekLake
Youtube: https://www.youtube.com/channel/UC1PXzSh_5DV8-l90e5nY3Og
Nominate Someone:
 ShoutoutDFW is built on recommendations and shoutouts from the community; it's how we uncover hidden gems, so if you or someone you know deserves recognition please let us know 
here.