Meet Seung Szczechowski | Permanent Makeup Artist & Trainer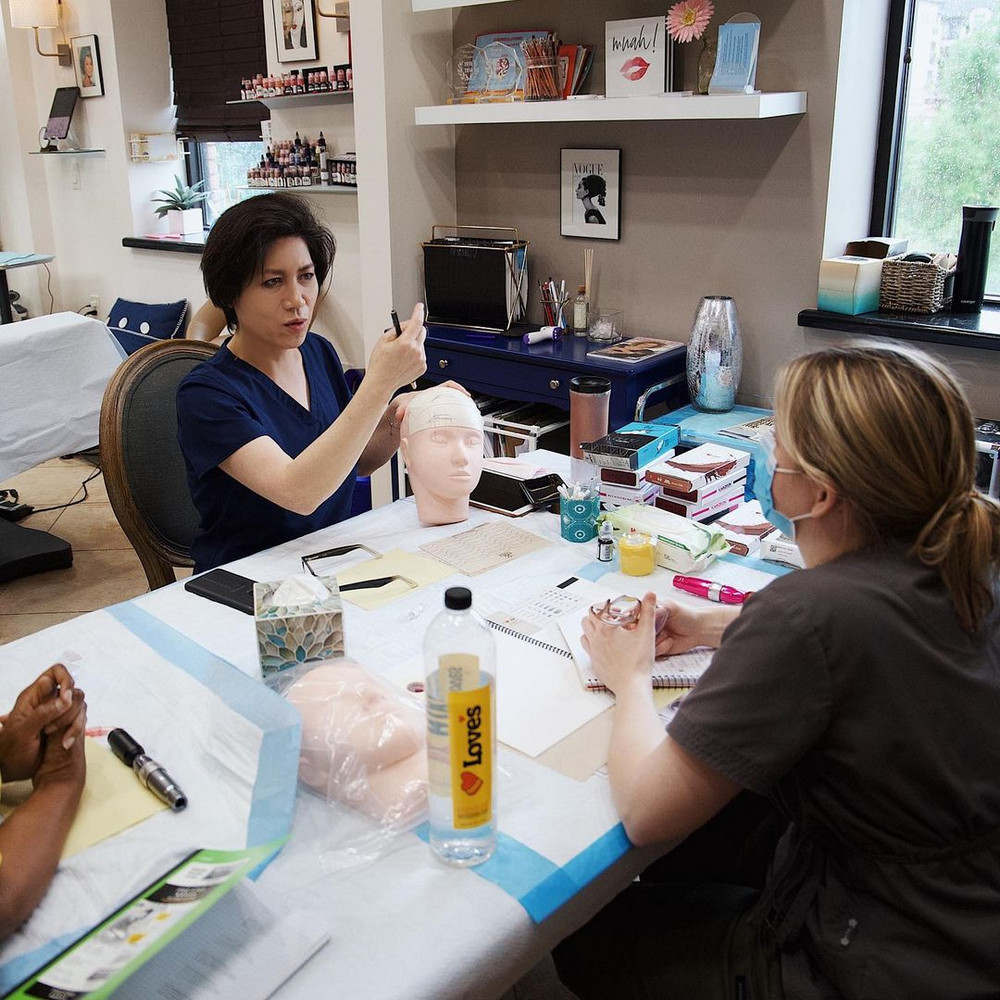 We had the good fortune of connecting with Seung Szczechowski and we've shared our conversation below.
Hi Seung, as a parent, what do you feel is the most meaningful thing you've done for them?
I have two daughters and a son, and as they were growing up, naturally, I wanted nothing more than to stay at home with them. However, it is also because of my immense love for my family that I started my own business, which has been one of the most important things I've done for both my children and for myself. Growing up, I knew I wanted to go to college to get a good education, but my parents weren't in a position, financially, to help me. Determined to make something of myself while still in Korea, I scrimped and saved, sometimes sleeping in libraries and waitressing at night. I earned my degree, and made myself a promise: if I had children someday, they would always have my full support when it came to their education, and I would do whatever I could to make their dreams come true. It is this promise that has sustained me and my small business over the years. Whenever times were tough – and at times, they were – I would remind myself of that promise, pray my heart out, and then work twice as hard. I would leave the house at eight in the morning, and return at ten in the evening. As my business grew, I forgot that lunch breaks existed. Or any breaks, for that matter. I would fall asleep at home, exhausted, after finishing more of the day's workload in bed, sometimes with additional study materials—always looking for ways to improve—tucked close to my chest.
Probably, I worked myself too hard. And I missed all the laughter, the squabbling, the tears, the talks, time spent at the park, all the joy and rewards and that come with being a full-time mom. But when it came time for my children to go to college, I was able to support them. And more than that, I was able to model an important lesson for them – that chasing after your dreams isn't impossible. Luck plays a role in obtaining success, but so does hard work, determination, and a little good, old-fashioned stubbornness. Now, my eldest daughter lives in New York City and runs her own social media company; my youngest daughter is headed off to the University of Cambridge after obtaining her bachelor's degree from New York University; and my son is studying music at the University of Texas. I am incredibly proud of them. Even so, I know that occasionally, my children will face obstacles, and I know their first reaction will be to worry and stress about it. Maybe they'll even want to run away. Instead, I hope that they look back on their childhood – at me, and everything I was willing to do for them – and extend to their own lives the same work ethic, perseverance, and faith in God's providence, that they saw in me.


Alright, so for those in our community who might not be familiar with your business, can you tell us more?
Before I opened Tashi Brow & Skin Studio in 2010, I spent over a decade in the health and beauty industry, learning to master as many different services as I could. I was particularly drawn to eyebrow design, and as I worked on clients, I noticed that many of them would tell me that they loved the way I designed their eyebrows, but they wished that they weren't temporary changes. That's when I became interested in permanent makeup. Half a science and half an art, I loved the transformative nature of PMU – the way changing the shape of a person's eyebrows could alter their entire look. At the time, permanent makeup wasn't nearly as popular as it is today, but I was determined to learn everything I could about this emerging new art form. In-between raising three children and working full-time, I studied five-hundred-page tomes about color theory and needle types, and saved precious dollars in order to attend training conferences.
The first few years were harder than I care to admit, but once clients began to trickle in, they started to refer their friends, who told their friends, and so on. And as my client base grew larger, I went from doing eyebrows only, to incorporating many other services, such as eyeliner, lip blush, and hair loss scalp micropigmentation, as well as tattooing the areolas of breast-cancer survivors and doing scar tissue work. Later, as permanent makeup grew in popularity, more PMU artists set up shop, and competition became fierce. However, what sets me apart from the crowd then and now is simply the time, research, and dedication I bring to the table. One of the most common services I offer at my studio is something called correction work, which is when I fix the eyebrows of a client who went to a different artist first, but didn't like their results. The most common instance of this is when clients come into my office with blue, green, or even yellow eyebrows. This is because some artists don't realize that it is not just the pigment you use that creates color; it's the undertone of the client's skin, how far the needle pierces, the client's age, etc. There are so many factors that go into creating the perfect eyebrow, and after fourteen years in the permanent makeup industry, I have it down to a science. That's why many of my clients are doctors and nurses – because medical professionals trust me to take care of them. Now, as I've started to focus more on training other permanent makeup artists, I hope to instill in my students the same dedication and pride that drives me forward, and allow them to experience the same joy of a job well done.


Any places to eat or things to do that you can share with our readers? If they have a friend visiting town, what are some spots they could take them to?
Oooh, what a fun – but tricky – question! I live in Frisco, about 25 miles north of Dallas, and my studio is nearby in Plano. So my itinerary might have to take you through a few different cities around DFW. On special occasions—like having a best friend visiting—I Iike to head to Legacy West in Plano. They have a wide array of restaurants, some nice shops, and a couple places to enjoy a good cup of coffee or dessert. Overall, it's a great place for window-shopping and people watching, or for taking a nice stroll down an elegant avenue. My daughter's favorite shop there is Amorino, which offers a colorful and luscious assortment of Italian gelatos to savor. Just on the other side of the Dallas Tollway is Shops at Legacy, which is also a fabulous place for strolling, dining, and sipping. I would also have to take my friend to the H-Mart area in Carrollton for our pick of mouth-watering Korean foods – the sights and smells of all the Korean restaurants, bakeries, shops, and cafes is tremendous. It's the perfect place to be on a weekend evening – or any time really!
For entertainment, maybe I'd take my friend to Stonebriar Centre Mall in Frisco and all the stores and boutiques that surround it. Whether she wants to pamper herself with Lush products, pick up a new book at the Barnes & Noble, or catch a movie at AMC, they have a wide array of stores and activities catering to all age groups. The Star in Frisco, home of the Dallas Stars headquarters and so much more, is another awesome Frisco spot, and Grandscape in The Colony is really something to behold. And before the end of the trip, I'd have to take my friend for a quick drive by the new PGA Frisco gold courses and the developing properties around it. Truly, there's just so much to see and do in Frisco alone, let alone the entire Dallas metroplex.
Finally, to wind down the trip, I would take my friend to one of my favorite spots in Dallas – King Spa. I could linger at this traditional Korean spa for days. Body scrubs are a necessity, as is lounging in the hot tubs, stretching out in the themed rooms, and trying one of the hard-boiled eggs cooked in the Bul Ga Ma (a sauna-like room).


The Shoutout series is all about recognizing that our success and where we are in life is at least somewhat thanks to the efforts, support, mentorship, love and encouragement of others. So is there someone that you want to dedicate your shoutout to?
If I could dedicate my shoutout to any one group, it would have to be my clients. My clients are such a sweet and supportive bunch, and are constantly inspiring me to innovate and grow. Every individual customer leaves a lasting impression with me, and I am so grateful to all of them – but I have to extend a specific thank you to my repeat customers. Truly, you are part of the family now.
Speaking of which…an equally loud shoutout to my actual family, including: my husband Jeff, my two daughters, my son, and, of course, Belle and Yoko, the family dogs. Jeff, I can't believe it's been over thirty years with you at my side. Thank you for always supporting me, encouraging me, and loving me. I couldn't have done it without you.
Website: https://www.tashibrowstudio.com/
Instagram: https://www.instagram.com/tashibrow/
Facebook: https://www.facebook.com/tashibrow/
Other: For Booking: www.tashiseung.genbook.com To see reviews: https://www.genbook.com/bookings/slot/reservation/30190398/reviews/#!
Image Credits
Natalie Szczechowski
Nominate Someone: ShoutoutDFW is built on recommendations and shoutouts from the community; it's how we uncover hidden gems, so if you or someone you know deserves recognition please let us know here.