Meet Blake B: CoCEO FeltGoodMusicLLC, Dallas Musical Artists/Rapper , Filmmaker/Music Video Director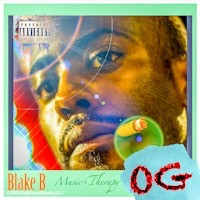 We had the good fortune of connecting with Blake B and we've shared our conversation below.
Hi Blake, we'd love to hear what makes you happy.
It took me about three years to find my happiness again. After I lost my son in the summer of 2018, you couldn't pay me to fake happiness! Depression is real, and depression in the black community is in my perspective ten times harder. I'm not complaining but being a man is hard. Between balancing kids, career and to some marriage. It makes this journey hard as it is. I think the only things that brought back my happiness were the birth of my daughter Brielle , my day 1s never leaving me and therapy, having ,y daughter is obvious and my day 1s are my family. They were there even in my struggles. I didn't do regular therapy, I did my own that only can work for me. I called it Music Therapy!

Can you open up a bit about your work and career? We're big fans and we'd love for our community to learn more about your work.
I started out as a Christian hiphop DJ lol. It's crazy because I hate gospel music. Not all of it but a majority. Not because of its message but because the feeling of vibes. At the moment I realize I don't have a like Music our things everyone else like. At the time I like a lot of music. Fast forward a couple years branched out the secular music and boom! I'm here. Personally I only got here by my networking skills, dedication and trusting in me. No one's gonna believe in you like you believe you that's a fact. The only way I could get my wife and my kids believe was by whatever I put on the table. Good months bad months but I took risk. Trust in God that word risk looks little. "Was it easy? Fuck no!" Don't let anyone that's not even in the profession or mental tell you it was easy for someone else. Mfs or let me rephrase , my people are crabs in a barrel. Support someone's else mental by positively manifesting greatness instead of reminding them the hard trails ahead. I learned to stop listening to mfs and take risk. Can't be afraid of the outcome. Either embrace and learn or quit half way through. I want the world to know Blake B battled depression alone and gave up! I want them to also know that if God needs to talk to you, he will one way or another. I learned to evaluate everything and to stop classifying what I believe God was trying to show me to learning "oh ima show you regardless "what you need to learn. I learn to question more and that finding out the truth hurts more than continuing to accept curiosity. I been giving away Similac and baby care packages four about two and half years now to newborn parents. Not for a publicity stunt but this was the only thing helping me keep my sanity. Seeing newborn parents light up from the free gifts helps me remember my lost happiness before my son. If I couldn't see or have that moment again (Jrs moment) then I knew sleepless nights and weeks were coming. Yeah it's cool that I give out on the baby milk , and hell can't lie feels good being called the "Similac Kang" in the hood ( Bishop Arts / North Oak Cliff). Feels ten times better knowing I built a core fan base off my music and persona, but I'll forever be empty. The good Samaritan feeling is great at the moment but it ain't 24 hours
Any places to eat or things to do that you can share with our readers? If they have a friend visiting town, what are some spots they could take them to?
Well originally I'm from Cedar Hill Texas and honestly I probably was in my favorite spot in Dallas to live would be Bishop Arts District. I live downtown life and it's cool and I even live the family, same motive. But to me Bishop arts is the perfect location for visitors. One is its in the middle of everything so traveling outside the city won't be hard. Second, it's a perfect place to catch the sunrise/sunset over Dallas. Remember I'm into photography and videos so scenery is something I love to see. Also , we're in the south, bbq is coo but street tacos in Dallas …… That's life. Texmex is the shit in Dallas lol. Bishop Arts holds a lot memory for me. From new doors opening to random mfs breaking in my video studio, there's a story for everything. PSA visitors will be taken to Jerry's World and Mavs game regardless if they like Dallas teams or not lol.

The Shoutout series is all about recognizing that our success and where we are in life is at least somewhat thanks to the efforts, support, mentorship, love and encouragement of others. So is there someone that you want to dedicate your shoutout to?
Honestly there's only a few and I can name them. This isn't over looking people that may have played smaller roles or may have help the brand for some time. These people strictly help mold Blake B and my brand, but not only finically, but by actually believing in me and did whatever it took to get me here. And to them they'll forever have place in my heart and in my family. In no chronological order listed below. Daddy OG – life began and started with him. OG was with my in my Christian hip-hop days LOL (yes pothead Blake B use to be a Christian). I grew up five brothers two sisters and OG fits right in as family. My kids consider him uncle as his do with me. Without him my love and drive for this woulda stop 2018 along with Jrs heart. My brother was truly the only one to help my return. In 2018 and this is scene with two projects "Nightmares & Nightmares" & "Jrs Endo". Nightmares and Nightmares was a project detailing the start of my depression. I couldn't sleep and I couldn't be productive at work. OG stayed with me as I lost everything. Jrs Endo was special and his hands were the only ones I could trust. That project was never finish do to Jrs passing. OG had to watch my fall, and it killed him internally. Juniors passing hit everyone hard including OG, father of three beautiful girls. Junior was like a son to him as well. OG was the only one that had to stay positive the entire time. Usually that's my role majority of the time but at that moment I couldn't. He's positive energy open my confidence back up and more importantly the masterpiece created (unreleased) "Monsters". He help me listen to go again G.White (HOE) – You have to annunciate his name like "a pimp named slick back" from the boondocks. This is the little bro with all the knowledge lol. It's funny how we met, we were both employed for a parking company downtown. He was five years younger than me and told me he made music. Side note and for my defense I typically didn't listen to Dallas music. Everything and everyone was on a trap wave or a Drake wave. So it was safe to say I was stereotypical. But I always respectfully give anyone a shot if they pitch there sale to me (he check out my album) only if in return they would listen to mine. He had a project called "Mixtape in a week". When I listen to music I look for three things. One, a album I should be able to play all the way through no skips, two, sound a likes, I hate em with a passion (I'll just go listen to there music) and lastly my favorite, liquid gold feel. You know the feeling when you know a song will be your favorite or classic. Entire project beautiful however this one song I say till this day his top ten work (and he got about 400 songs smh), titled "Fire". Not the one with the video but the original. Bro I fell in love with that track so much and the fact that he was younger✊🏽. What's so crazy was ,and people don't know this, but G.WhiteI was the first artist to help me transition from Christian hip-hop the secular music with our biggest Collab project to date "Bars". You can find on datpiff. Key thing about G.White, he's very patient and collective on wording that I run to him first to check my perspective (and call me out right/or wrong ) on many situations before handling in my response. He checked me as well weekly and strengthen my confidence. Q – Q is what me and my day 1s call, clutch! Q was actually the one who employ me at the park and Company downtown. At that time I just came off my first divorce, had to move back to Texas with my moms and literally starting all the way over. You can ask him today what made him hire me. A little background Q he's the boss boss of operations for my brand. A high degree out of OSU in Business and property management. From the outside reading in, Q was the well groomed, well mannered highly educated of the two and I was basically a black college drop out tryna be a rapper. Even told him in my interview lol. He hired me instantly off the vibe and connection. Q just loves seeing his people win or winning positions. And I learned everything that I know about business networking and management through Q. Help me get promoted from regular hourly maintenance man to being one of the youngest managers to manage parking for the Dallas Convention Center. With the free background training, I was able to use that to launch our first brand/label V-Neck House Music Group back in March 2015. He doesn't know it but I learned everything from him. Even how to follow leads and guarantee the goal. And I can't count on my hand the countless times he has rescued me and my family not work related. He show me how to maintain confidence. When jr passed him and his wife allowed us to stay with them to avoid the days tragedy. Q wouldn't let me drink myself to death alone. Every time I need a shot or drugs, he would be right there with me. That gesture alone made me slow down not for myself but for a friend who was willing to go the hard route like me. He will always be my brother but a man I'll look up to. Facts! Major shoutouts to the Gemini women in my life. They understand me on the same level. Angel ( A. LaBelle ) would always pick up or pull up or even make me sit down and talk. She knows my energy and this brought me closer to her family. She was already someone I considered best friend/sister but this go around , that's blood! London being the evil Gemini side of me lol, If Angel is the soft spoken first ( but will cuss yo ass out quick) caring Gemini them London would be the opposite. No beating around the bush dialogue first, caring on the back in, with a Gemini mind and determination. Sounds kind of mean right, but if you're a Gemini, then you know that exactly what you need in life. We keep each other driven and motivated not to fail. London filled in the empty spots that I needed random help on and didn't care what type of work came with it. She just wanted to really help and care for a friend ( none verbal type). London was a single mom grinding and hustling for Z. She knew about Jr and she knew how I felt about kids. Now her son is my nephew and she knows my love for Z , I treat him like my own. Me and London I forever have her back. The final Gemini is a hidden token I rarely show. A perfect blend between Angel and London. Gemini if you forgotten. Angel unmasked my confidence when I wanted to hide it. London help me flex my confidence when I was to busy being humbled. The last Gemini , is what I call the professor of confidence. She showed me how to walk with confidence and the word value. My besties wouldn't trade them for shit! Lastly my daughter Brielle – my baby to me is perfect! She always smiles! Even though this is my second baby it was still my first. I was left alone with Brie every day while my oldest daughter by marriage went to school and my wife to work. Besides learning How to take care of a newborn plus trying to continue work and mental breakdowns, I got discouraged plenty of times. I'm a grown ass man but I'm a say it, it made me cry a lot. But not in front of Brie Brie. Her love for me and positive vibes/aura made it hard to cry in front of her. Her smile would eventually remind me why I am working and doing what I do. I got to take care of daddy's baby!
Website: www.blakebmusic.com
Instagram: https://www.instagram.com/mixtapeblakeimn/
Linkedin: http://linkedin.com/in/blake-burkhalter-627045141
Twitter: https://twitter.com/search?q=%23blakeb
Facebook: https://m.facebook.com/therealBlakeB
Youtube: https://www.youtube.com/redirect?event=video_description&redir_token=QUFFLUhqbkItVi1tSWxpb2V3eHdKSk1zRXlxMEYzNVV5d3xBQ3Jtc0trRXN5VFpSR29zb2lXTngxcnRRcDBwSDdDLU5wdDFxUFR0clA2NldDWW5ldnc5dk80TkpvM2dpOUtpVHN0WE9lMlltU3J3SnBfZkU3dDc4RDhldUxnbzFQck1kY3kzMktqQzl4Y0lWTDRnU09HRy1TWQ&q=http%3A%2F%2Fvevo.ly%2FUVnZ9M
Other: Solo.to/blakeb FeltGoodMusicLLC.com DaddyOG.com
Image Credits
Photographer Blake B (@mixtapeblakeimn) Photo Edits Blake B (@filmsblakeb) Powered by FeltGoodMusicLLC (@feltgoodmusicllc)
Nominate Someone:
 ShoutoutDFW is built on recommendations and shoutouts from the community; it's how we uncover hidden gems, so if you or someone you know deserves recognition please let us know 
here.