Meet Mychal Mitchell: Book Binder & Owner of Iona Handcrafted Books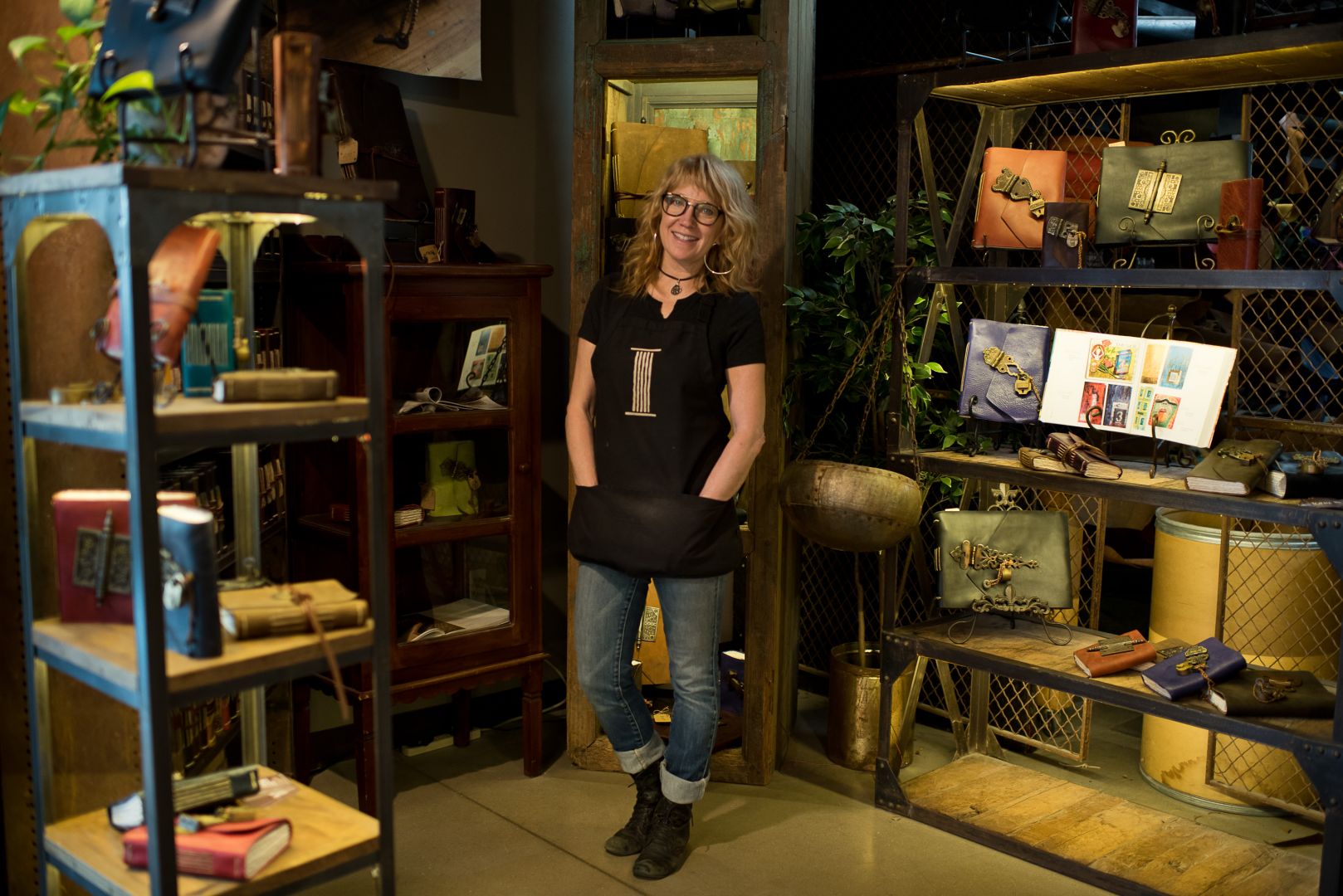 We had the good fortune of connecting with Mychal Mitchell and we've shared our conversation below.
Hi Mychal, how has your work-life balance changed over time?
Interesting time to talk about work/life balance. Covid19 has changed so much in our daily lives. Everything is turned a little bit upside down. Since our store has been closed for the last 4 months, I have been working more from home on long overdue computer stuff…mailing lists, website, social media, etc. Definitely not my forte, but quarantine gave me the space and time to dive into it, and to learn. Working from home can be tricky, because you can get sucked into always working, or feeling guilty if you're not working. (I'm always kinda working in my head, unfortunately. Trying to get better about that.) For the first 6 years of my business I was working around 80 hours a week. It was pretty much the only thing I did other than eat and sleep. Then I pulled back when I moved to Austin, and allowed myself to take weekends off, and have a social life. Then slowly over the last 16 years I have been allowing myself to travel for pleasure more and more. That is what i really live for! I work crazy late hours most nights of the week, but then sleep late (which gives me immense pleasure!). It helps to have a reliable team that can work my store's retail hours, since I have always somewhat resisted a strict schedule for myself. I work hard/play hard…or maybe I work hard/relax well. (That's more like it.)
Can you open up a bit about your work and career? We're big fans and we'd love for our community to learn more about your work.
Iona Handcrafted Books is a small bookbinding studio in East Austin. We specialize in heirloom-quality handcrafted leather journals and photo albums. I actually learned the craft in Venice back in 1993 after graduating from Architecture and Design school at Arizona State. I'd had my journal stolen just days before, and was there hunting for a new journal, and met my teacher in a little shop there….a fantastic twist of fate. The style of binding we do originated centuries ago with monks who needed more durable books in which to copy scriptures. They're super sturdy, and made to be used, and abused. I've been writing about my time in lock-down a lot…imagine how much future generations could learn about us if we were all keeping journals right now!
We strive to be as environmentally conscious as possible. Our archival papers are either handmade custom for us from recycled fabrics, or are made from eco-friendly bamboo fibers. Our leathers are mostly surplus leathers from other industries, such as the cowboy boot, handbag, or belt industries. What really sets us apart from other leather journal makers, though, is the unique style of our antique hardware books. About ten years ago I began to use architectural elements in my books for function, as well as for decoration. Over the years I've refined the look, and mostly focus on Victorian-era door hinges and icebox hinges as closure mechanisms. This line of books ties together my love for bookbinding and my love of historic architecture. I think these really speak to people.
It's been a slow gradual growth for Iona over the years. I've never had more than 3 people working for Iona at any given time, and that keeps it a hands-on thing for me. If you grow too big, you never get to touch your own art…your stuck on the computer and the phone most days. So we're still able to hand write each note that goes with our shipments, and I think people appreciate that. We've gone through tough times, like the 2008 financial crisis, and boom times like when we were featured on Texas Country Reporter in 2015 (that was unexpected, overnight, fabulous mayhem!). Covid times have definitely been the most challenging I've experienced in 26 years of business. Luckily, we have a really dedicated following that are keeping us busy with online sales, for which we are so incredibly grateful. A lot of our customers have become dear friends, and have reached out to us to offer encouragement over the last few months. We feel loved and appreciated, and that's what keeps us going! I feel really blessed to love my job so much.
Any places to eat or things to do that you can share with our readers? If they have a friend visiting town, what are some spots they could take them to?
Oh yes!! In no particular order:
#1: Springdale General…a gorgeous complex full of creatives. I'd have to show off my new retail space there, get sushi at Uroko, espresso at Cafe Medici, french pastries at Julie Myrtille Bakery, a drink at The Front Page, and there's also the uber-hip Barbashop if folks need their "quarantine hair" spiffed up! I love the community there. Such a good vibe!
#2: Justine's Brasserie…cocktails, pommes frites, good tunes on the turntable, and atmosphere second-to-none! My boyfriend and I spend a lot of time at their indoor bar. People watching is fantastic here!
#3: Enchanted Rock…my favorite place to spend my birthday every year. Nothing better than scrambling around on the rocks out there. Pure magic.
#4: The Veloway…My favorite form of exercise is rollerskating out on the 3.1 mile loop through gorgeous flora and fauna. It is reserved just for cyclists and skaters. No dodging strollers and dog walkers! I know everyone else loves Barton Springs, but this really is my favorite place in Austin.
#5: Salty Sow… My guy, Shiben, and I eat here all the time!! This is our favorite meal in all of Austin: Brussels sprouts & mashed potatoes (mixed together preferably), the blackened redfish, and a Salty Sour! Trust me!
Who else deserves some credit and recognition?
My amazing team…Celeste, Mary, & Hillary ..without whom I'd not be sane! Thank you ladies for going above and beyond, over and over!
AND my family were my first clients, and my biggest cheerleaders from the get-go. Even though my parents and my precious grandmother put me through 6 years of design school, no one ever said "What?! You're not using that expensive degree to make a living?!" They always encouraged me to find my own path, and talked me up to all of their friends and coworkers. My sweet sister and mom are always seem to be the first ones to share my posts and promotions on social media. And my incredible boyfriend, who supported me through the 3 month lock-down this Spring….proof reading my emails, listening to all of my worries and fears for my business, giving great advice, and even better hugs! We survived, and are stronger for the struggle! I feel really supported, and loved. Thanks Mom, Dad, Shan, Mimi, & Shiben… I love y'all!
Website: www.ionahandcraftedbooks.com
Instagram: https://www.instagram.com/iona_handcrafted_books/
Facebook: https://www.facebook.com/IonaHandcraftedBooks
Youtube: https://www.youtube.com/watch?time_continue=35&v=rx3YfCg8Uno&feature=emb_title
Image Credits
Carli Rene, InkedFingers…. First 3 of process and of me ( and also photo of me in front of book shelves Applebox Imaging…. Staged Books, and books on mantel