Meet Joylynn M. Ross: Literary Consultant & Publishing Coach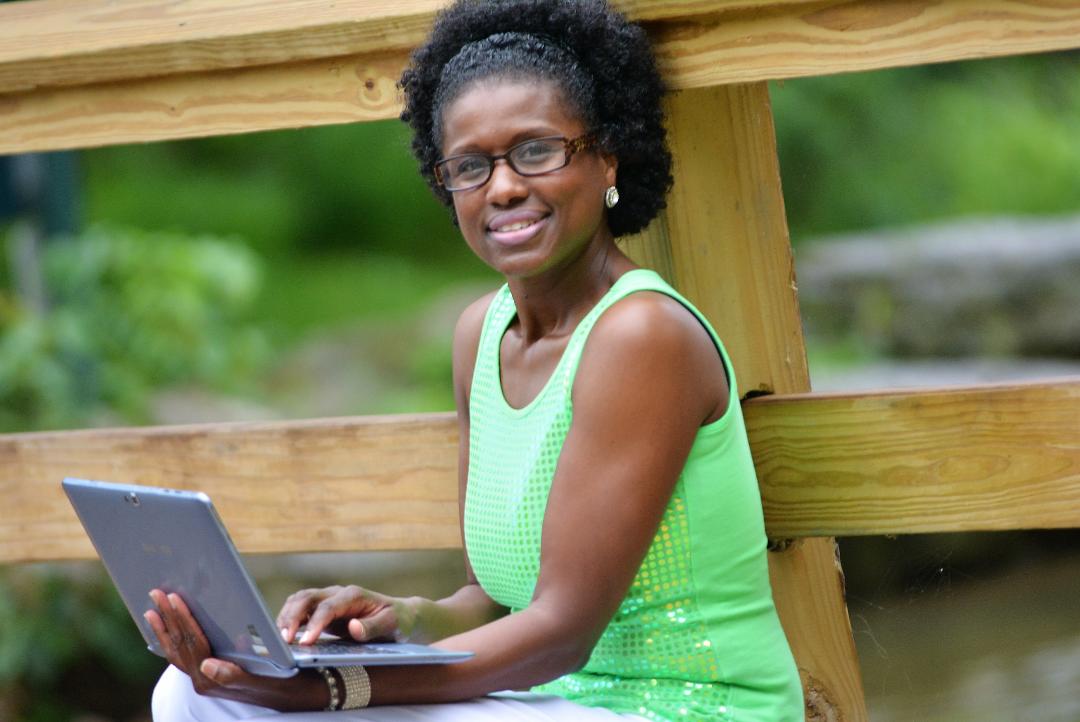 We had the good fortune of connecting with Joylynn M. Ross and we've shared our conversation below.
Hi Joylynn, what was your thought process behind starting your own business?
At the time of starting Path To Publishing, a literary service provider and author assistance company, I didn't realize I was following a formula (thought process) that is now being taught by business gurus to entrepreneurs across the map. My process was first realizing there was a common problem in the literary community among writers and authors (one that I had experienced myself as an author), I discovered the solution, I created a process to get to/work through the solution, and I got results. And because of my experience in the literary industry and having a relationship with my colleagues and hundreds of my fellow literary artists, I knew the symptoms of the problem and was able to detect and diagnosis them in others before it became fatal, causing them to want to throw in their pens and end their literary careers . . . some before they had barely even gotten started. In short, my thought process was to find a problem, find the solution, create a process to get to/through the solution, and get results. Knowing and relaying the symptoms was a huge part of the process because sometimes people don't even know they have a problem until you start rattling off the symptoms to it.
What should our readers know about your business?
On the outside looking in, Path To Publishing looks like it's only a full literary service provider helping others to write, publish and sell books, build a book business, and create multiple streams of income to sustain their book business. But our mission, message and purpose goes beyond that. We're about empowering you with YOUR message, system, strategy, techniques, and testimonies. Whether it's for personal development and growth or business development and growth, there is something about your story that can help someone else. Unlike most literary service providers, Path To Publishing and its Literary Companions are not simply here to do assigned tasks on behalf of our clients. We also provide resources and services that teach our clients the value of their intellectual property and how they can use it to make a difference in the literary industry, their communities, and the world as a whole. The main thing that allows Path To Publishing to stand out among its competitors is that we understand that you don't have to be a writer to author your own story. There are resources to assist you with getting your story written and published. Path To Publishing and its team of Literary Companions are those resources. Neither do you have to love writing or the writing process to share the message inside of you. Therefore, we don't only cater to "writers", we cater to "messengers." We help you share your message with the world.
Any places to eat or things to do that you can share with our readers? If they have a friend visiting town, what are some spots they could take them to?
I live in the STILL fabulous Las Vegas, Nevada; a destination city. When people think of Vegas, they think of "the strip": lights, action, cameras (usually cell phone cameras capturing all those amazing selfies), and fabulous dining. They don't think about Hover Dam, Lake Meade, Red Rock Canyon or the likes. Very few travelers venture from the strip, and if they do, it's usually just right around the corner to Freemont Street, where if you think the strip is rated R, you'd probably consider Freemont rated X. Regardless, whether you only stick to the strip or Freemont, Vegas is an amazing place to visit. Since moving from Ohio to Vegas three years ago, I must say that I see more family and friends now than I did when I practically lived right next door to them. Who hasn't or doesn't plan on visiting Vegas? When family and friends come to town (and even some folks I only met via social media), I typically go ahead and get all the doings of the strip or Freemont out of the way: a ride up Paris Hotel's version of the Eiffel Tower, a beautiful gondola ride at the Venetian Hotel, a moment of feeling like Julia Roberts from the movie, Pretty Woman, while strolling through The Forum Shops at Caesars located in Caesars Palace Hotel, a Champaign helicopter ride over the strip and the damn, catching a show (either Cirque, an 80s or 90s act that's still hitting, or a top charting artist who added Vegas to their tour), hitting up a craps table or penny slot, catching a view of the entire valley on the High Roller Ferris Wheel at The Linq Hotel, ziplining across Freemont, and not being able to move after hitting up one of the famous buffets such as the Carnival Buffet located inside Rio Hotel. Yep, those are all the norms. That's what people come to Vegas to do. Then after they do it, for me, the real fun begins! Believe it or not, Vegas is an amazing literary hub. The artist community as a whole was very shocking to me. I'd traveled to Vegas over a dozen times before making it my home, oblivious to the fact that it was so rich in culture, and there is no way I'd allow my bestie to leave town without making her privy to this experience. This experience would include an evening of some live jazz or R & B at Blue Martini Lounge, a trip to Left of Center Art Gallery or Alpha Voyage Gallery, some hiking at Red Rock Canyon, dipping toes in Lake Meade, a picnic at one of the many amazing parks here in the valley, a visit to a local writers group meeting such as the Las Vegas or Henderson Writer's Group, attending an independent film premiere or stage play being put on by a local artist, visiting Assistance League of Las Vegas Thrift Shop, where all proceeds go to purchasing brand new clothing and school supplies for children in need, spending a couple hours cleaning books for Spread the Word Nevada so that they can distribute the books to children across Clark County, and lastly, spending a day doing absolutely nothing in stillness–not necessarily silence–but in stillness. In that moment of nothingness and stillness, the mind will accomplish more than the physical body did throughout one's entire experience in Vegas.
Who else deserves some credit and recognition?
It wasn't until after my mother's passing that I realized she was, indeed, the most influential person in my life. In hindsight, her story is why I decided to commit my life to telling my own story and helping other people tell theirs. I'm a writer by trade, having published almost 40 books under multiple names. Not a wordsmith. Not a master of words, but instead, someone who has a way with the written word. But that day in July 2015, when I found myself having to deliver my mother's eulogy, I was at a true loss for words. Joan Ellen Windom, Joanie to some…Joanie Roni. Mammaw to her grandchildren, Mom and Mommy to her daughters. And my personal nicknames for her: Mumsy and Mammothy. Those who knew her found it unbelievable that any offspring of Joan's could ever be at a loss for words, considering she was a woman of many, many, and plenty of words. Some of those words I heard her repent for quite often in church. Before writing my mother's eulogy, I researched what a eulogy was, who was to give it, and what one should say. One thing that was consistent in my findings was that in giving a eulogy, everyone doesn't have to be in agreement with what you say, but it has to be the truth. Armed with that single fact, I stood before dozens of people and told Joan Ellen Windom's truth. "Joan was hard, had a tongue that could slice you in half," I said. "She wanted what she wanted when she wanted it, how she wanted it, and however many times she wanted it. She was no nonsense, never diplomatic with her words, sharp, a handful, could give you the business whether you deserved it or not, and would call you a dummy if you did something dumb." I told of how for as long as my mother could walk, she went to church every Sunday and sat in the same spot. "God bless the child who didn't know any better and asked her if she would scoot over so they could sit down. " There was a time when I used to think my mother was mean-spirited and hateful. But as I mentally re-read her life story, I realized that she was none of those things. The person I had dealt with for so many years was not a mean and hateful woman, but a young girl whose uncle violated her. A young girl who didn't have an active relationship with her father. A young girl who got pregnant in tenth grade and got kicked out of school for being pregnant. A young girl who was abused horribly by some of the men in her life. A young girl who had turned to drugs and alcohol to ease the pain. For all those years, she'd been a grown woman carrying the soul pains of her younger years. There was pain my mother carried for so many years that she was never quite able to let go of…not completely…not in the natural. Though she was the one who endured the aches and troubles, it was not for her or about her. It was for me, it was for my sister, and it was for you. For each of us, our life journey, our testimonies, and even our pain–all the things that make up our life story–are not for us. It's to change, bless help, touch, alter, and even save someone else. Former United States President, Bill Clinton, years back, right after he had his first memoir published, said, "Anybody over fifty owes it to his family to write down everything that's happened during his life and pass it on." I wholeheartedly agree. Only I don't believe anyone should wait until they are 50 to start sharing their story, as tomorrow is not promised. Tell your story now! Sadly, I never got my mother's full story from her. I'm only left with those few bits and pieces I was able to gather over the years. For the most part, my mother carried her story to her grave, which means a part of me went to the grave with her. I know the pain, anxiety, and relentless gnawing feeling of not knowing a story, be it yours or someone else's. So I take all those things and allow it to be the reason for and motivation behind Path To Publishing and our mission to help as many people as possible tell their story in excellence . . . and not take it to the grave.
Website: www.pathtopublishing.com
Instagram: https://www.instagram.com/pathtopublishing/?hl=en
Linkedin: https://www.linkedin.com/in/path-to-publishing-166172133/
Twitter: https://twitter.com/PathToPublish/
Facebook: https://www.facebook.com/PathToPublishing
Youtube: https://www.youtube.com/channel/UCZKTCHcj0WQELrvfb9MLxAA
Other: www.joylynnmross.com