Meet Katrina Williams | Entrepreneur, Student-Athlete Life Coaching, Crafter & Author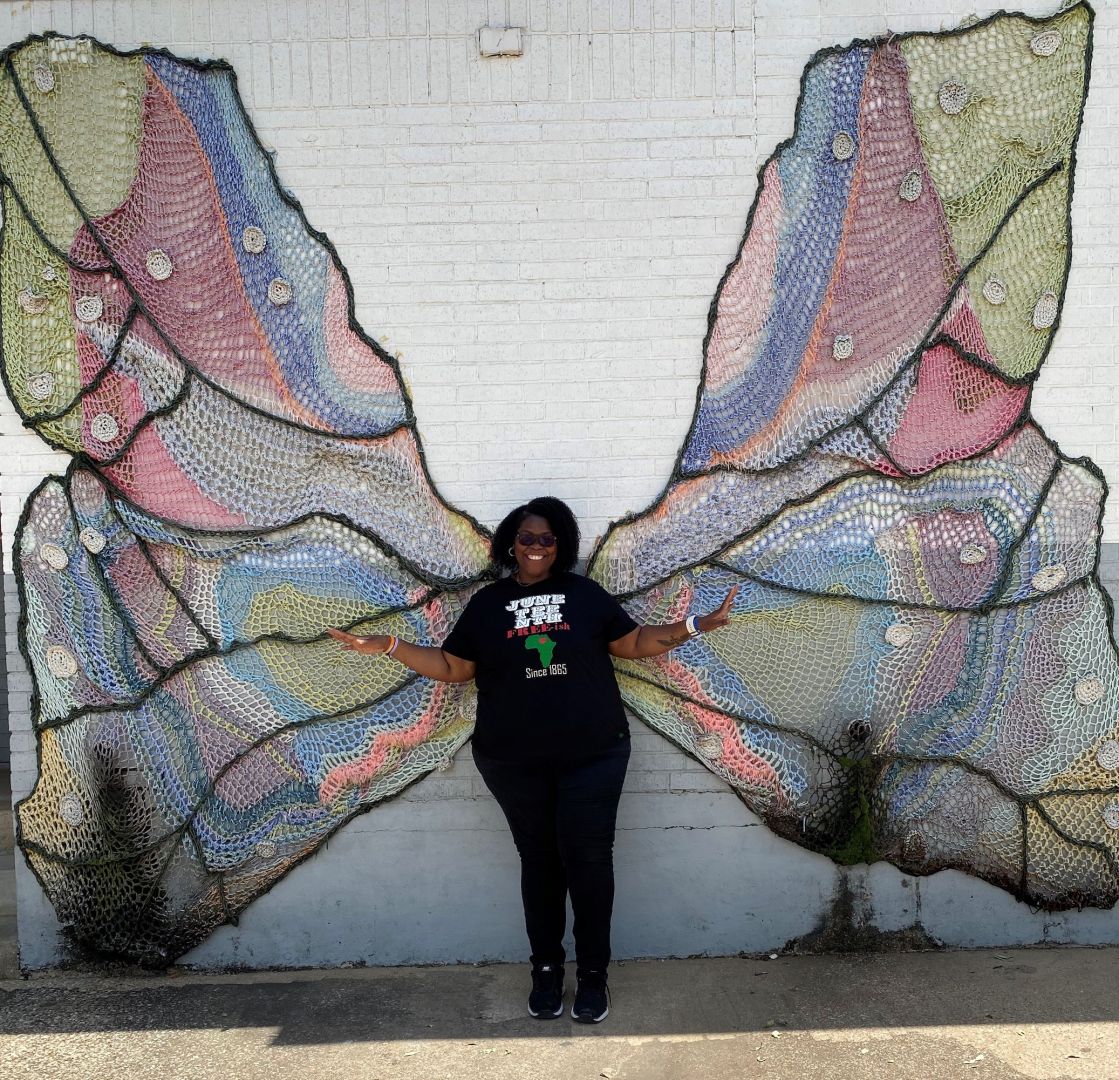 We had the good fortune of connecting with Katrina Williams and we've shared our conversation below.
Hi Katrina, have you ever found yourself in a spot where you had to decide whether to give up or keep going? How did you make the choice?
We've all experienced so many highs and lows while trying to discover our purpose! It can be really difficult to know when we should keep going or give up! I've found that no matter what we're going to experience resistance! For me experiencing resistance is a sign that I'm headed in the right direction. Whenever you're trying to level up you will always experience some type of resistance. This can come in so many forms of detours but it's a necessary part of the journey. This pressure comes in to groom you and train you so that you'll be able to sustain once you make it to the promise land. It also produces gratitude for what you're fighting for! It's what I call a "PROCESS." You have to consult GOD before you start any journey and you must continue to do so throughout your journey. Ask for discernment, courage, and grace as you move throughout life. Then believe that he will grant all of those things to you! Allow him to guide you! Alone this journey will feel impossible but when you rely on GOD it becomes extremely attainable! Ask GOD what he wants you to do and get in a quiet place to hear him! Listen to your gut feelings (those butterflies) and that little voice that keeps speaking to you. Pay attention to the small nudges you get. I know that I must keep going when I can't sleep, when the drive for the task constantly stays on my brain. GOD shows me the big picture but he doesn't always show me the steps. This means I must rely on him and trust that he will show me my next step! For me it's all about faith moves and legacy. I know that if he showed me the vision he will provide all that I need to accomplish it so I just keep going. My advice would be for you to spend time with GOD so that you can discover how he speaks to you! If you do that you'll be able to maneuver throughout this life with faith and certainty in the most uncomfortable circumstances.
Alright, so for those in our community who might not be familiar with your business, can you tell us more?
I'm an Entrepreneur which means I wear a million hats! I own two businesses Level 27 Life Coaching & Advising and 11th Hour Crafts & Flowers! My mission with Level 27 is to empower individuals to live unapologetically in their purpose, and manage their mindset, not their circumstances. Our approach to coaching helps individuals establish self-awareness, resilience, and develop an optimistic outlook. Through faith-based programming, we encourage our clients to eliminate the idea of competition, embrace their individuality, and elevate their mindset. My mission with 11th Hour is to always create art that is a direct representation of the customer. The goal is to elevate the product for the customer and bring joy to their life. Our services include: Custom grad caps, floral designs, photography, wedding, party, and classroom decorations. Throughout these businesses I focus on providing the greatest level of customer service possible. I'm all about creating unique, positive, personalized experiences. I feel that GOD gave me these businesses to create connections with others so that he could send messages to them. What sets me apart is being able to listen to what the customer desires and being able to bring it to life! Most of the time I'm amazed by the end product because I know that I didn't do that alone, it was all GOD. I always say that I'm just the vessel and the face of the business but GOD is the business owner. I've experienced my share of struggles, in the moment it didn't feel good but I know that it was for my good. I've made big mistakes and I've failed miserably over the years! I'm sure that I'm not done failing but I believe that it's all about perspective. Many people give up when they fall because they start doubting themselves and the vision, but I look at my failures as wins! Although I didn't reach the goal I gained something even greater and that's experience. I've gained clarity, added a new tool to my belt, and discovered new strategies. I'm able to sustain because I remember MY WHY…. When your why is strong enough you can overcome any setback. I know that whatever I go through good or bad GOD allowed it to happen for my development. He gives me the vision, the strength, the courage and the stamina to push through! This is how I've overcome the many setbacks! I've learned that in life and in business integrity and consistency will always win in the long run! You have to realize that you're playing the long game not the short game. You have to play and prepare for the life you want to have ten years from now! I want you to know that GOD'S WILL always prevails, you can't even mess it up! I want you all to know that I'm extremely grateful to be in this position! I'm not where I want to be but I always find joy in my present moment. I don't move without GOD and my brand will always represent what he wants me to promote!
Any places to eat or things to do that you can share with our readers? If they have a friend visiting town, what are some spots they could take them to?
I would be sure to take them to these places over the week…. For food I would take them to…… – La Playa Mayafor authentic Mexican food and Mama's Pizza (Fort Worth, TX). – It's so Vegan (Grand Prairie, TX), Dallas Farmers Market and Vegan Food House (Dallas, TX). – I would also have my cousin cook them some bomb "EAT GREEDY BBQ" so that they could be welcomed properly. For fun I would…. – Throw a kickback for them. I would introduce them to key people they need to know in the city. – Take them to a 90's themed Game Night – Take them to City View Lanes – Take them to Top Golf – Take them to at least 2 concerts at the Theater at Grand Prairie, Trees, and the Bomb Factory – Last but not least I would take them to church for sure. For culture and photo ops….. – I would take them to Inspiration Ally (Fort Worth, TX) – Deep Ellum (Dallas, TX)
Shoutout is all about shouting out others who you feel deserve additional recognition and exposure. Who would you like to shoutout?
I would like to shoutout my mother Phyllis Williams. I would be absolutely nothing without this woman. She taught me everything I know. She nurtured my imagination as a child and continues to do so today. She hears all of the ideas GOD gives me in their conception. This means she hears everything in its rawest form before it's even thought out! Even though it has holes and missing steps she still supports it as if it's a masterpiece already. My mother is the G.O.A.T. She is the epitome of a virtuous creative woman and I thank her for it! I owe her my life. I would like to shoutout my best friends Valerie Derrough and Audie Burns. They listen to my craziness 24/7 and deal with my goofy hippie ways without judgement. They ride for me no matter what. Without them I wouldn't be able to do what I do! They are my immediate support system and they go on these crazy adventures with me without asking question. Valerie thank you for reminding me of the gift of practicality, financial stability, and structure. You've caused me to step my game up in so many ways because you're such a lady LOL! Audie thank you for being my biggest cheerleader and support fam. You've always shown me what it means to be a "REAL FRIEND" and I truly appreciate it. You both are true definitions of ride or die friends and I THANK YOU for that. I would like to shoutout my boy James Elems! He is my fellow Fort Worth native game changer! He has an amazing spirit! I'm inspired by his dedication to giving back to the community. I tell him all the time that we're going to put Fort Worth on the MAP by being good stewards over the city that raised us. I think that this man is going to unlock the door of opportunity for so many by simply sharing his journey. I'm so proud of him and I pray that he continues to make moves. James helps me stay sharp and he gives me that little recharge whenever I'm struggling. Looking at him push through reminds me that WE ARE ON ASSIGNMENT! I'm instantly reminded that I have to keep going because we're playing for LEGACY!!!! #FUNKYTOWNSTANDUP #WEALLWEGOT Lastly, I would like to shoutout every student I've ever worked with! You all allow me to live out my dreams because you openly welcome me into your world. I truly appreciate your constant trust and love! I live to teach you all the valuable keys I've learned from my life mistakes and experiences. The fact that you all give me the opportunity to do what I love means the world to me, so THANK YOU! Special shoutout to my all of STEP TEAM BABIES, I will forever be connected to you all. I would also like to shoutout some of my favorite girls: Yazz, Ry, Yummy, Alex, Becky, Dakota, Kyla, and Destiny. I truly appreciate you ladies and I've enjoyed our time together!
Website: www.optimistic-k.com
Instagram: https://www.instagram.com/_optimistic_k/
Linkedin: https://www.linkedin.com/in/katrina-williams-m-ed-67156a8b/
Twitter: https://twitter.com/Optimistic_K1
Facebook: https://www.facebook.com/katrina.williams.545
Youtube: https://www.youtube.com/channel/UCR2OTME6gcF6uRQxIPpkltQ?view_as=subscriber
Other: https://www.pinterest.com/kdw1920/boards/
Image Credits
Valerie Derrough
Nominate someone: ShoutoutDFW is built on recommendations and shoutouts from the community; it's how we uncover hidden gems, so if you or someone you know deserves recognition please let us know here.