How did you decide to start a business?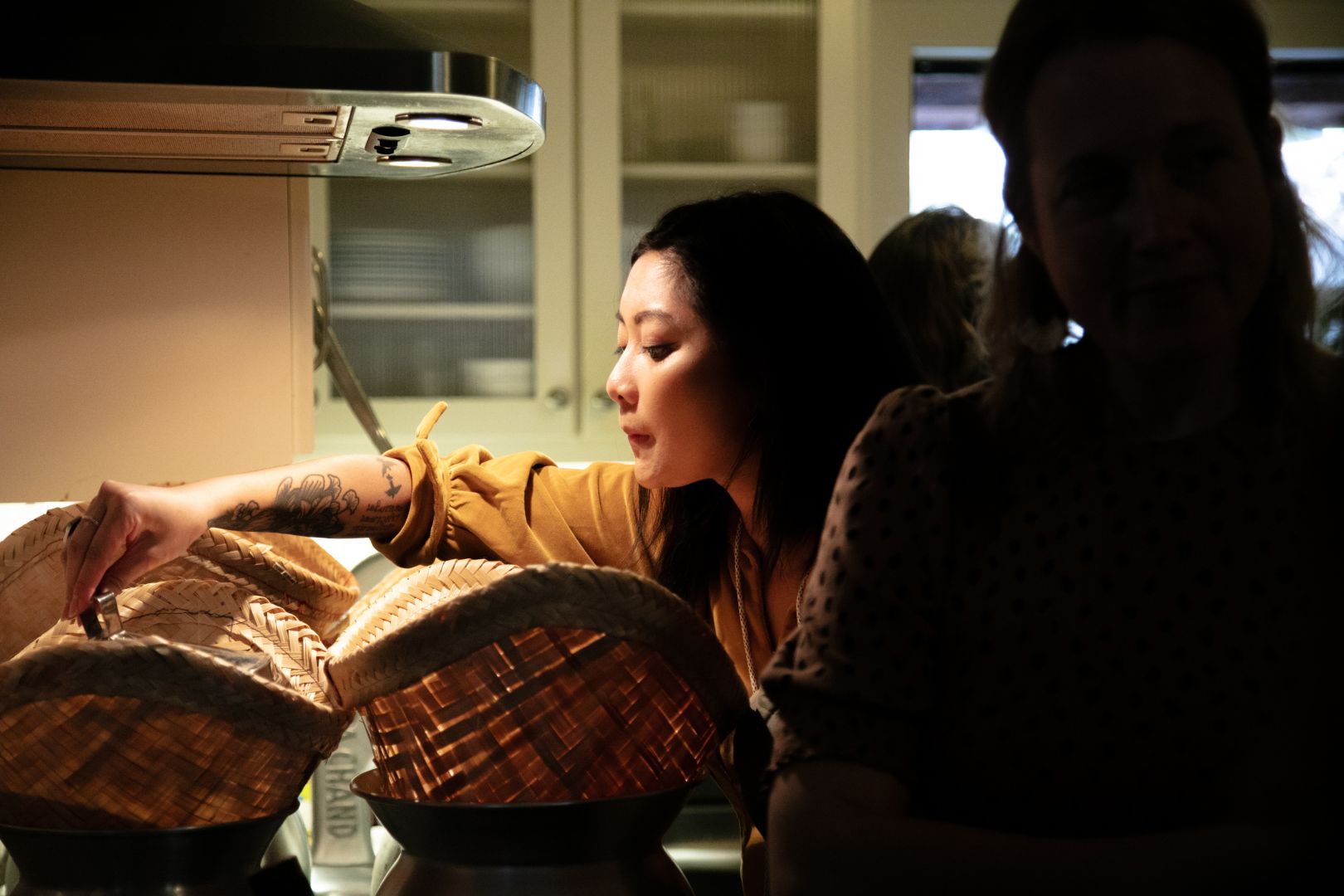 We reached out to some of our favorite entrepreneurs and asked them to think back and tell us about how they decided to start a business.  Check out their responses below.
Lasamee Kettavong | Writer, creator, cook, & storyteller

The first time I really thought that Good & Golden could become a viable business was when my partner and I cooked for a dinner party that a friend and colleague hosted for her family every month. We made a beautiful spread of Lao dishes (laab, tum makhoong, and khao poon nam gai) and thought, what if we turned this into our side hustle? We had so much fun teaching guests about the ingredients and talking about Lao food. Read more>>
Lindsey McCrea | Photographer & Business Owner

I didn't honestly think doing photography would turn into a successful business. I started doing it as just a hobby when I was 16 years old. I started posting pictures on Instagram and Facebook for fun, and then I had people asking how they can book a session with me. As I started doing those sessions I realized I had a love for making beautiful pictures for my clients. The messages I get after they see their final images always warms my heart. I am now 18 years old running a full-time photography business and love the images I am creating. Read more>>
Austin Van Zandt | Photographer

I knew when I first started that I wanted to eventually get into wedding photography. I have an eye for details and always love observing them at weddings even before jumping into this field. I believe it was about 6 months since picking up my camera that I really decided if I was going to do weddings, it was time to jump into it. Luckily my wedding photographer took me under her wing and let me learn from her! I knew when I started going solo that I wanted my values of my business to be around my passion for making clients feel loved, comfortable, and ensure trust in them that I will deliver above and beyond for them. Read more>>
Nick Robinson | Eclectic Witch

I've always loved helping people, and metaphysical healing is a way that seemed to draw others to me. I began creating spells to ease others through their journeys and realized that if this became a business, I could potentially help many more people. Read more>>
Sarah Lawrence | Indie nail polish owner and creator.

It actually started out as a hobby. Nail polish has always been something I was drawn to and loved. Several years ago I was introduced to the indie nail polish world and I was instantly hooked. I started researching how to make it myself. I started creating all kinds of different shades and finishes, and I'd show them to my family and friends to see what they thought. Read more>>
Bradley Steele Haridng | Filmmaker

I created my own production company because I wanted to create films/videos that spoke to me personally. Movie production is essentially a collaborative medium that brings a lot of disparate people and elements together for a very brief period of time. This can often lead to a compromised end result – which most people in the industry will tell you is simply the nature of the business. Very early on in my production career I knew that if I was going to continue I would have to be focusing on projects where I was steering the creative process. Read more>>
Chloe and Deken Trent and Taylor | CoFounders of BottlesCape Art

The concept of the business came from Chloe Trent's sustainable childhood. Trent comes from a family that drinks a lot of water from plastic bottles and observed how people throw away plastic bottles daily. Trent felt there was a way to turn these bottles that people consider trash into something "more." In fact, her parents have always repurposed items and found ways to turn objects into something more significant. For example, grocery bags to trash bags, glass pasta jars to snack containers, metal cans to utensil holders, paper rollers for manipulative in the classroom, old shirts for drying cloths, etc. Read more>>
Juliana DiGennaro | Owner of Salvage Secondhand Shoppe

Growing up I knew I wanted to be in the fashion realm somehow. I enjoyed modeling and fashion design most during that time. This persuaded me to take on Fashion Design for college, so I attended the University of North Texas for a year. When the pandemic shut everything down, I had only taken the basics of the Fashion Design program like drawing and design. I didn't have the chance to experience what I would call the "fun" part of the program, like pattern-making, introduction to sewing or fashion illustration. Because of this, I didn't find my "passion" for my major and I decided that I didn't want to go back to school. Read more>>
Tania Zapata | Event planner & Educator.

My thought process was very simple. To be great and unique at what I do. There's dozens of companies and vendors that do what I do but non of them are like me and my team and I believe that's what sets us apart. Read more>>
Karen Angel Bear | Creative Hair, Make Up, Body Paint Artist

Two things I have always been passionate about is freedom of expression and self love. I wanted to be able to help others let go of the societal pressure to fit into a mold simply to be accepted by others, and instead, embrace and accept themselves fully by freely expressing who they are and being their most authentic self. I truly believe that by being your most authentic self you are able to reach your fullest potential and therefore live a life filled with absolute bliss and purpose. ColorCherub has turned into more than just a business, it has become a safe space for all of my "Cherubs" and that is more than I could have ever dreamt of. Read more>>
Mary and Lauren | Co-owners of YardFetti, LLC

We both loved the idea of the birthday yard signs, but wanted something for our toddlers. We wanted to create yard signs that kids got excited about when they are too young to read. We thought a giant cupcake or unicorn in the yard would be fun when they saw the sign so, they knew immediately it was for them! Read more>>
Diana Andrade | Owner & Designer

My thought process behind starting my own business was pretty simple, life is too short to not try new things, take risks, and just go for it. There truly is nothing like being in charge of your own time, and getting to dedicate it to the things you truly enjoy and care about. Read more>>
Ruba Zahid | Business owner and Designer at The Dream Team Events USA

After facing some very challenging times during the pandemic in regards to my mental health, getting back to studying and seeing mental health patients started taking a big toll on me. But because i had gone through years of med school, medical licensing procedures and didn't realize i had any other talents that i could turn into a business, I was adament in pursuing psychiatry as a career. It became very difficult to keep my calm and i broke down very often. Read more>>
Tish Creech, | Fearless Leader

My family has traveled the world and I have shared those trips online with friends and family. We always felt it was important for our children to experience other cultures.  One trip  in particular,  we fell in love with Scotland.  Then I thought process was how I could incorporate travel into my daily life and have a business.  I dont want to be a travel agent…its more of a custom, immersion experience.  We absorb the local culture. Scotland has it all…sport, food, culture, marvelous people..  Everywhere you go it's so beautiful. Read more>>
Larry Lundy | Senior marketing and management executive

I was the Director of Sports Marketing at Disney, when my mother was diagnosed with Cancer, and I was looking to get back to Dallas. Host Communications (Now IMG) recruited me to be Senior Vice President in their Dallas office on May 1, 2001, and on September 11, 2001, the world changed, and Host Communications did not know if my division was going to even exist. Just like during the recent pandemic, the sports industry shut down for a while so I my thought process was based on survival. There was not a lot of brainstorming or time to develop a comprehensive business plan i was making something happen as the moving van was coming from Orlando and there was no going back. Read more>>
Veronica McCreary | Boutique Business Owner

Since I was a teenager, I've always loved fashion. Also, I've always wanted to own my own business since I graduated from High School, but I ended up going to college for Criminal Justice. Later on in life I decided I no longer wanted to pursue that field. My thought process behind starting my own business begin when COVID hit. I didn't lose my job, but I thought to myself what if I were one of those who lost my job. I started researching what it takes to own a business. I also started watching fashion boutique owners on Facebook. Read more>>
Adriana Fairchild | Real Estate Agent

Starting my own business allowed me the opportunity to build something of my own while allowing me the flexibility to spend meaningful time with my family. Being successful in both areas is essential. Read more>>
JP Parker | #thebenchmaster

I was an Event Manager for Trade Shows across the country and looking to place benches in a newly designed main aisle of 20′. It was a large show and customer feedback always demanded more seating options: for elderly, for eating breaks, and those with children. Read more>>
Nuri Crenshaw | Entrepreneur | CEO | Designer
I always knew I'd be an Entrepreneur, but I didn't know how/when it would happen. One day, I felt like God was calling me to do more, and the idea of starting a hair extensions brand grew from there. I have a condition called Trichotillomania; it causes me to pull my hair out. To limit my access to my hair, I found myself investing considerable amounts of money in wigs and hair extensions. Read more>>