The Early Days: why did you start a business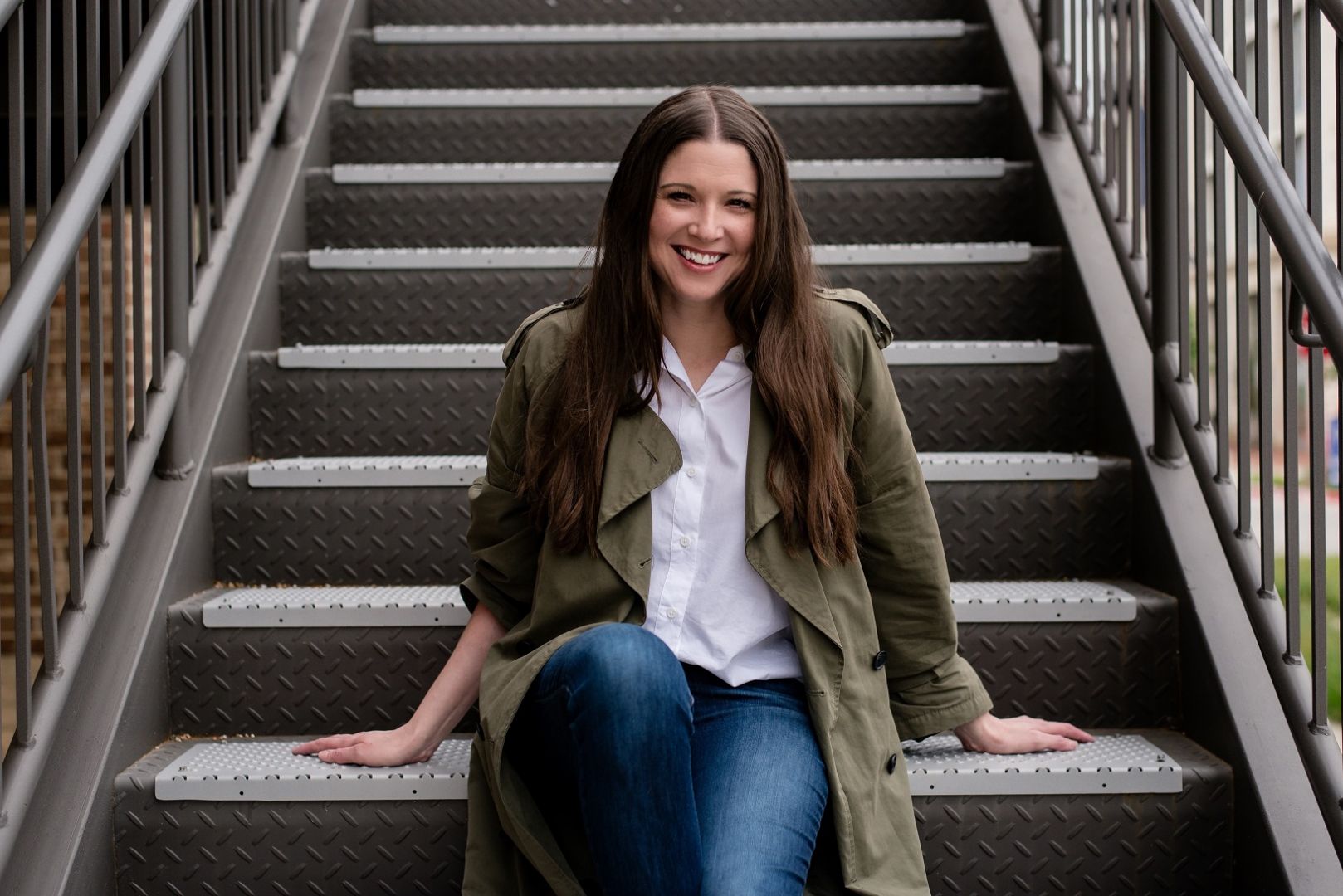 Are you thinking about starting a business? If so, we think you'll enjoy reading about how these seasoned entrepreneurs thought about the question when they were in your shoes.
Briana Seless | Baker & Owner Of Seless Sweetz

When i started my business i really didn't have much of a thought process behind it. I had been looking for something to do, something I could be passionate about & love, being a stay at home mom for the first time I just felt like I wanted to do something of my own and build something that could be great. I craved cake a lot when I was pregnant with my first daughter so i started to bake my own little cakes in pans and just throw some frosting on top. Read more>>
Missy Magleby | Licensed Esthetician

Imagine a life where you aren't allowed to think for yourself, make your own decisions, or be ridiculed for any opinion you may have. Thats the life of just about any abiding employee. You don't make the rules, any creative ideas you might have go unnoticed. I was tired of working so hard and being unappreciated. The life I imagined for myself would be created by my own design. My ideas of providing excellent service to my clients and/or guests, could actually come to fruition, and knowing that they are happy with the experience because of my creations, is the ultimate satisfaction. Read more>>
Lex Newman | Artist & Entrepreneur

Well ultimately because I don't want to work for anyone, but I've always worked hard for other people and now I just want to work hard for MYSELF .. I love Style , and You look how You feel , so I felt like making a brand to where I can create my own line, my own style, and share it with others so they can look and feel good too was an amazing first step to that. Read more>>
Corey Bester | Personal trainer

It was simple honestly. My dad was a gym rat so I've been around it all my life. He had me working out as a kid as far as push ups,squats,lunges, etc so it really grew on me. The second thing was I started losing a lot of my family members due to health issues and it took a toll on me as a kid! That made me want to change lives by starting with my family, so that's how I came into wanting my own business. Plus I've never done good with work rules. I had my son and having him is what really made me fall through with everything! I owe everything to my family! Read more>>
Ellie Lee | Owner & Goldsmith

As one of the original designers who saw a custom jewelry store grow into the largest one in the West coast, I collaborated with hundreds of customers on an individual level. More than any style recommendations, customers appreciated it the most when I listened to their personal story. Two stories are never the same from one person to another, so I baked-in their unique stories into the ring or necklace they would wear for the rest of their lives. Read more>>
Monica Kaminski | Marketing & Media Director Twice Blessed ReSale Boutique

When I was diagnosed with cancer, I had to close my gym and move forward with a career that would be beneficial to my son while I recovered. I took local businesses and help them brand and grow their business. I started with building logos and websites, and morphed into social media campaigns and custom posts, blogs and advertising. Read more>>
Johnny Geter III | Personal Trainer & Fitness Model

I just wanted to impact as many people as possible just didn't know where to start. So I went with my gift and passion which is health & fitness! After I figured that out I just went for it without any hesitation. Following those two has opened many doors for me I wouldn't have been able to do on my own. Read more>>
Jeanette, Evette, and Tina J.E.T. Setting Divas | J.E.T. Setting Divas

Our thought process behind starting the business J.E.T. Setting Divas were our three names (Jeanette, Evette, and Tina) and we wanted to speak to women and incourage them to travel and live their dreams. Read more>>
Lizzie Lewis | Founder & President

I had been fostering kittens through the LA City Shelter for a couple of years. When you foster through a shelter, you lose control of who ends up with the baby you've raised since it was just weeks old. I realized that I could not only help myself find great homes for my foster kittens, but I could help lots of other people do the same all while teaching people more about the life of homeless cats and kittens. Read more>>
Johnny Taylor JR | Therapist, Coach & Trainer

My Journey in life has really me pushed me to start my own business and mentor to the next generation of kids. Locked N Elite Training LLC is more than just training physically. We focus on teaching the youth what it really means and looks like to be Locked N. Locked N means being locked in on ones overall goal and take the proper steps to get there. I'm a firm believer that if you keep theses three keys Locked N (God, Education and Discipline) that you will be successful. Read more>>
Ingrid Spivey | Handmade Pet Beds

We wanted to create something of our own that combined both our passions for animals, and for handmade crafts. Our foster kittens presented us with a need for something that was both soft/snuggly and machine washable/able to be sanitized between litters of kittens, and the idea for Woobie beds was born. When people saw our foster kittens in the tiny Woobie beds, suddenly everyone wanted us to make full sized ones for their personal pets, and we decided to base our business on them. Read more>>
James Terrell | Grass Fed Beef Producer

The long road home. Since I was a young boy, I always loved working with my father and grandfather on the ranch started by my great-grandfather in the 1930s near Stephenville. Ranching is hard, endless work. At the end of the day, we knew whatever price our calves brought at auction — as they headed to someone's feedlot – would cover only a portion of the costs of maintaining the land, cattle, equipment, and infrastructure. Read more>>
Zach Blackwell | Filmmaker

It was important to me that the way in which we articulate ourselves was optimized. Filmmakers can be difficult to understand with all the images in our heads all the time, and the cinematographic medium helps us to articulate ourselves. Through the creation of an LLC, I can make films exactly as I desire them to be created. I also help others within our team to complete their own desired projects and educate individuals on how to create films. It's important that we're able to purge the thoughts in our head than having the inability to exercise our ideas. We have a vertical approach to production, marketing, and distribution and answer to no one but our audience. Read more>>
Metri Smith | DJ

I just wanted to do something out side of your regular 9-5 that I would love doing and enjoy. Read more>>
Sana Haq | Cookie artist

Never in a million years would I have thought of selling cookies. I started out as a hobby baker, mainly using it as a creative outlet. I would make batches of cookies on my days off and bring them into work. As I got better, my coworkers and friends kept telling me the cookies were good enough to sell and that I should consider doing it professionally. I finally gathered the courage to do so this summer and am happy I took the plunge. Read more>>
Lee "Aminna" Buchanan | Real Estate Agent and Senior Loan Closer

What was your thought process behind starting your own business? My thought process behind starting my own business was monetizing something that I enjoy and am very knowledgeable in. Being a real estate agent is very satisfying.
Seeing the look on my client's face when they sign their closing documents and receive the keys to their new home is priceless. I really feel like I am making a difference when I connect my clients with one of my network loan officers who in return make the financing portion of the transaction smooth and seamless. Read more>>
Marie Audier D'Alessandris | Founder of The Selects Gallery

Before launching the gallery, I worked in Beauty and Fashion. Very early on in my career, I had the chance to witness the creative process behind Fashion Photography. While on set, I discovered the talent required to create these powerful images. I always thought it was a waste that such images would be published for one month in a magazine and disappear in archives. When I was the CMO at Coach I saw prints magazines losing advertising budgets towards digital and realized that Fashion Photography as we knew it was about to disappear. It pushed me to make the jump outside of the corporate world and launch the gallery. Read more>>
Robyn Wilkinson | Owner of MNC Candle Co.

I wanted to start my own business so I could have more control over my schedule. I wanted the flexibility to be available for my kids. I found that I really enjoyed the creative side but not so much of the business side. I also don't have a background in business so I was, and still am learning many new things. Read more>>
Tawanda Jones | A Women of many hats.

I started my business by first understanding my why. I made sure I had a why and it was big enough to pursue. I decided what I wanted to do and believed I could achieve it. One of my whys was to build my businesses in a manner where I could use my skills to serve others. So, for me I had to decide what I wanted, I had to understand my why, and I had to believe I could make it happen. And I have. I also had to make fear my friend, understanding that if I didn't it would keep me from my ultimate goal and remove me from my purpose. I tapped into my enter needs to figure out what I love to do and how it would serve a purpose for others and myself. Read more>>
Cassandra Bell | Baker & Project Consultant

After experimenting with flavors and techniques of baking, I wanted others to experience the beauty of homemade sweets. Read more>>
Dan Bradley | Founder of Bullzerk

I have been an entrepreneur my whole life. The age of 14 is when it all started. I was teaching tennis lessons and selling t shirts branded as the Bradley school of Tennis. From there I went on to college I mean colleges haha. I went to 3 colleges before I realized Universities were not for me. I could study and study and try to learn but I could not retain the information so I dropped out of the University of Iowa and got a 2 year degree at Kirkwood college. From there at the age of 20 I got into being a serial entrepreneur or what I call it the real education started. I always had a drive to know everything and learn new things. Over the next 10 years I sold real estate, created a private brand basketball hoop line and created a sports training and tournament facility for select sports teams. Read more>>
Sabrina Taylor | Licensed holistic Aesthetician

Well, I opened my business during the lockdowns. How scary was that. Funny thing is, I wasnt scared. I felt excited and ready to jump in feet first. So Id say my thought process was pretty clear. I had wanted to open my own SPA suite and bring a holistic approach to antiaging and teach people how to take care of their skin from the inside out . Ive always felt like I had a bigger purpose in life to help people and I had already been in the beauty industry for 20 years, so, when it came time to make the decision , I knew it was time. It felt right in my body and everything just started to line up. Read more>>
Garrett Smith | Founder, Independence Entertainment

The Texas music scene is oversaturated, and everything operates as a machine. It is easy to feel like you'll never win if you stand on that machine's assembly belt. I have set out to create my own machine and help artists perform more shows, as well as bring more entertainment events to a larger list of municipalities and organizations. Read more>>
Anayah | Curator of Rugs

I started my online shop because of friends and family asking for advice on where to source affordable beautiful rugs like I had curated for our home. Having grown up in a culture where hand knotted rugs are considered heirloom commodities, we had collected a lot of our personal treasures from years of travel. My husband actually pushed me to turn my love for rug shopping into rug selling! Read more>>
Jen Weaver | Ministry Coach

I found a need I'm passionate about and uniquely suited to meet. Everyone brings a unique combination of experiences, passions, and skills to the table. I get to bring a combined background in small business, executive leadership, and vocational ministry to help leaders reach the communities they serve. That was my thought process: what if I could fuel organizations to maximize their impact by bringing business and communications strategy into ministry spaces? It seemed like this huge obstacle I could help leaders overcome by helping in aspects like building cohesive messaging, brand clarity, healthy culture, and thriving teams. And the business began. Read more>>
Gabrielle Glasper | Chef & Owner of Gourmet Eatz

I've always had aspirations to have my own business . I knew that this wouldn't be an easy road but I knew that this is what wanted. In order to have a successful business systems must be in place. Being a business owner sometimes you have to learn as you go which isn't always easy but learning and growing from your mistakes is what its all about. Read more>>
Austin Little | Owner of Get After It

My thought process behind creating Get After It LLC has always been to create and tailor clothing products and training plans for my customers that inspire them to pursue their dreams. My original intent for owning a business is to create a better future for myself and my family. I desire to provide my family with good things, and I desire to create a business that is so fruitful, that ultimately future generations will be able to continue to prosper due to the business that I created. Providing my customers with quality products is something that I take pride in as the owner of Get After It and I am very greatful that I have been blessed by this business. My hope is that my business can be a blessing to others as well. Read more>>
Andrea Matteucci | Italian Architect, restaurant owner, wine passionate

I'm Italian and I was willing to invest in US to create a new business opportunity for myself and my wife and to give my kids an opportunity to be bilingual and growing with two different cultures. We created our concept, business model and business plan and came to visit Texas before deciding to move here. We did a lot of market research and analysis. Read more>>
Brittaney McMillan | Lash mentor and artist

My thought process behind starting my own business was simple , I picked up lash artistry about 5 years ago when I started lashing was pretty new all around. Then it blew up within a short time and was extremely trendy and clearly here to stay . I noticed there was a hair salon on every corner but lash studios (besides the large franchise corporations) didn't exist . I wanted to be the first black owned lash studio in Dallas Read more>>
Christina Jones | Yoga Instructor & Candle Maker | Owner of Relaxation Sanction

Growing up I knew I wanted to be my own boss. I saw my Mom do it for years. I knew I wanted more out of a career instead of just a paycheck. I wanted to help. I always thought over the years what can I do, what's my passion? It wasn't until the end of 2016 when I actually found it. I told my fiancé one day after he got home from work that we buy so many candles I think I would like to make us some. He ordered me a kit the next day and I have been making candles ever since. I started off making candles just for us and doing yoga daily just for a piece of mind and to help my body snap back after just having a baby, but it became so much more. I felt like I was obligated to help my people learn what I was learning and help them feel what I was feeling with the power of Yoga. I am now a certified yoga instructor and make aromatherapy candles that goes hand in hand with my yoga classes and what I'm trying to accomplish with my business. So here we go, Welcome to Relaxation Sanction Read more>>
Shamaya Harrison | Insurance Agency Owner

The thought process behind me starting my own business is I'm bossy, so why not work for myself?!? Haha No, I've worked 2-3 jobs at at time since I was 18 years old, I would work the hours no one wanted to work, I would come in NO MATTER WHAT. When I had kids that did not stop but it became harder; having to find childcare picking the kids up from school/daycare, children being being sick, etc. Then Covid hit…….. EVERYTHING became much harder, I kept getting in trouble because the daycare or school would close, my son was also in the process of potty training, he was lactose intolerant; we didn't know that until THIS YEAR. Read more>>
Caroline, Emma and MacKenzie | Picnic Planners

We started our business during Covid when we were all home in quarantine. Our thought process was that people needed exciting moments with family or friends in the midst of a hard time. The best way we thought to do that was through people being outdoors and sharing a meal. The picnic idea was then born and as soon as we all returned to Dallas, we began designing pretty table scapes for Instagram worthy moments for guests to share with their nearest and dearest. Read more>>
Ivonne Pantoja | Baker and part time office employee; a creative.

Honestly, I was overwhelmed; I constantly put it off because I had no idea where to start. I've watched YouTube videos and read online forums to figure out packaging, pricing, and how to recipe test. I have always been a very indecisive person growing up and having that characteristic makes decisions tough. The constant trial and error helps me add another piece to my puzzle; each trial and error also brings something to my attention and causes me to think "oh okay, this looks like something I would need next time, now I know." Every day is a journey. There are probably things I still don't know that I need, but I know that something is brought to my attention each day and I go from there to building my business. Read more>>
Selene Nguyen | Founder of Body By Selene LLC

Like many other entrepreneurs, the thought behind starting my own business was to gain a little more control over my time and future. Entrepreneurship was a way to take that leap of faith and experiment Read more>>
Christy Marchant | Head Honcho at Less

We'd always been a pretty eco-conscious family, but after reading that less than 10% of all plastic is actually recycled, we started looking for ways to reduce our consumption in the first place. The kitchen was first and easier to tackle with some of the amazing markets in the D/FW area. Then we started looking to the bathroom. (And I was the biggest culprit!) There was a Sea Salt Texturizing spray I loved in a plastic bottle. I looked for alternative in glass or metal, but they were all crazy expensive or shipped from overseas. Read more>>