Reflecting on the things that made a difference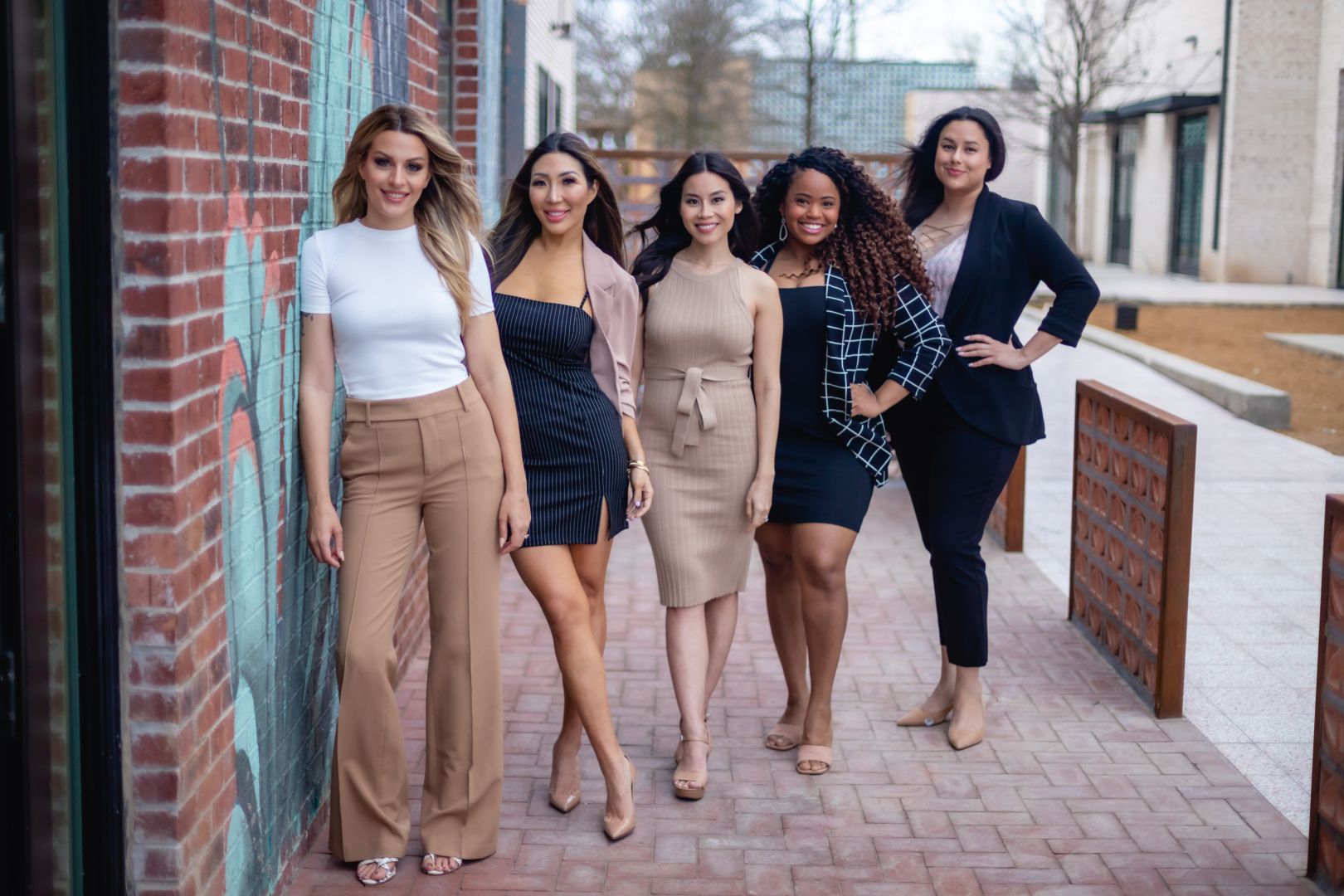 We asked some of the city's rising stars to reflect on what made a difference in their journey. We asked them to tell us about what they think the most important factor has been behind their success.
Quinces Stevens | MTG Entertainment CEO/Creater

The most important factor behind MashThaGas Entertainment is the "Family Dynamic" of the Brand. Even though I, Quinces lead MTG, were all Bosses! The bond we have is one that we cherish – protect and make Fantastic Content! Sure we argue, cuss and even misunderstand… However – there is one Main Goal – To be The Best @ Vid Casting! It's always been our success. Read more>>
Laurie Hudgins | Confectioner, Hobby Farmer, Specialty Foods Shop Keeper

Faith. Family. Friends. My faith has been instrumental in keeping me going through the uncertainty of entrepreneurship. None of this journey would be possible without the support of my family. My husband has been the single most important person by my side through this journey. From his previous extensive restaurant experience advice and guidance to him picking up my slack from household chores and children, I could not do this without him. Nor, would I want to! My friends have been the biggest cheerleaders of this grand adventure. They never cease to amaze me with their support.
I'm incredibly grateful for the entire support system that has helped me get to where I am today. Read more>>
Juan Licon | Lead singer / Band Manager

The most important factor behind my band's (WILD BOYS) success, and my personal success as owner and manager is to be "ALL IN". What do I mean by that? It's very simple, here's my story: Before I even thought of starting a band, I had already established myself as one of the pioneers of the Dallas tribute scene. There were a few successful tribute bands in DFW before I moved to TX, but the scene had not yet exploded into what it is now. Today, there are over 100 tribute bands in DFW alone, and together they have turned this city into the world's tribute band mecca. Tributes all around the globe can only dream of getting booked into one of the premier tribute venues in Dallas TX and to be able to perform in front of hundreds (and even thousands) of fans. The moment I arrived in DFW, I realized the music scene was beginning to thrive, from party bands, cover bands, and a few dedicated tribute bands, they would all perform at small bars all over DFW once or twice a month. Once I noticed the potential, I immediately started networking, meeting musicians, bar owners. Read more>>
Stacey Lemire | College Professor, Massage Therapist, Flexologist, Life Coach

I believe the most important factor behind my business success lies in basic customer service. I listen to what my clients tell me is their problem and/or desire and I combine their needs and expectations with my expertise to create the desired outcome they are seeking. I believe what I actually sell is results and I strive to overdeliver the client's expectations. Read more>>
Kevitta "KJ" Jackson | Real Estate Investor

That is a very interesting question.. I believe the most important factor behind my success or the success of the brand is the ability to create paths for other people. Wether it be career devolopment or paths created for our clients through our day to day operations. This fuels my passion and adds extreme value towards all of my long-term goals. Read more>>
Jared Haas | Owner of Black Rabbit

Value alignment is what makes any company strong and successful. Over the course of time, we have aligned ourselves with internal team members, clients, consultants, and vendors that have similar and overlapping values. There are dozens of firms in Austin that do modern architecture, but few, if any, that do what exactly we do. Specifically speaking, we focus on "authentic living" design. Authentic living is a set of value principles that we developed with the goal of designing towards authenticity (see more here). The current U.S. market is set up for a "bigger, faster, cheaper" mentality in the design and construction industry. Our slow design approach is a counter response to the fast design environment, just the same as slow food came in response to fast food. Both have a goal of creating and promoting healthier environments and lifestyles. Read more>>
Dr. Kevin Myers | Orthopedic Surgeon

I am a board-certified orthopedic surgeon with subspecialty training and certification in sports medicine. Becoming a successful and skilled orthopedic surgeon is a long and arduous road filled with years of intense determination, sacrifice, and focus. Even after the 10+ years and 40,000 hours of training are complete, we continue to improve, stay up to date, and develop new techniques. The field of orthopedics is always advancing, with the goal of providing the best patient care and outcomes possible. I owe all of my success to my wife, parents, and family – their continuous support of my career has allowed me to be where I am today. I see many athletes and patients of all activity levels for injuries, musculoskeletal pain, or limitations My profession is very rewarding – I am able to get people back to the activities they enjoy, restore function, and improve their quality of life with non-surgical and surgical intervention. Read more>>
Alexis Smith | Academic Success Coach, Self Development Enthusiast, and Professional Resume Writer

The most important factor behind my success and the success of my brand is God. As cliche as that may sound none of what I do would have even came into fruition without my faith and belief system in a higher power. I truly believe that God is my source. He placed the right people around me to motivate and inspire me to pursue my brand, took me through certain obstacles to live and learn through, and gave me the strength and courage to share my testimonials and experiences in order to be a blessing in someone else's life. From having my brand I have learned the difference between intention and impact. In everything that I do for my brand I look at my intention which is the message I want to translate and I look at the ways that message can be sent to impact others. My importance on God is so strong because I know from experience that he has worked for me and through me. Read more>>
Tracy Genheimer | Franchise Owner, Tippi Toes Dance

The most important factor behind the success of my brand is making a positive impact on the lives of all the people we touch. Our goal is to shine light and bring joy through our dance classes and our goal is to work towards that every day. Read more>>
Jen Whitley | Entrepreneur, Pilates and fitness studio Owner, Pilates, Yoga, Barre , Spin and Lagree Instructor, Motivational Speaker, Life Coach

The most important factor behind my success is consistency, drive and passion for what I do. I have spent 14 years perfecting the processes while not always under the perfect circumstances. My husband spent 20 years as a Navy Pilot and we moved a lot. Fourteen moves in 20 years is hard especially when you open businesses. Being able to look back now I can see how it was a great experience for me to move about the country and start business from the ground up. Every time I knew I could achieve my goals due to the fact Pilates sells itself. I have always been very goal oriented and when I meet a goal it's time for a new one. I have never allowed myself to become stagnant, I am always learning more and diving deeper. In the fitness and Pilates Mind Body Industry it is a necessity to stay opened minded while staying true to who you are and what services you provide. The passion comes from loving people. Read more>>
Eriq Hardiman – Rhone | Creator Of SZN's Chnge

Simply put, I would say community. SZNs Chnge is attempting to be an outlet for story telling for up and coming artists and creatives. We live to curate moments, create and celebrate art, and give flowers back to cities that gives so much to the culture. In order to do that though, we must first start with establishing a root in the community of creatives – reaching out to them, developing relationships, supporting and highlighting – all essential grassroots work that will establish resonance for our why. Community to us, says that you are not alone, and it highlights the efforts of others to develop deeper relationships. Develop a strong community and success eventually will follow, but it's important to let the people know that they have the power to choose what is and will be successful. Read more>>
Teneal Sims | Owner of Queen T's Crafty Things & Co.

The most important factor behind my success is my family, friends and loyal clientele, without them rooting for me, I would be nothing. Read more>>
Carrie Fabris | Executive Business Coach, Chief ReFramer, Author and Strengths Power Player

The most important factor behind my success has been energy! Keeping energy as my focus has fueled my attitude, drive, perseverance, reframing, and passion to build my business and dramatically grow it during the pandemic. When energy is low, we humans get tired. When we are tired, we are emotional which leads to irrational thoughts and not awesome choices. When my energy is low as a busy entrepreneur, wife and mom of two young kids, I consciously work to change my state and recharge the battery which usually involves songs from my "Happy" iTunes playlist. I change my physiology, dance around the room, change the self talk not serving me in my head, and focus on what I want. As long as I maintain high energy and keep my state in check, I seem to attract clients and in turn, I adore giving my energy to them to support their goals focused on strengths and leadership. Read more>>
Marlenn Martinez | Hairstylist

I would say the most important factor for my success would be being passionate about what I do. You have to love your job in order to be successful and represent your brand. I look forward to going into work everyday and my clients can see how dedicated I am to providing an experience and executing my work. Read more>>
Rishi Niranjan | Co-founded CASH Club Corp. With John Rho, Shivam Siddaiya, and Grant Stapleton

CASH Club Corp. is an ever expanding network of stock investment clubs. Our branches focus on educating high school students in stock investment basics through a set of bite-sized curriculum along with practicing stock trading through the simulated trading platform Invstr. This unique one-two punch of teaching and practicing finance basics makes up our simple yet effective framework for bringing investing knowledge to high-schoolers across the world. The real x-factor that puts CASH Club branches ahead of independent investment clubs is the resources and infrastructure we provide that students would otherwise lack, including pre-packaged curriculum and a network of fellow like-minded students and industry professionals. Through resources such as our Information Packet and Launch Packet, the process of starting a branch is simple, streamlined, and scalable. These tools help prospective students learn more about our organization while also helping them start branches of their own. Read more>>
Jatarrion Brown | TheQueenofAmbition Services Brand Factors

The most important factor behind the TheQueenofAmbition Services LLC, is to show the disabled and Able-Body community that they can do anything as long as they have the drive to do it. Ambition without dedication is nothing and Ambition without drive will get you nowhere. These sayings are an important factor to TheQueenofAmbition Services because I the owner have the drive and ambition to help college students complete their course work, help people find their dream job, and help people start their business. I want each of you to take your ambition to the next level. Read more>>
Patty Flores | Body Art Practitioner and Creative Director

The most important factors behind my success would be my dedication, focus and determination to achieve my goals. Starting at a very young age, I began working two jobs to pay my way through fashion design school, and through perseverance, received my bachelors degree from Los Angeles Trade-Technical College. Working in the garment industry taught me how to excel under pressure and that every problem has a solution. I believe that anything is possible if you are willing to work hard enough for it. With the successful relocation of The Magic Needle Piercing Studio, I am now able to further pursue my passion for the fashion industry in my own community. My newest business endeavor, Atomic Misfits Boutique, will be a Rockabilly/Punk Rock/Kustom Kulture boutique and is set to open its doors June 13 at our previous location at 208 E. Virginia St. Read more>>
Justin Cole | CEO at Don't Trade It in, Accelerate Auto Group and Accelerate Auto Repair

Life Experiences. They say that there's no replacement for experience and I agree, both personally and professionally. Like most other people, I've been through a lot throughout my life and career. My experiences while experimenting with various degrees in college and refusal to graduate just to graduate led me to leave the first college I attended to get a degree from one of the best business schools in the country. However, I didn't get into the university that school is in right off the bat. I was told no and had to come back multiple times before finally getting in. I then had to go through another very difficult application/admission process to get into their business school. I actually secured funding for and opened my first vehicle-related business when I was still in college, got off to a typical rocky start, hit a good stride and then was devastated by the Great Recession. However, we fought for years and learned a lot throughout the process. I then spent about five years making my way through the ranks at a few different large dealership groups. Read more>>
Willie Rankin | Executive Director of LVTRise

I believe my success comes from my ability to look at situations from different perspectives. I embrace diversity of thought and encourage healthy debate on any project I am involved in. This approach allowed me to be part of many initiatives that require a collaborative approach. Many organizations are looking for diverse leaders to assist in their initiatives, but it is difficult to include people from different backgrounds if they have a bias that will prevent them from collaborating effectively. I make a conscious effort to try to understand why people think the way they do, and in that process I learn more about the problems I am trying to solve. I have made many allies in my career for the respect I show people with opposing ideas. In a world that is being increasingly divisive, my brand of working together for a common cause has become more of a breath of fresh air to community leaders. Read more>>
Kadie Roberson | Musician, Entertainer, Songwriter

There is no possible way I would be here without my team of amazing people beside me. My parents have sacrificed just about all of their time, sleep, money, and energy to get me where I am today. My band mates are not just band mates. They are my family. They work their butts off for me and push me to do what I want to do and be the person I want to be. My boyfriend is not just your typical boyfriend. He runs sound, he loads and unloads equipment, he makes the flyers for every show, and he works his butt off just as much as I do on my career. I wouldn't be here without any of them. Read more>>
May Maggitti, Taylor Black, Maya DeBruce, Cindy Ante | Real Estate

No one becomes successful completely on their own. Many leaders attribute their success to the team that stands besides them and supports them. Working together and collaborating with others will help you identify your own strengths and weaknesses, you can learn and inspire from one another, and lend a helping hand when schedules get tight or life gets rough. NextGen Real Estate prides itself on the team of diverse agents that make up the brokerage. Each of us steps up to the plate when another agent needs help with a showing, hosting open houses, sharing market knowledge, etc. Although we are individual agents, we still act like we are a part of a team at NextGen Real Estate and that's what makes us so successful. Read more>>
Ketra Richmond | Entrepreneur & Non-Profit Founder

The most important factor behind my success is just BELIEVING that I could be successful! I'm fortunate to have people in my corner who motivate me as well as those who look up to me. But honestly, NONE of that recognition matters if we lack trust in our own abilities. Self-doubt is the worst! It will have you out here sabotaging your own dreams before you have the chance to put your new idea on paper. However, I have learned (and now teach others) that it becomes easier to kill that negative noise when you figure out the root of the issue, heal the affected area, and plant confidence in it's place. The success of my brands stem from self-confidence. That confidence outwardly projects into my business, encourages me to step outside of the box, and take creative risks. Read more>>
Kaylee Blubaugh | Founder of Blu Insight

I believe that focusing on the development of long-term relationships rather than short-term financial goals has played a large role in my success and the success of Blu Insight. We have been able to keep our clients, receive quality referrals, and spend less time and money to acquire new clients. Read more>>
Maanas Sharma | Editor-in-Chief, Journal of Interdisciplinary Public Policy

COVID has been difficult for everyone, and starting the Journal of Interdisciplinary Public Policy during the pandemic was really daunting. But, everybody on our team has been really driven since day one — they have helped foster a really strong culture at JIPP and ensure that everybody is learning together, even if we are separated by 12-hour time zone differences. This tenacity has enabled us to exceed all my expectations. JIPP has published 5 complete publications to date, garnering tens of thousands of views and earning us a spot on the UN Major Group for Children and Youth. Team members have contributed really strong writing on policy issues as well as lead whole publications and partnerships by themselves — something me and the Journal are both really grateful for. Read more>>
Jenna Thomas | Medical Esthetician, Entrepreneur

The most important factor behind my success of my business and brand is authenticity. I have been manifesting what my business would be for a few years now. I am a huge believer in manifesting your success. I used to dream at my old job of the things I would do now to set me apart from others in my industry. I wanted to be real, raw, and relatable to anyone who crossed my path. I know I was put on this earth to inspire and serve others. No one is me and that is what sets my brand apart. Read more>>
Marissa Geoffroy | Creative Director at Sherle Wagner International

Sherle Wagner International is a family company, and its success is important to me on both a professional and personal level. My grandparents founded the company over 75 years ago, and through their hard work and creative vision they established the brand as the premier source of bath fittings, bath fixtures, and hardware. Every decision I make as Creative Director of Sherle Wagner International is informed by the desire to continue their legacy and do right by their vision. It is that passion, commitment, and uncompromising standard of quality that enables the company's continued success. Sherle Wagner manufactures in the US, at our own dedicated factory. By exercising complete control over a product from design conception to completion, we are able to maintain an unmatched degree of quality. Our factory utilizes the most cutting edge technology, while also preserving old-world techniques. For some processes there is no substitute for the human hand – our skilled artisans hand plate, hand chase, hand paint, and so on. The making of each object is an artistic endeavor. Read more>>
Pascal Simon | Chef

I believe the most important factor of my success is that I deeply care about what I do. I absolutely love teaching kids and seeing them succeed is what makes me happy. I am convinced that if I would not be passionate about what I do, I would run out of steam quickly and I believe it would eventually show. I am authentic in my work, I care about each student, each family, and I want the kids to feel empowered. Read more>>
YoungBytes Nikhil, Ashank, Sreeman, and Jaiden | Tutoring Service

We are a nonprofit organization aimed at engaging students in STEM during quarantine. We offer tons of tutoring, competitions, and resources for students to showcase their skills in STEM!. Read more>>