Meet Valerie Garmino: Creative Director & Owner Valerie Garmino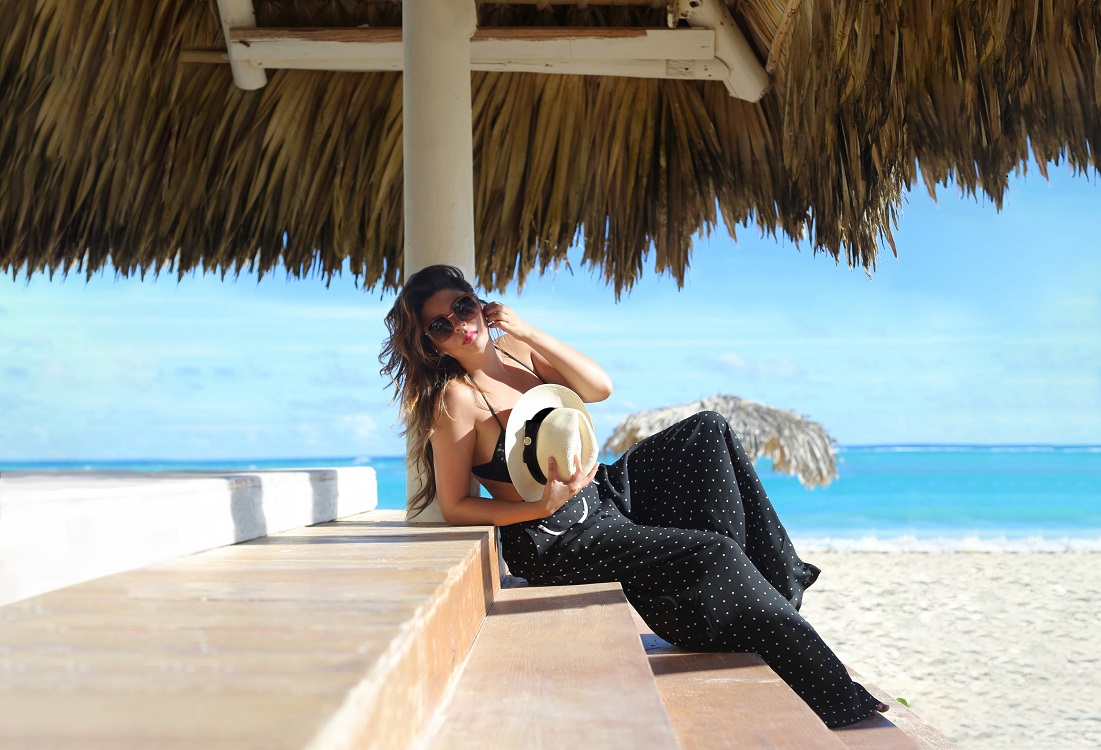 We had the good fortune of connecting with Valerie Garmino and we've shared our conversation below.
Hi Valerie, what is the most important factor behind your success?
There are multiple factors in order to be successful. In my case and for the Valerie Garmino brand, staying true to myself was the first step for success. I have always believed in what I do and felt passionate about it. I am the kind of person that works long hours without even noticing them, especially when I am developing a new collection or prior a fashion show. Monday is the best day of the week as it means new challenges and goals. I discovered that when I am under pressure it is essential to keep a confident mindset, so you can make the right decision at the right moment. Doubts and insecurities are not allowed; otherwise, you might end up wasting time or circling around an idea that might not be practical anymore. It is very important to be 100% confident on the designs that you will be using in your next collection or show as they will contribute greatly to its success. Having a clear vision is the light of everyone's journey. In fashion it is not different as all the activities you do should be aligned in a way that become part of the same goal. A positive mindset and perseverance are a great source of internal energy that should be used during challenging times. The only opinion that really matters is the one coming from customers and supporters. These are all great tools and factors that I have used and made them played in my favor in order to achieve success.
Let's talk shop? Tell us more about your career, what can you share with our community?
After completing my fashion studies in Paris, I was determined to share my fashion view and philosophy beyond my inner circle of friends and family. That's how the Valerie Garmino brand came to live. One of my main goals is to create designs that make women feel confident, so they can show their best version of themselves. I love what I do because I can express my ideas, believes, philosophy and art through fashion. I feel pure joy when I see how my costumers connect with me through my designs and the meaning of them. I am actively working to achieve an industry where human rights and sustainability are not the effect of an initiative, but the cause of a business well run. Because of this philosophy, Valerie Garmino thrives to work with sustainable fibers and materials aim to reduce fabric waste and shift toward a more responsible usage of chemicals, water, and energy. Tradition and inter-generational heritage have formed the codes of the Valerie Garmino brand since its conception. This summer, under our accessory lines, we have included the best handwoven hats of its kind. "The Panama Hat" which is entirely handwoven with traditional finest natural toquilla straw using ancient techniques. This kind of hat is seen as pure art, creating an adoration and appreciation that has traveled the world. Depending on the desired quality, one single hat can take between 4 to 38 weeks to finish. As an emblem of elegance, lifestyle and craftsmanship, this timeless piece can be stylized with a glamorous dress or classic outfit with the same results: elegance fit for any occasion. To shop visit wwww.valeriegarmino.com
If you had a friend visiting you, what are some of the local spots you'd want to take them around to?
Actually, one of my best friends and her husband just came to visit me on February from Arizona. It was that kind of last-minute trip where no one planned it ahead, but it was a memorable weekend. Food Options: One of our favorite places to take visitors from out of town is the classic Texas open pit BBQ Hard Eight, they have an outstanding brisket, ribs and French fries Kai: We want to show our friends Legacy West, so we had dinner at Kai which is a Chic option for Pan-Asian dining. Da Mario: Is a true and authentic Italian dining experience. I love the Fritto Misto Hillstone: My favorite place to try the chicken salad! And they are right next to Tootsies, so after food you can do a little shopping. Reunion Tower (Five Sixty by Wolfgang Puck) The view definitely sets this place over the top. Unparalleled experience of top-of-class cuisine. The service and the atmosphere only accentuate the best parts of the restaurant that for sure make it a Dallas staple in dining.
Relax/ Fun Activities: Cinépolis Cinema -Victory Park: I love that the movie theater is surrounding by restaurants. If you want you can eat before or after movies, or have a nice walk around the area. Service at Getaway Church in Southlake: The friends who came to visit me introduced me to this church, so going to service together was very special. I love the worship and the spiritual experience that I have all the time that I go to this church. The Dallas Arboretum: It is one of my favorite spots! I am a flower lover! So this is a must to go place for me. The Dallas Museum of Art: Located in the vibrant Arts District of downtown Dallas. It is among the 10 largest art museums in the country and is distinguished by its innovative exhibitions. I love when they bring fashion exhibitions. The time when they brought Christian Dior "From Paris to the World" it was OH my Dior!!! Dallas Symphony Orchestra: I usually go with my husband and some friends. I love to bring my sketch book with me as I get inspired by the music and environment. Shopping: North Park Mall: There is plenty of stores to every need/shopping taste. Highland Park Village: During that weekend, my husband sneaked out and went with our friends there to get our wedding anniversary gift. This is a great place for luxury shopping.
Night out: Statler Hotel Scout: The perfect place for drinks, play and just chill. Driving visitors around Dallas at night it is a lovely experience. Statler Hotel Waterproof: The perfect rooftop bar! Love to bring our guests here! You will have the poolside glamour, the best summer cocktails plus panoramic views of surrounding downtown. Toyota Music Factory at Las Colinas they have different kind of restaurants and an upscale nightclub.
Shoutout is all about shouting out others who you feel deserve additional recognition and exposure. Who would you like to shoutout?
As an entrepreneur, you will interact with many people while walking towards the path of success. However, it is important to keep the ones who would support you with their actions very close to you. I come from a public relation and communication professional background; however, I have always been in love of fashion since a very young age. As a child, my grandmother used to show me different types of fabrics and unique accessories that she got from her trips around the world. Then growing up, I started developing and making alterations to my own clothes. I really enjoyed doing this since I wanted to have a unique fashion style. Nevertheless, in order to achieve those unique looks I needed unique materials and accessories that were very difficult to find. That's where my mother came into play and become my second big fashion supporter after my grandmother. When I got married, I told my husband that I always wanted to be a fashion designer and build my own brand. Being him a visionary and someone who truly believed in me, he didn't hesitate and became my third and most important supporter in the chase of this dream. When you are an entrepreneur, you breath and live to fulfill your goals. Behind the scenes, there is a lot of going on and having good and trusted supporters is essential. My journey in the fashion industry has been beautiful, but also with a lot of complexities. Having great supporters such as my grandmother, my mother and my husband has been a blessing.
Website: https://valeriegarmino.com
Instagram: @valeriegarmino
Linkedin: Valerie Garmino
Facebook: Valerie Garmino
Image Credits
Studio Pictures – Dallas ( Shed Collins – Driven Image ) Punta Cana – Private Photographer