Meet Tania Cazin | Sales Trainer & Consultant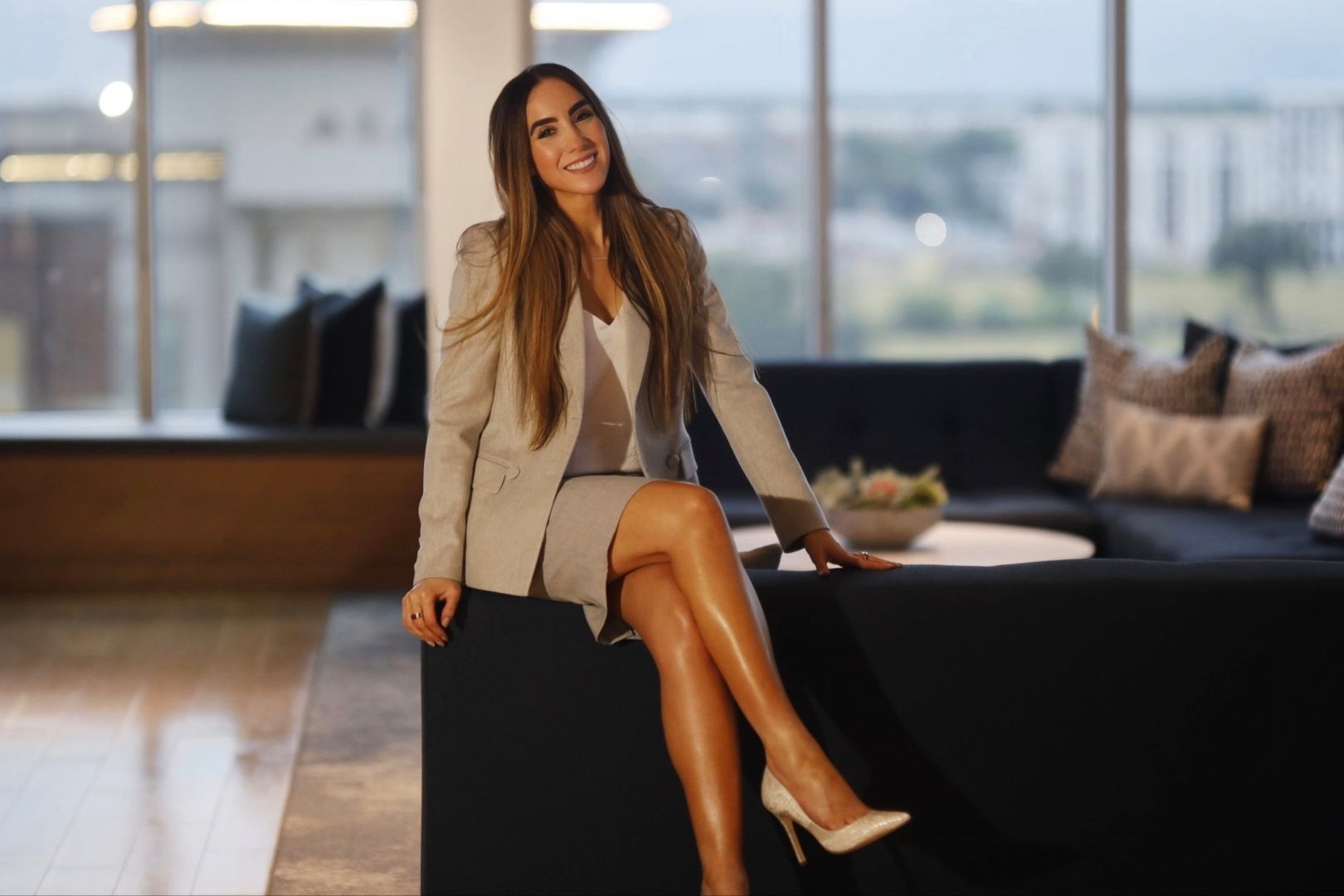 We had the good fortune of connecting with Tania Cazin of Stalwart Sales Training and Consulting, and we've shared our conversation below.
Hi Tania, putting aside the decision to work for yourself, what was the single most important decision you made that contributed to your success? 
Staying true to me – to who I am.
2008 changed my life – forever. I was self-employed; selling advertising B2B (business to business). I was at the top of my game. I had been selling advertising for years and was, quite frankly, very good at it. I would wake up, make a few cold calls, set an appointment, and close the sale. My closing rate was 90%.
I made more than enough to live how I wanted. I would work for two or three weeks then take a few days off. The office knew better than to expect to see me on Thursday mornings because I was at the dance club every Wednesday night with my friends.
Early in my career, my mentors taught me the value of a balanced life; therefore, "success" was never just about money. It was about having fun in my profession and having the financial freedom to do other things I enjoyed.
Life was good. Everything was great…
…then the economy crashed.
I went from caviar to crackers – with a big slice of humble pie for dessert. I didn't lose my job, but so many companies cut back on their advertising budgets that things got tough. I stayed in the game, nevertheless.
Family and friends advised me to get a job with a guaranteed salary and benefits. They call that "getting a real job" because it is safe.
Safe? I don't need to be safe. I like being my own boss and playing by my own rules. I didn't need a guarantee. I just needed a moment to think things through.
As long as I stayed true to myself, I knew I would sort things out – and I did. I stayed visible. I continued networking. I followed up. I had always had a great reputation as a sales professional and, now that companies were struggling, people who knew me reached out for help in enhancing their sales process.
I simply showed them how to do what I do.
In order to accomplish that, I had to break down what I did into steps. Eventually I would call this my 12-Step Stalwart Selling System™.
As the demand grew, I decided to establish my company, Stalwart Sales Training and Consulting. The rest is history.
I love selling; helping others get what they want by turning "no" into "yes." There is an additional, and perhaps an even deeper, feeling of satisfaction that comes from teaching and inspiring others to sell more effectively. It's a ton of fun to see sales team members sell more in less time and put more money in their pockets so they too can have the financial resources necessary to feel happy, fulfilled, successful.
Life throws us curve balls that can knock us off our feet. We may feel lost, sometimes embarrassed. We might be tempted to "give up the dream." Sometimes, people – well-meaning people – suggest that we be "realistic," "get a real job," "do what is safe."
What on earth is realistic about giving up our dream? I don't think people suggest it with ill intent; they want the best for us. I just don't think they realize that giving up the dream could mean giving up on who we are.
When we shoot for the stars, we can't expect others to understand why, because… well… most don't shoot for the stars. They stay put; both feet on the ground – where it's safe. That's what they want us to do too; but that's not where the magic happens, right?
The key is to stay true to ourselves and not be easily swayed by others' opinions about what we should do. We are the makers of our destiny. It is up to us to decide the life we desire – and make it happen. We must stay true to who we are when things get tough.
I'm glad I stayed true to myself throughout my journey. It wasn't always easy, but it was worth it!
What should our readers know about you, your business, your story? 
I made my first sale when I was just a little girl. I overheard Mom and Dad talking about getting rid of our old lawnmower. So I went knocking on doors and sold it to a neighbor. I wasn't asked to do it, I just did it. When I was seven, I sold newspaper subscriptions door-to-door. I sold and bartered my school snacks in elementary school. I sold everything I could get my hands on. I even sold the gum out of my toy bubble gum machine. At ten years old, I joined a kids sales club. I broke records in school fundraising. I won all the prizes until they asked me to share the prizes with the other kids. At fifteen years old, I bought and resold beanie babies.
Why do I mention my early passion for sales? Because that was the beginning of my curiosity about why people buy. At a very early age, I understood what people needed and loved helping them get it.
My professional sales career began when I was seventeen – I was in retail sales before going B2B (business to business). My commission-only and one-call-close background (closing sales on the first appointment) allows me to successfully teach sales teams how to increase their closing ratio and shorten their sales cycle – to sell more in less time.
I have studied the psychology of human behavior and professional salesmanship for more than two decades. I've sold products and services to local, national and international accounts. I have won many awards. I even sold to MLB stadiums. In 1999, I created a step-by-step selling process which ultimately became the Stalwart Selling System™, an easy to follow, 12-step process that encompass the proven skills, techniques, and attitudes that brought my level of success to a consistent 90% closing ratio.
Over time, others started to ask me how I was able to sell so effectively and if I could help them do the same. So I did. This led me to starting my company, Stalwart Sales Training and Consulting. Today, we teach others how to increase their closing ratio, shorten their sales cycle and sell more in less time. This is our motto, and we do it in just 12 steps with our selling system. It is common for clients to get a 700%+ increase in their sales in a very short time.
Who I am today is a continuation of who I was as a little girl. Selling and consulting was never "a job." It's something I have always been good at and have always enjoyed. It is a reflection of who I am. I am in the people business. People are my profession. People fascinate me. It is my life's work to understand why they do what they do and why they make the decisions they make.
Let's say your best friend was visiting the area and you wanted to show them the best time ever. Where would you take them? Give us a little itinerary – say it was a week-long trip, where would you eat, drink, visit, hang out, etc.
We'd do anything the weather permits. I'm a big kid so, if my friend is up for it, we'd spend a day holding on for our dear lives on the rides at Six Flags or sliding down the water slides at Hurricane Harbor. Next, we would spend a day at the Fort Worth Stockyards to see real rodeo cowboys in action. I couldn't let my friend leave without experiencing this since it's such a Texas thing to do!
Then at night, we'd dress up and go out on the town. We'd have dinner someplace nice. There are so many choices. Then we'd hop around, spontaneously checking out all the fun spots in Dallas. I recently did this with my good friend, Sarah. We went to eight different places in one night. What a blast! She really enjoyed seeing so much of Dallas in such a short time.
Next on the list would be a road trip to Austin. We'd check out the town, then head over to a swimming hole. These beautiful, clear, clean natural springs are very popular – a perfect way to cool off on a hot Texas day. I'm an inveterate swimmer, so stopping for a swim at one of these beautiful swimming holes is a must.
Then we'd head over to Schlitterbahn, in New Braunfels, Texas. It has a lot of lazy-river type rides and is my all-time favorite water park. From there we'd take a short drive to San Antonio then continue the road trip to Galveston, then Fredericksburg, then head back home to Uptown, Dallas.
Our last meal would be at Sixty Vines. Their Executive Chef, Chef Martin is an artist with exquisite talent and a clear calling. Recently he made me an off-the-menu gluten-free, dairy-free and egg-free pizza that I still can't stop thinking about. It was a delicious work of art!
Image Credits
Tashalyn Spraglin
Nominate Someone:
 undefined is built on recommendations and shoutouts from the community; it's how we uncover hidden gems, so if you or someone you know deserves recognition please let us know 
here.