Meet Robin McCasland, SCMP | Communication Executive & Engaging Speaker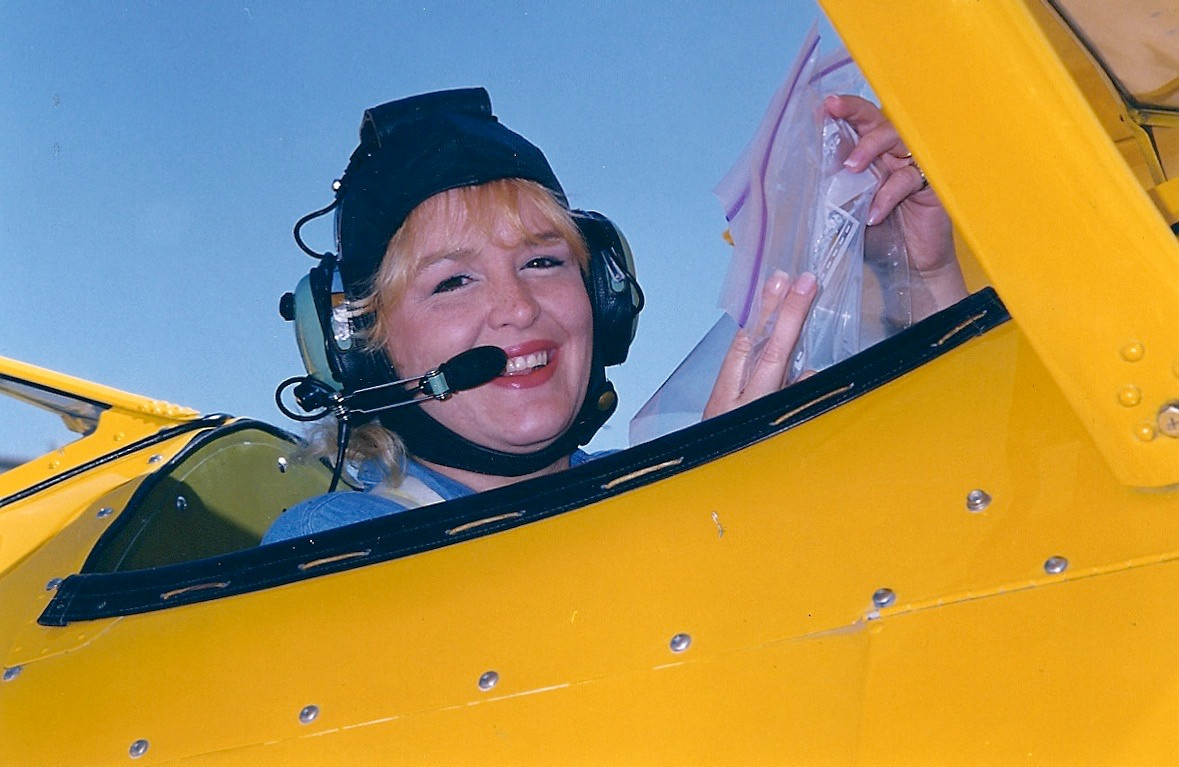 We had the good fortune of connecting with Robin McCasland, SCMP and we've shared our conversation below.
Hi Robin, what role has risk played in your life or career?
By the time I was a young adult I'd developed some unhealthy fears and phobias. I was afraid of heights and of flying. I was also shy and didn't like interacting with strangers. But I also wanted to succeed in my career – communication – and that involves being able to converse and present to all kinds of people!
Many years ago, a former supervisor watched me present at an internal work event. At the time, I was terrified. But I also knew I'd been engaging and I'd done a good job. Soon after, my supervisor encouraged me to speak at an external conference. Again, I was terrified. But I did it anyway. I was successful. With that one event, my confidence grew exponentially. I became a frequent public speaker on various communication and human resources topics. I've now spoken to audiences on five continents and multiple countries over more than two decades.
What some might consider a simple act seemed like the biggest risk to me at the time. But learning to speak confidently and capture an audience's attention changed how I viewed what was possible for my life and my career. I also got over my fear of being around large groups of people. After that event, I took greater control over my career choices and it made all the difference.
There were also those pesky height and flying fears. But I remembered my dad telling me about flying in Stearman biplanes as part of his military pilot training. He said it was beautiful, being in the open, wind in your face.
It sounded like a nightmare to me. Flying in a tiny little crate, bugs in your teeth, nothing but wings and a propeller in front of you.
At the same time, I got the crazy notion that if I could do that – fly in a biplane – I could get over the fear of flying in a commercial jet. I live not far from Addison, where there's a flight museum. They offer rides in a Stearman biplane. I would see that biplane fly over my home now and then and I'd tell myself – one of these days I'm going to be brave and fly in that thing.
My husband called my bluff and bought a gift certificate for me to ride in the biplane. Took me six months to gather my courage, but I finally did it. I've never been so afraid in my life. But it was, as my father described it, beautiful. We flew over Far North Dallas and out toward Lewisville, where we flew over the lake. I had tears in my eyes. Incredible. With that said, it's an insanely bumpy ride. The pilot had given me a baggie, just in case, and I needed it. I threw up twice during the flight. It was probably a combination of fear, relief and being jostled around in that antique crate.
My crazy idea worked. After that flight, I got over my fear of flying. And I've since traveled the world. As for the fear of heights thing, I continuously work on it by going up in the tallest structures I can access while traveling. I've climbed the Sydney Harbour Bridge in Australia. I've been to the top of Table Mountain in Cape Town, South Africa. I've been to the tippy top of CN Tower in Toronto. Walked on the plexiglass floor there. And I continue to "conquer" high structures whenever I have the chance.
If I'd not taken the risk of flying in that biplane, I probably wouldn't have traveled to so many amazing places. I'd not have had the opportunity to meet incredible people around the world. My career would have had a much smaller footprint. It's been a fun ride so far, and I'm not close to being done!
Alright, so let's move onto what keeps you busy professionally?
I still think like a kid. That's what sets me apart. I'm creative in the way an 8-year-old views the world. Most children who have not been experienced trauma, and are raised in loving environments, don't think about what's not possible. They don't always take action based on the filter of wondering what others might think of them. They've not been told "no" enough times (yet). They view the world in vivid color, full of possibilities.
I bring that childlike curiosity to every career role. Even in more conservative corporate environments, you can introduce fun, creativity and curiosity into your work processes. It's like a fresh breeze blowing through the office. It encourages people to think differently about how to solve challenges. In very traditional corporate settings, that childlike curiosity is needed more than ever.
I get jazzed when I suggest initiatives that may seem radical, but I know in my heart (and based on my years of communication experience) will work. I am elated when I see how others respond to the initiatives. When they are engaged in a major initiative and they begin to see what's possible. When they see the difference we can make. That's what makes me want to jump out of bed each morning. When people see that you can have fun while engaging employees and influencing behavior change. I've seen it work time and again. When you allow employees to cut loose and have some fun…when they laugh and relax…their right brains kick in. Then, when you need to communicate complex information, they're more tuned in. It's like resetting the brain so it's more receptive to what you need to communicate. I would never introduce humor or be flippant when something very serious is taking place. You have to know when it's appropriate to use creative methods to engage employees. I've used this approach with major employers in the semiconductor, transportation and healthcare industries and I'm immensely proud of the results.
I also served as global chairman of the International Association of Business Communicators (IABC) during a turbulent time of necessary change for the organization. During that time I learned that I'm stronger than I imagined I could be. I learned to tune out distractions and remain focused on what needed to be done in the best interest of our members globally. I'm incredibly proud that everything the board, staff, volunteers and I set out to do was accomplished. I'm equally proud of the leaders that have come after us and have continued to raise association standards f and most importantly – continued to increase visibility and credibility for our amazing profession.
Certification for the communication profession is one of the things we advanced during my time on the IABC board. Since then, IABC has launched two certification exams for professionals at different career stages. One has been accredited by the American National Standards Institute and meets the requirements for International Standards Organization 17024, We expect the more senior certification exam to receive the same accreditation in the future. This is a game-changer, as IABC is the only organization to have such a certification for the communication profession. I was elated to be among the first professionals globally to receive my certification as a Strategic Communication Management Professional.
I'm also proud of the many communication awards I've earned over the course of my career. Most recently, I was named one of the 2021 Top Women in Communications by Ragan/PR Daily. In 2020, I was honored as IABC Southern Region's Communicator of the Year.
Oh my goodness, I forgot my podcast! It's called Torpid Liver (and other symptoms of poor communication). In the podcast I address overcoming fears and phobias, and key communication topics for people in my profession, or people who wish to become more effective communicators.
One other thing…unrelated to my profession. I'm a graduate of The University of Texas at Austin and a passionate Longhorns sports fan! I have season football tickets and make many trips to Austin throughout the year. But I also follow all Texas sports and love cheering on our student athletes. Hook 'em!
If you had a friend visiting you, what are some of the local spots you'd want to take them around to?
DFW has grown exponentially in the time I've lived here! There are so many incredible places to visit. The Arts Districts in Dallas and Fort Worth are world-class. The art collections here rival those of any major city in the country.
If my friend had never been to Texas, I'd take her/him to Fort Worth to visit the Stockyards and see longhorn cattle. We'd have lunch in one of the cool dining spots downtown and check out the fun shops along Main Street. I think Fort Worth is one of the coolest cities. If you know, you know!
Dallas is a foodie's paradise. There are many incredible restaurants here, I usually prefer supporting the local, funky places. We'd have to fill up on tacos at Fuel City just south of downtown! We'd visit one of the Norma's Cafe locations for breakfast, or maybe Maple Leaf Diner in North Dallas.
You gotta have a real steak dinner while you're here. There are so many well-known places to choose. Personally, I love Pappa's Steakhouse for the amazing cuisine and fabulous service. In West Plano, there's a barbecue joint called Delta Blues. It's also owned by the Pappa's family. The brisket literally melts in your mouth. All of the side dishes are amazing, and I'm particularly fond of the corn pudding with jalapeno.
Dessert, anyone? I dig The Cake Bar in Trinity Groves. There are so many flavors from which to choose, but I'm a freak for their key lime cake.
If you're in DFW and you like sports, you gotta go to a Mavericks, Stars, Cowboys or Rangers game. I'd want to show my friend how passionate our sports fans are here!
And oh, the shopping! Good heavens. DFW is a shopper's paradise. We'd visit NorthPark Mall for the variety of shops, but I'd also want my friend to visit the cool shops in Knox-Henderson or Uptown. I can't list them all here. There are too many cool shopping areas to list here.
If it's fall, we'd spend an afternoon at the State Fair of Texas. Eat the crazy foods the vendors come up with each year. Try a Fletcher's corny dog. Ride the Star of Texas ferris wheel and see the magnificent views of downtown and all around DFW from the top of the wheel.
We'd also spend a day in Denton. I adore that city. It's laid back, cool, and reminds me of Austin (my hometown) from an earlier era. I'd take my friend for a burger and those amazing fried onions at Rooster's Roadhouse. We'd go to the town square and check out the shops there.
Who else deserves some credit and recognition?
My husband, Mitch McCasland, has been my ride-or-die partner for nearly 30 years. He has always been my biggest supporter. He believed in me when I didn't believe in myself. He continues to encourage and push me forward when I need a kick in the pants.
Kerry Miller is the former supervisor who pushed me to become a public speaker. He was supportive when I was nominated for communication awards. He supported me taking on leadership roles in IABC. He placed me in an immersive, intensive program offered by our employer to help me better understand my strengths and why my own talent mattered and was valuable to my organization. I will always be grateful for him seeing my potential and encouraging me to do more with my career.
Website (archived podcasts): torpidliver.com
Instagram: @therealrobinrox
Linkedin: https://www.linkedin.com/robinmccasland
Twitter: @robinrox.
Image Credits
All but one photo was taken by me or my spouse/friends, using my own camera. The exception is the one of me on the Sydney Harbour Bridge. That image was taken by our tour guide from BridgeClimb Sydney (Australia) – and I paid to own the image.
Nominate Someone:
 ShoutoutDFW is built on recommendations and shoutouts from the community; it's how we uncover hidden gems, so if you or someone you know deserves recognition please let us know 
here.