Meet Rendee Bullard Hahnfeld: Lifestyle Concierge Business Owner & Private Service Professional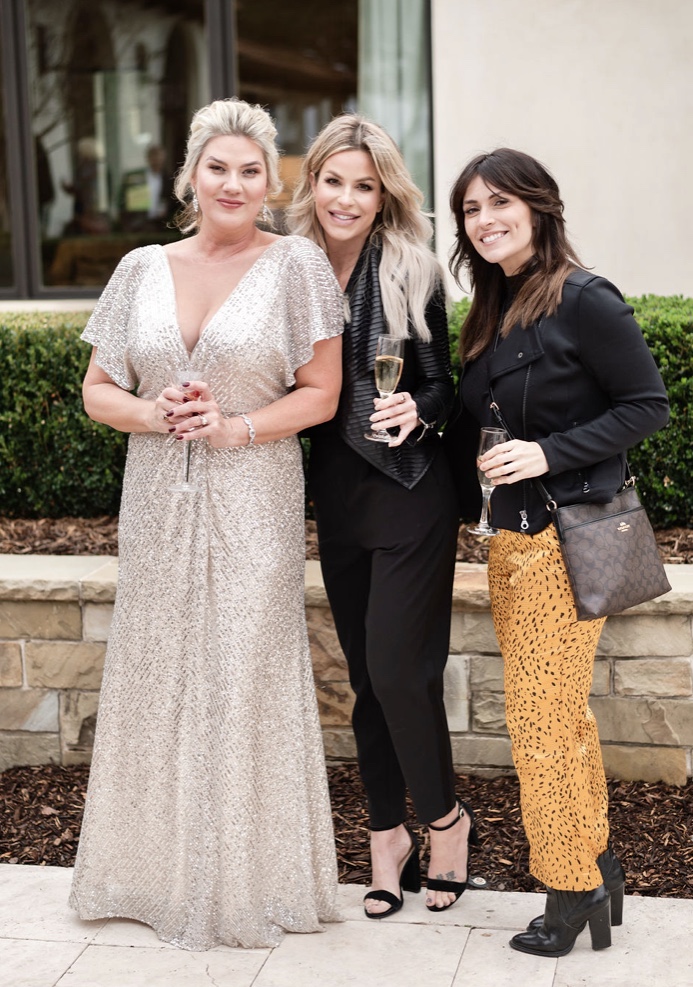 We had the good fortune of connecting with Rendee Bullard Hahnfeld and we've shared our conversation below.
Hi Rendee, what do you think makes you most happy? Why?
I get my happiness from giving. It gets said a lot, but it's true…giving your time, money, or both, is its own reward. I volunteer in Fort Worth whenever I can. My livelihood sits with the people of this community and I'm going to give back wherever I can, as a matter of responsibility. But it's deeper than that, it brings me immense happiness. I also have to credit my mom/co-founder, for the 'giving gene'. A strong, compassionate woman, she had my sister and I volunteering before we were talking! We moved around a bunch, but from Mississippi to Texas to Tennessee and back to DFW, my family always found a way to plug in and help the community. My mother volunteered to her last breath, I mean she literally served meals to the hungry in her East Texas community until she passed away. Feeding folks is also my idea of absolute joy. I don't always cook breakfast because frankly, mornings aren't my favorite, but we can start with brunch and I'll feed you all day. Cooking and entertaining is so intimately connected to giving love that, ultimately, the joy I get from cooking still comes back to the theme of giving. I am so fortunate that even my business allows me to give to others. As an owner of a Concierge Agency, I rest easy knowing that I am giving people their time back. I get to use my relationships with Fort Worth's highest quality vendors to tick items off of my clients' to-do lists. From waiting for cable installation , to organizing a walk-in-closet, to providing in-home care during a pandemic, we take things off folks' plates. It's hugely satisfying! Giving, giving, giving, I hope I made my point! Giving lifts your energy, your mood, improves your health, the benefits are endless and I've managed to make a career of it. If you were to ask me for my single biggest joy, it's probably seeing my adult son understand his own responsibility to give back. I've seen him take off his shoes and give to someone who needed them. I've seen him do selfless things on so many occasions that I can't help but think we can make the act of giving a family business.
Can you open up a bit about your work and career? We're big fans and we'd love for our community to learn more about your work.
After 20 years as a personal assistant and estate manager to ultra-high-net-worth, high-profile, and celebrity clientele, I found myself constantly being asked to share my priceless contacts. "Do you know someone who can…?" was the question most often asked. After invariably answering in the affirmative, this was quickly followed by, "You know somebody for everything!" It simply made sense to turn this steady stream of referral requests into a service agency representing other experienced career personal assistants and professionals. And so an idea was born. I decided to put these great connections into action, intertwining both lifestyle management and personal assistance services into a seamless mix. Everyone I knew was busy. Every one of them could use an assistant from time to time. From getting their errands run to having their to-do lists completed, to not having to deal with every single little thing that swallows up a day, the knowledge that a literal second set of hands is taking care of business on their behalf could become a treasured commodity. But treasured though they may be, I did not want the services I offered to be mere commodities. Far from it. My take on corporate concierge services (as I came to discover they were called) would be an extension of my own style, the "Rendee way of doing things" if you please. The whole notion of having an added benefit that companies could offer or give to their most deserving employees sounded like something brilliant. After all, I knew I worked 24/7, and to be able to accomplish the things in my life that there was never time for would have been the perfect benefit for me. And so the first division of what came to be called Go Go Me was formed – corporate concierge services. Soon, however, the biggest part of Go Go Me's business came from mobile beauty services. It quickly became evident that we needed teams dedicated to these services – from weddings and other big events to everyday beauty needs such as hair, makeup, wardrobe coordination, airbrush tans, nails, waxing, etc. (whew). So I formed a new division called GO Beauty. But I didn't stop there. I now have boutique divisions operating in DFW, Los Angeles and Nashville – GO You (the personal assistant / errand running teams), GO Beauty, GO Nerd (creative technology), GO Events and GO Home. Go Go Me really is on the go! I didn't have a clear vision of what I ever really ultimately wanted, it just evolved organically. It was tough. I will tell you that everything I learned, I learned the hard way. I say that with gratitude now. I have learned to "measure and adjust" as I refer to it. I have learned to pivot and do it quickly. All I know is that I am a problem solver and a connector. I am here in this lifetime to help and be of assistance and that's just what I want to do. I feel like for those who are born with a servant's heart and feel like the growing private service space is where they belong, reach out to me. I will tell you everything I know! Nothing like full transparency and sharing the knowledge – it's my secret sauce! I sure wish I would have had that learning the biz!!!
Any great local spots you'd like to shoutout?
I made the big jump from Uptown to Cowtown when I met the love of my life and now call Fort Worth home. In this city, I can always recommend a favorite spot to visit. First – you will want to stay somewhere cool and in the middle of everything. I would recommended a new hotel property located downtown, The Sinclair. It is where art deco and luxury come together and there is no other rooftop bar quite like it. If you're a Foodie like me, I can recommend a few of most faves: Southside Rambler – it's new and their outdoor patio for live music and craft beer is fantastic and I love every bite on the menu. Wishbone & Flynt – where EVERYTHING is made from scratch, literally and Toro Toro – where Pan-Latin meets Texas flair, it's just wow! Do not miss a dinner at Magdalena's Supper Club – a monthly Pop Up with the best and freshest menus in town, by the coolest Chef in their urban space or in their garden and BYOB. The Biscuit Bar in Mule Alley – need I say more? Mule Alley is located in the historic Stockyards of Fort Worth, a must visit in Cowtown, USA! That area also known as the Northside which offers rodeos, real cowboys, BBQ, dance halls, authentic Mexican food, cold beers, great shopping and killer music. There are SO many things to do and see in Fort Worth. If you have never visited our ZOO, you need to check it out! A fun, hip new pocket with bars and breweries, a record shop, cool boutiques, coffee shops and more is known as South Main District. Drive-Ins are still cool in my book and I recommend Coyote Drive-In! If you are into the arts and a little more culture, The Bass Hall for musical performances and The Kimball with it's stunning sculptures and paintings. We have history museums, art museums and specialty museums – something for everyone! Don't leave without hopping into Clearfork, an open air shopping spot that Neiman Marcus anchors. Be sure and have a drink at B & B Butchers in the bar! Sundance Square always has something happening and it's located right downtown. Concerts, shopping, great food and fun for the whole fam! And it's near the hidden water gardens with pools and waterfalls – so pretty!
Shoutout is all about shouting out others who you feel deserve additional recognition and exposure. Who would you like to shoutout?
I have to Shoutout to Greg Moakes! Greg is the director of my Go Marketing division. He is driven by a dual-fascination of data and marketing. He is definitely my go-to expert for our clients who are seeking to increase sales. He also owns a creative / marketing agency called, Left Brain Content. A Scientist by training, Greg holds a Ph.D in Chemistry and enjoyed a career in materials science until he caught the marketing bug, by accident, while working on commercialization of new products. After receiving his MBA from Southern Methodist University in Dallas, he became fascinated with how his analytical mindset could be applied to help businesses attract customers. With this, his career in marketing was born. Greg leads our client marketing team. In this role he oversees a team of copy writers, data analysts, SEO and PPC specialists, and social media managers who have turned customer-engagement into a Science. This human has been a mentor, a business manager, a life coach, a creative services director, a copywriter, a confidant and true friend with the patience of a saint for the past few years of my career. He deserves A LOT of credit in the success of where my business is today. I can't do what I do without him, I am sure he hears that often from folks.
Website: https://gogome.me/
Instagram: instagram.com/rendee
Linkedin: https://www.linkedin.com/in/rendee-bullard-hahnfeld-132b2a6/
Twitter: https://twitter.com/rendeekay
Facebook: https://www.facebook.com/gocowtowncompany/
Yelp: NA
Youtube: NA
Other: NA
Image Credits
BeatBox Photography & Kari Breen