Meet Paige Davidson: Painter, Potter, Designer & Gallery Owner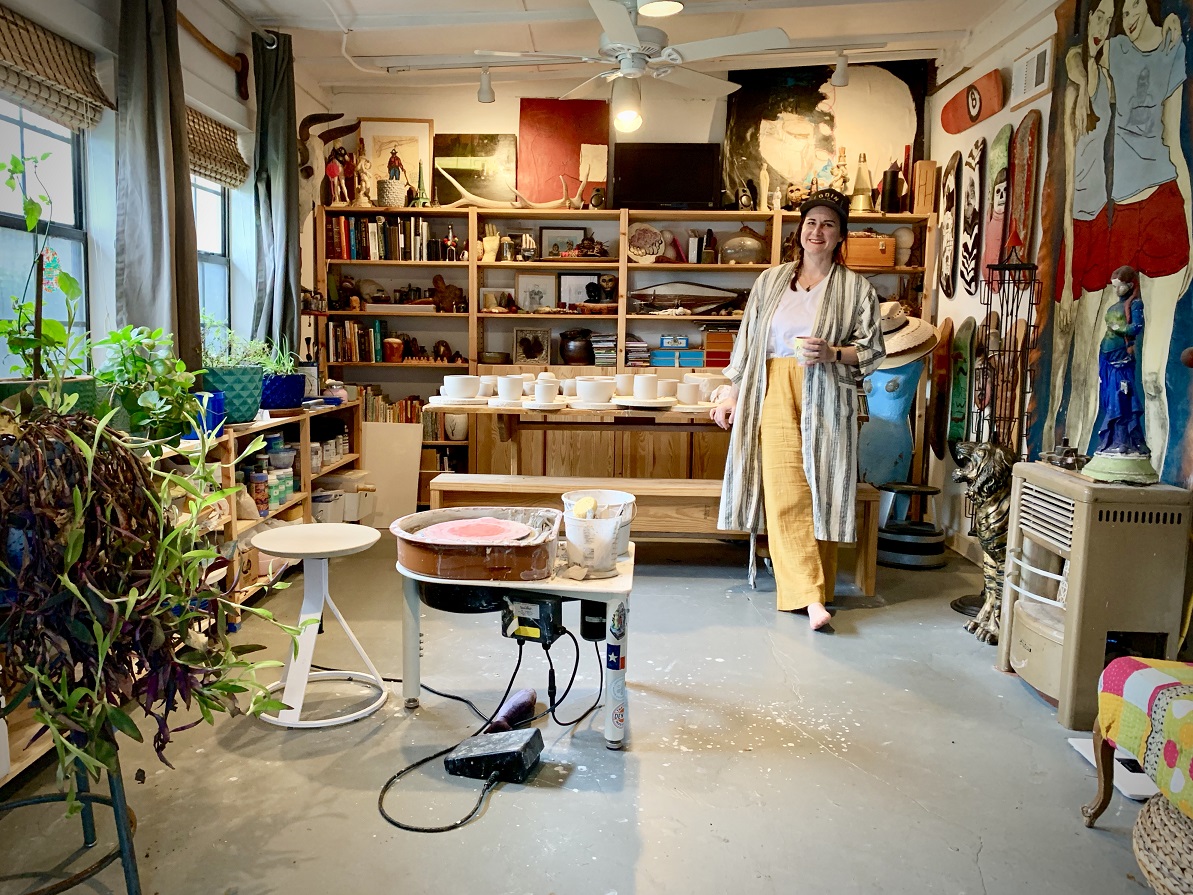 We had the good fortune of connecting with Paige Davidson and we've shared our conversation below.
Hi Paige, any advice for those thinking about whether to keep going or to give up?
Our family motto is "Davidsons are quitters." I even have it chainstitched on the back of my favorite jacket. I often hear that you are supposed to finish what you start, but in my world, if what I'm doing isn't bringing me fulfillment, if it is sucking my joy, if it is stunting my relationships, or if its not flourishing as I'd intended, I reevaluate. I do want to keep the commitments I have made to others, however I do not want to spend my life doing something simply because I started it. I was raised to find my bliss. I have pursued a career that isn't easy and is outrageous amounts of work in order to make a living, but it brings me absolute contentment. Even currently in this self-isolating pandemic, I'm working at home in the studio at least 8 hours a day because I have found what I love.
Can you open up a bit about your work and career? We're big fans and we'd love for our community to learn more about your work.
My work is 3 part: painting, pottery, & Cahoots Handbags. I am a little different from some artists in that I do love working in multiple mediums. My first love was painting and I started my gallery in 2003 named "Paige Davidson Studio" selling my work at exhibitions I was hosting in the warehouse where I was living and working. Painting is what I focused my BFA in, and oil painting continues to be my "home base." Shortly after I began that business, I also began creating handbags and clutches from vintage textiles with my mom and launched a collection we call Cahoots Handbags. After 4 years, the business was growing and I decided to renovate the historic building in downtown Gainesville which had been my grandfather's auto-parts store and open a more public, serious space. I paid for the renovations out of the savings I had built selling paintings off my living room walls, and opened there in December of 2007. I believe in baby steps and have never bitten off more than I knew I could chew. I have been so fortunate to have continued local support as well as people who seek the gallery out as a destination spot to support my work, to have had a number of cheerleaders who have shared my art and our handbags in publications, who have put my art on sets of TV series, and who have told their friends about what I do. In the last handful of years, I've come to fall deeply in love with pottery which I've practiced on and off since high school. I now have full ceramic studio set up at home and spend as many hours as I can there. I have also, in that same few years of time, fallen hard for watercolor. I do a yearly solo painting trip, I refer to as my "walkabout" where I take my watercolors on a road trip to my favorite spaces and paint on-site as I hike. There is something rewarding about the immediacy of it and the challenge of painting against a clock of time/light/composition/color. I have, in the last few years, become obsessed with it and find the most joy in that practice, and I incorporate those same landscapes and subjects in much of the pottery I throw.
If you had a friend visiting you, what are some of the local spots you'd want to take them around to?
Gainesville is full of little gems! The historic downtown is really well-preserved and has been occupied by wonderful people running wonderful businesses. A few of my favorites are Kinne's Jewelers which has been in business for over 100 years and family-run for generations. They do custom jewelry, beautiful handcrafted wax stamp castings for stock, and have a great gift selection too. Bungalow 123 is a favorite for on-trend clothing and gifts. Our store is grateful to be right next door to the historic Fried Pie Co & Restaurant which draws people every week for their fried pies. As a pre-schooler, I sold drawings table-to-table to locals in that restaurant. I'm also COMPLETELY over the moon about Sweet Jayne's bakery which opened about a year ago in downtown Gainesville. Their owner/baker is a great friend of mine who is so outrageously talented and so community minded. I highly recommend their chicken salad and pimento cheese boxes and their baked goods. I honestly devoted a month of my time last year to painting through her menu! If you're headed up into the North Texas area, I highly recommend making a weekend of it. Book a stay at 205 Melody Lane and enjoy the best breakfast casserole of your life. Spend a morning exploring downtown Gainesville's shops and our historic district. Drive over to have a chopped beef sandwich at Dieter Brothers BBQ in Lindsay, TX, and then head to Saint Jo to visit Panache. That little boutique is owned by the sweetest family you will ever meet and had great clothing and home accessories. Ashlyn and Lynne Shadden are the cream of the crop in my book. You can visit the Blue Ostrich Winery in Saint Jo and the 4R Winery in Muenster for some beautiful award-winning wines before returning back to your B&B stay at 205 Melody Lane.
Who else deserves some credit and recognition?
There are a zillion artists, writers, customers, and small business owners who have helped push (or drag) me along my way. Meeting my friend Amy DiGregorio (who started in jewelry but now makes outrageously beautiful leather goods) was a pivotal moment in the history of my business. Our friendship started via online networking, swapping links for links and bartering product. She was so gracious in her mentoring of me, helping me to craft our very first website which got picked up by Bust Magazine as an "editor's pick." She invited me to come for a visit in Santa Barbara where I napped on her floor for a week, did business through her sales rep, snagged representation from a local boutique, and forged a lasting friendship. She continues to be someone I look to for inspiration, and I'm so grateful for her advice in the early years of my business.
Website: www.paigedavidson.com. www.cahootshandbags.com
Instagram: @paigedavidsonstudio @cahootshandbags
Twitter: @cahootshandbags
Facebook: @cahootshandbags