Meet Haley Nelson: Dramaturg, Producer, and Playwright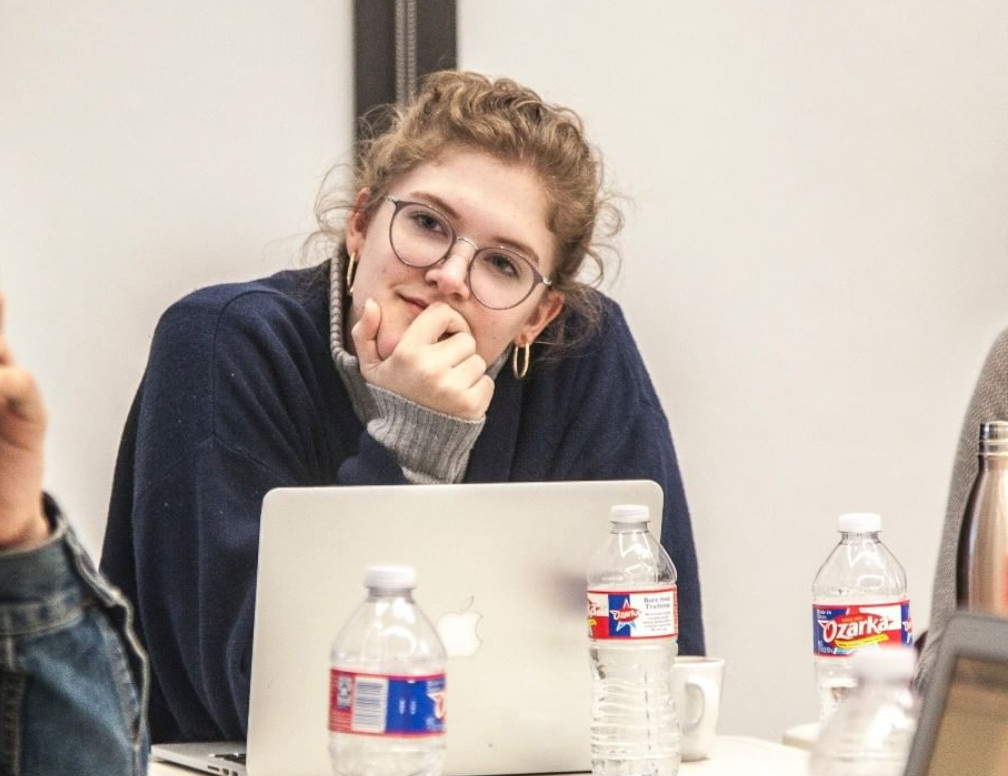 We had the good fortune of connecting with Haley Nelson and we've shared our conversation below.
Hi Haley, what is the most important factor behind your success?
Committing to being an eternal student. Dramaturgy, because it is often so research dependent, inherently requires me to admit that there are a million things I have not mastered, no matter how "smart" or well-read or hard-working I am. Past projects have required me to read up on the history of the credit industry, traffic laws in Vermont, the diet of goats, Plato's dialogues, the list goes on. If I pretended to know about any one of those things out of stubbornness or laziness or to protect my ego, the projects would have suffered tremendously. Ultimately, it benefits my work more to admit that someone else is surely smarter, sharper, more masterful about any given topic because a playwright's work will be richer for it. I carried over this thinking from my profession into my life as a professional and I have really reaped the benefits. I am an active learner and self-educator, investing a certain amount of money and time each year on opportunities to learn how other people do my job. While that comes at some immediate financial cost to me, traveling to see how theaters in different parts of the country operate or attending professional conferences and seminars truly are investments; They ultimately pay for themselves in the diversity of my knowledge, skillset, and network. It also creates an important shift in the way I look at my career. If a career is essentially a long-term commitment to a job, believing that I am an "eternal student" makes that long road ahead more exciting: there is no finish line or plateau. It also permits me a certain amount of grace with myself: I know that I will never arrive at a point of universal expertise, I will not be the right person for every project, and I will make many mistakes. That's just par for the course. On the other hand, an eternal student gets to learn from many teachers and is given many opportunities to show improvement. This perspective has made me an earnest and invested listener, a better team player, an interdisciplinary thinker, and a more curious human. 
Can you open up a bit about your work and career? We're big fans and we'd love for our community to learn more about your work.
Both my dramaturgy and playwriting rest on careful balance point between a joyful, curious, almost childlike level of play, and also ambitious, rigorous, analytical thought. In my own plays, I often explore characters that feel stuck and in pain – in a dead-end job, or the literal end of the world – and whose only antidote to that pain is finding crumbs of joy wherever possible. Playwriting requires so much focus, and writing can often be so lonely, so I feel like a lot of what I offer as a dramaturg is finding a way to sort of turn on a mental flashlight for the writer that can lead them out of the woods. If I can find something that makes their writing process feel fun or surprising again – as I think all exciting new ideas start out that way – if we can find the moment where the playwright feels able to zoom out of the "seriousness" of the art and find a second to simply play again, nine times out of ten something clicks inside of that writer and they can carry on. I'm not sure what it is – hope, maybe. Sometimes hope gets lost in the process and we have to find it again to set everything back on course. In my opinion, the scarcity mentality is the hardest part of being an artist in any field because it's so easily reinforced. It's all-encompassing, this idea that we have to make the most we can with as little funding, time, or hands on deck as possible, or that there are only so many opportunities or roles and that someone is "taking" something from you when they succeed. The idea that doing anything beyond what we already know is too risky because it takes away whatever little resources you have gathered in the first place. Of course, there are limits to those resources, absolutely, but we construct those limits. When it feels like taking extra time to figure out how to do things better is a waste, we fall into a stressful, limited way to do things time and time again. We all fall into it, I think, me included, and it's a dangerous and harmful mentality. So being in a really niche field, at least in Dallas where there are so few professional or staff dramaturgs, getting people to buy into the idea that sometimes it is worth it to spend those resources on a dramaturg – and, it doesn't help that "dramaturg" with a silly German title that provides very little context about what it is we do – can feel like an uphill battle. I think for people who haven't worked with a dramaturg before and who live in this scarcity mentality, it must feel like choosing to buy a tandem bicycle when you certainly can just ride a bicycle by yourself, you know? Like, people feel like they are hiring someone to Google facts for you, or working with a psychic who might occasionally divine something useful (since new play development can be kind of woo-woo and crunchy granola sometimes, you know?), or like hiring a priest to flog you when you make a mistake. But really I think it's more like putting frosting on a cupcake – you can eat just the cake part to save time and money and it's still technically a cupcake, but, wow, what you miss without it! I think my job as a dramaturg, really, is to remain an indefatigable superfan; to give back what we lose to scarcity in the creative process. Like, in rooms where I am a dramaturg, even if I give a note like, "let's replace the instrumental for the opening of the play to one from the correct Latin American country", it's because I know everyone here believes that accuracy matters and hey, I have the time to find it! Bringing abundance into the room means I can be like "let's journal about today because breaking yourself to write ten more script pages because your deadline is next week, even though the pages will be made under duress and you won't like them in the morning and ultimately they will only fuel your fear of being a horrible writer, is not really that useful!" Or like, "We aren't writing a play because it checks boxes of what is "popular" because you think it will fast track your play for production and popularity, we are going to tell the story you can tell authentically, carefully." Because I'm in these rooms holding space for abundance in doing this work, I have the privilege to see how when we readjust our thinking about these things and take the time to investigate our resources, the play is better than before. It still gets done on time. The script will still be appreciated by a literary manager somewhere. The world doesn't fall down on you. It actually opens up a little. I think sometimes people think this kind of rigorous hope is naive, immature or unrealistic, but I am also a producer so I understand and totally respect the realistic limits of time, money, space and people. I understand the nuances of Boards and staff dynamics. And I do believe everyone is thoughtful and trying hard to make the right choices for their process, and that there are processes that don't need dramaturgs. However, I do think it is almost always useful to have someone to keep the hope alive in a dark room. To remind us that when we create art we are able to create new realities including our own. That's not a powerless thing. That's a hopeful thing.
If you had a friend visiting you, what are some of the local spots you'd want to take them around to?
Ahh man, people! I sure miss them! My boyfriend, who usually lives in New York, has been here in Dallas during quarantine and I've been so bummed that we can't see a show at the Granada, a tasting at Celestial Brewing, trivia at Deep Ellum Brewing, brunch at Old Monk, or the rooftop pool at the Canvas Hotel. We've been enjoying lots of take out – Company Cafe, Halcyon, and HG Sply Co. have become part of a steady rotation – and we love coffee from The Merchant (and the excellent dogs we often see hanging out with their owners on their patio). I've also been enjoying the work of local artists and theaters that have temporarily moved their events online, especially now that we are celebrating the holidays away from home! One of my favorite holiday traditions is attending the Celebration of Lights at SMU, where I went to college. Watching the livestream this year was such a comfort! I'm looking forward to strolling around on campus now that the lights are up, and I hope to head to the Arboretum for their 12 Days of Christmas exhibit. I'm a sucker for some animatronics!
Who else deserves some credit and recognition?
I'm so grateful to those in Dallas who have taught me, hired me, advocated for me, or brought me coffee on a deadline. Every writer I've worked with, everyone who is unafraid to ask "what's a dramaturg"… It's a long, lovely list. It's been an honor to grow a career and broaden my field in a city as artistically adventurous as Dallas. I'm also grateful for those in the industry working to make it more accessible, inclusive, and exciting on a national scale: the writers of "We See You White American Theatre," the folks at the Literary Managers and Dramaturgs of the Americas and the National New Play Network, and so many others. I also can't go without thanking my Producer in Residence cohort at the National New Play Network, and my classmates from my BFA program in college. We've Zoomed every weekend since the quarantine started. It's such a relief to have folks who just inherently believe in you and are rooting for your success, especially in such a difficult time.
Website: www.haleynelson.me
Instagram: @haleygnelson
Linkedin: https://www.linkedin.com/in/haley-nelson-491b29141/
Image Credits
Kim Leeson, Artstillery, Martha Rincon/Thrive Photography, Imprint Theatreworks, Kim Leeson
Nominate Someone:
 ShoutoutDFW is built on recommendations and shoutouts from the community; it's how we uncover hidden gems, so if you or someone you know deserves recognition please let us know 
here.