What was your thought process behind starting your own business?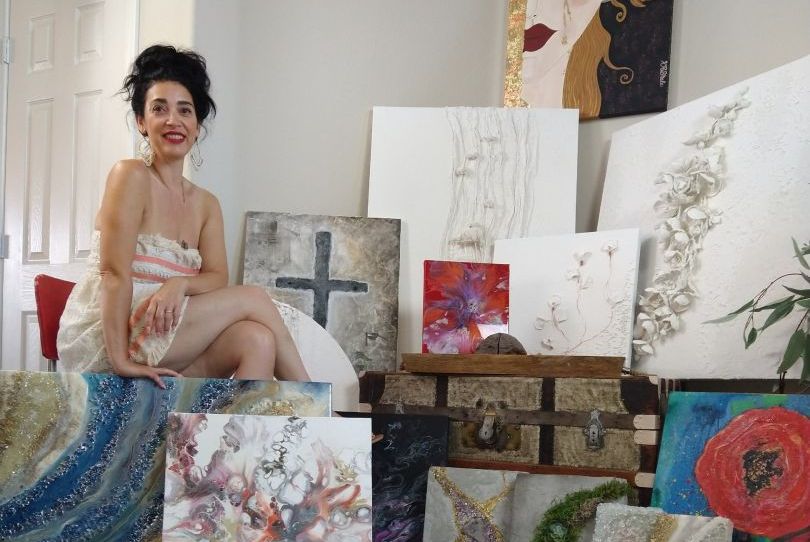 Starting a business is a commitment and requires dedication, resources and sacrifice. We asked some of the rising stars in our community how they thought through the idea of starting their own businesses.
Jade Johnson | Photographer / Videographer

Photography has been a passion of mine since I received my first camera back in 7th grade. Throughout the years, it was something I did for friends and family, as a hobby. It wasn't until a few years ago that I decided to turn it into my career. It just made sense. If this is what I love to do, why not make a business out of it? For a while I went back and forth with my own thoughts of how I wanted to go about starting, but I figured the longer I contemplated, the longer it would take me to get started. So I decided to take a leap of faith and go for it. Read more>>
Out Of Touch Productions | Independent production company

We both had the luxury of going to a high school that offered a very hands on Media Technology class which led to us making a feature length film our junior year (HORROR HIGH). This truly helped our love of filmmaking grow even more and after production has wrapped, We knew that we wanted to start a production company where we had the creative liberty to tell the stories we wanted to tell and create the art we wanted to create! Since we are extremely close and practically share the same brain we knew this would an easy process for us because we simply want to make films We believe in. Read more>>
Heidi Scheurmann | Pastry Chef and Small Bakery Owner

I have been baking professionally for over 20 years and decorating cakes for over 15 years. My baking and decorating career began in an upscale grocery store bakery and eventually transitioned to a small bake shop specializing in custom wedding and specialty cakes. I had always worked for someone else. After years of feeling overworked and under appreciated, I decided it was time for a change. Read more>>
Trea Feist | Founder at Dank Vodka

Dank Vodka was just a fragment image in my head 7 years ago, I knew I had always wanted to own my own business but I did not know exactly what I wanted to do. I had failed so many times at countless jobs over and over and over again, which was where I found out I was meant to be an owner operator and to stop working for others who had already made their dreams come true, it was time for me to Dank my dreams come true! Read more>>
Sharonda Williams | Help enthusiast. Entrepreneur.

What prompted me to start my business was that a lot of the things that I was doing just as a hobby started to pick the interest of people that I knew. So I decided to turn my hobbies into a profit. Read more>>
Keely Knight | Landscape Designer

It was towards the end of 2009 when I started thinking seriously about starting my own landscape design company. It was something I dreamed about but didn't think I could make happen. I had my first child over a year prior and was expecting another bundle of joy later that summer. I was trying to juggle work and spend time with my son. My heart wanted to be with him 24/7 but my passion for landscape design was driving me to work. I started my own business so I could do things my way and take on a more creative path under my own direction. I also wanted to be a mom with the flexibility that I needed so I could be there for my kids. Those 2 things really drove me to make that leap. Read more>>
ART MASON | Electrical Engineer and Embody'd Art CEO/Creator

During my college years I would design and make little bracelets. Mostly just to wear around campus or here and there. Mainly due to the fact that I hated having my wrist empty or bare. And every now and again friends and campus workers would ask If i make and sell them. Post college, while just chilling at home I decided I would pick that hobby back up and decided why not put a few on Etsy and see what happens. Ever since then its been taking off and picking up speed. Even internationally to my surprise. Read more>>
Tracy Moss | Mental Health Advocate* Community & Youth Advocate and Founder of IProjectDestiny

IPD was founded to bridge the gap and promote an education culture by providing mentoring, life skills training, and leadership development opportunities to equip and motivate our parents and youth to succeed. I believed that it was critical to establish a nonprofit organization like IProjectDestiny because going to college is not just an aspiration for many single parents; it is a game changer for them and their families. This is because education, both traditional and nontraditional, is not only a potential pathway to economic mobility but also a key to breaking the cycle of generational poverty. Read more>>
Shawndra Blue | Artistic Creator of The Canvas Bar & Flight Attendant

My thought process behind creating my own business was to cultivate a therapeutic space where art & authentic conversations merge. I envisioned three hour mini getaways where people could gather to let their hair down, unwind, & feel free to be visually expressive. The goal is for each guest to experience the beauty & good vibes of art therapy. Read more>>
Wendi D. | Licensed Esthetician & Beauty Influencer

The main thought behind starting my own business was to create something that stood on my own terms and values. The previous work environments I've been in seemed to be built upon guest satisfaction first, while putting the employee last. After years of building experience, I began to develop my own set of professional standards that I felt I wasn't able to adhere to when working for others. Ultimately investing in myself long term was the reason for starting Touched Beauty N Waxing. I have peace of mind when I am able to manage my own profits while prioritizing my clients and myself equally. Read more>>
Wendy Salazar | Artist

Almost 9 years ago my husband and I moved from Houston back to my home town, Decatur. I wasn't sure what I wanted to do and my husband, Gabe suggested painting parties. I had worked part time at an art studio in Houston and since there wasn't anything like that in Wise County, we decided it was the perfect job. Being mobile, the art studio experience comes to you and allows you the comfort of having fun in your home, work, church or business. I had a teacher once say that if you find a job you like, you'll never work a day in your life and it's true! Read more>>
Carlisa Coleman-Harvey | Chef & Owner of Rudy's Touch LLC

My thought process behind starting my business was clear and thought through. I just knew it was time to make something out of my gift,craft,and passion that I had for cooking. I also knew being a mother of 4 beautiful children at the time now 5; that I wanted to start and extend to them something that would potentially create generational wealth as well for them now and in the future. Read more>>
Stacey Hunt | Coffee Shop Owner

I was a fourth grade writing teacher for over a decade and I DRANK a lot of coffee, but I always had a heart for food and hospitality. I love people and wanted a place where they could come and build community over a great cup of coffee and tasty food. I saw an opportunity five years ago in my small rural town of Hillsboro, TX population <10,000. I retired from teaching and chased my dream. Read more>>
Qiana Thomas | Wedding Decorator and Planner & Senior Product Manager

I had a terrible experience at my own wedding. I thought to myself after my wedding planner fiasco that I could do this better. I understand what it feels like to not have my voice heard and to feel helpless and upset on my special day. I made a vow that I could and would wedding plan and decorate only with the client in mind. I wanted to turn a negative into a positive by helping others. It is so paramount to me to put the client first in everything that I do. Read more>>
Diya Mirchandani | Owner of Nicks Liquor Cabinet & A Tax Professional

We always wanted to own a business and be our own boss and having so many ideas and creativity that could only be fulfilled in owing a business! It was during the pandemic that we realized that our job is not as secure as we thought it is! Everyone was going through a hard time with so many layoffs and insecurity of being an employee, I wanted to have a secured job that would only happen if I open my own business. During Pandemic what I realized is that the government was helping the small businesses in the form of PPP and EIDL loans and owning a business had a lot more benefits than working for someone! It definitely requires a lot of hard work and dedication with late nights and early mornings but once you love what you do then there's no looking back! Read more>>
Heather Steele | Contemporary Resin Artist

I have always had a strong passion for art going back to my childhood and creating things that I love. I started selling art a few years ago, to help my son pay for his living expenses, while undergoing chemotherapy. During this time, my joy to create was re-awakened and the ability to help someone through my art.. I come from a long line of creators and it seems to run in my blood. Read more>>
Amanda Fitzer | Owner/CEO

I have always known I would own a business! It's a lot of work but it's so exciting to know you have built something from nothing and your name is on it and your heart is in it. The Gypsy Cactus has developed as the years have gone by and even split into now 2 companies under my name. The Gypsy Cactus is where my wholesale customers find me and small businesses search for me and The Lazy Tie-Dye Co. is Retail where most people are happening to find me now. Read more>>
Meredith Snow | The Pierced Cactus Co. Handmade Jewelry Small Business Owner & Full Time College Student

I am already a creative person at heart, and I needed something to do while in college. I knew I didn't want to work full time and be a full time student as well. However, I didn't want my parents to have to pay for every personal expense. One day I was on TikTok (I know shocker) and came across a video on how to make clay earrings. I thought, 'Wow, I can make my own jewelry for myself,", because let's be honest it is rough being a broke college student. I literally hopped in my truck and headed to Hobby Lobby. That one trip turned into several different Hobby Lobby trips, because I was hooked! Read more>>
Lakeema Matthew | Artist, Percussionist & Founder/CEO of Creative Lounge

As a local artist I started a real world professional art career at age 15 when I started to paint murals. By this time learn about garment printing and graphic design. At age of 16 I worked a regular 9 to 5 job and ended up quitting it maying this job the 1 and last regular job I'll ever take. When I saw how people operated it in a unjust ways. I realized how much I wanted to be in control of my own life not being a slave to a job that didn't care about me or value me. Read more>>
Shell Siaca | CEO | Permanent Makeup & Paramedical Practitioner

When I started Galore X Studio, I actually started during a pandemic. I started school, got my license and opened Galore X Studio. I wanted to start a brand that catered to women and could be life changing for many, but also different from others. Being able to have my clients trust me to tattoo their face naturally is a big deal, as well as being able to tattoo skin camouflage unwanted scars, stretch marks, or vitiligo and I don't take it lightly. Read more>>
Johnathon Lavigne-Reese | Music producer and Artist
I started up my business as just a music production company at first. I wanted to be a place recording artist could come in with complete creative freedom of their art piece. So I started thinking, why should this just be for music, there are artists everywhere looking for a place to just be creative. That's what I want to provide. Somewhere you can make your art your way without all the contracts and soul selling. A place open to painters and artists to come in and have the tools available to push them further in their skills. Read more>>