Meet Stephanie Cortes: Baker & Patisserie Chef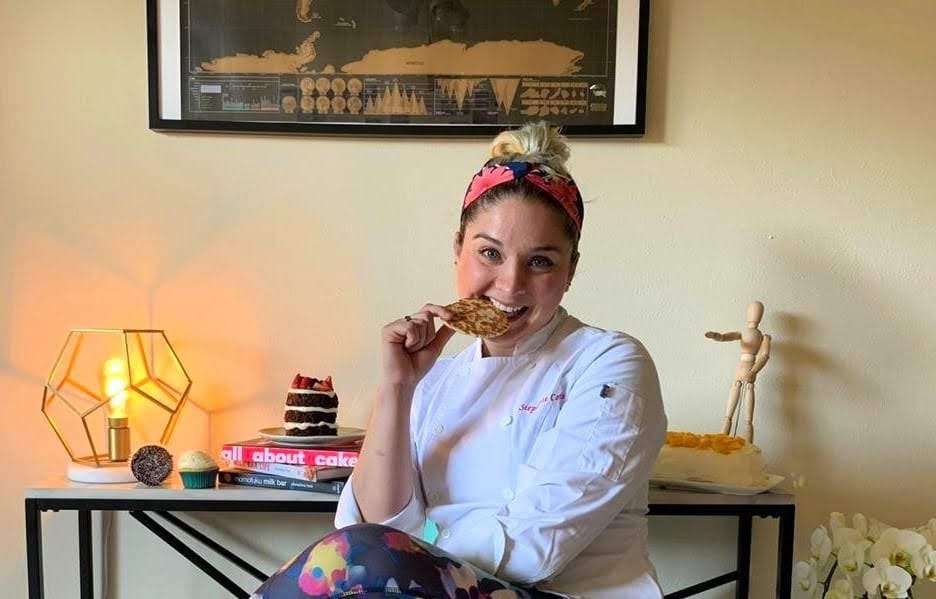 We had the good fortune of connecting with Stephanie Cortes and we've shared our conversation below.
Hi Stephanie, what's something about your industry that outsiders are probably unaware of?
When I first read this question, I tried to think of ONE thing that outsiders are unaware of. And my mind went blank…In fact, it did not go blank, but I thought about MANY things that outsiders to my industry are unaware of. But then I realized that those many things actually all belong to something, which I guess I could call…"the creative process". I think outsiders to my industry can be unaware of the creative process of baking, because they just see and enjoy the final product. I am not saying I don't enjoy the happy faces and the pleasure gestures my clients make when they try my desserts, I absolutely love seeing those fudgy smiles, but I also absolutely enjoy the process of baking. I love it because it is a solitary process in which I can be myself completely…I have to mention that I am an extremely organized baker, and I say baker because I might not be as organized and picky with anything else in my life as I am as a baker. I know I am very good at it, that I use it as therapy for almost every mood and every frenetic emotion I can have. I bake when I am extremely happy, stressed or even just for fun. I enjoy when people say things like "this is perfect" because I think about how it was worth it to try that perfect frosting a million times, if in the end someone noticed that perfect, organized and beautiful frosting of mine. I also enjoy the surprises that this hobby of mine has, for example, one time my friends came and I had made brownies (just for fun) and I put them on the table, oh! they looked so beautiful, funny thing nobody mentioned their perfect geometry (only me and probably my husband, because he knows how to compliment me and my desserts), but when I was about to throw away the ugly brownie-edges-leftovers, my friend Jessica screamed at me: noooooo!!!! stoooop!, I honestly thought something serious was going on, got scared, and asked: what in the world (well, I probably cursed a little) and then she said quickly before I made a huge mistake: don't throw that away!, what?, these horrible edges?, yes!, I want them, she said, how can you throw that away? can I have them? Of course I said, and from that day on, every time I bake, she comes for the leftovers. I see those differently now… even if most of my clients are unaware of those, because they will never see them, they are part of it, part of "the creative process", and apparently a delicious part to some. So I guess I could say there are a lot of things that my clients are unaware of, such as me obsessing about getting the perfect frosting, which is rewarded by the beautiful birthday fudgy smile, but there are also things that even I am unaware of, and that I love discovering, like and the imperfect and surprisingly yummy edges that I mentioned before, those that only my best friends can see and enjoy.
Alright, so let's move onto what keeps you busy professionally?
I bake, that is what do. I bake to calm my nerves, I bake when I want to celebrate anything and everything, and I bake because that is what I do best. I love the fact that I don't have to do it though. Baking is still my hobby or my side job. Sometimes when I am daydreaming, baking becomes my only source of income, which is the most exciting thing for me, and it can also be very scary. Don't get me wrong, I am not overwhelmed by the fact that I would have to bake a thousand cakes, it is just scary because I always want to feel this passion about it, I never want to hate it. I don't think I ever could. I know it because it is just a BIG part of who I am, it is one of the first things that I mention when I meet new people, it's funny because I don't even mention it to sell my products, but because I just enjoy talking about it. I don't think baking is easy, but it comes natural to me. It took me a lot of time to realize how humbly proud I am of myself. Because I am. I am growing little by little, learning this form of art since I was nine and I was in my mother's kitchen, observing, with my hands behind my back. I am still a learner, a passionate one. And I want the world to know that Mexico is not only about tacos, is also about dulce de leche cake, gorditas de azúcar, empanadas dulces, churros, rosca de reyes, pan de muerto and many more. The New Cake on the Block is very Mexican and not that new on the block anymore.
Any great local spots you'd like to shoutout?
If people came to visit, I would first consider their preferences, but one thing I would almost force them to do or try (except if they are allergic) are the Emporium Pies. They would have to try them period. I am a baker and they have to do it to show respect (just kidding, but not really) I would definitely take them to Oddfellows for brunch, and I would take cute pictures of them with all the fun street art there in Oak Cliff. Another place with great gastronomic options is Design District. One of my favorite places is of course White Rock Lake. I love that people seem so happy there that is almost contagious. I love taking people to check out Deep Ellum and then tell me what they think about it. I haven't had that many visitors, but I think Deep Ellum, you either hate it or love it, and I enjoy listening their arguments, it's just fun for me…one piece of advise that I always give my visitors is… don't ever underestimate the power of a strawberry margarita, just don't…
Who else deserves some credit and recognition?
My husband deserves a huge shoutout because he not only tries all of my crazy experiments, but he is complete and absolutely honest with me when he doesn't like something, and he knows I can do better. Another thing that he does a lot is that he is always challenging me to do my very best. Him, more than anyone believes in me and knows that there are no limits. He thinks I am the best baker in the whole entire world and thinks I am capable of doing things that never even crossed my mind. But it is his enthusiasm and positivism that makes me feel that I am on top of the world. He is both, the harshest critique and my biggest fan, and I thank him for that.
Instagram: https://www.instagram.com/thenewcakeontheblock/
Facebook: https://www.facebook.com/thenewcakeontheblock/