Meet Melody Tarver: Creative Director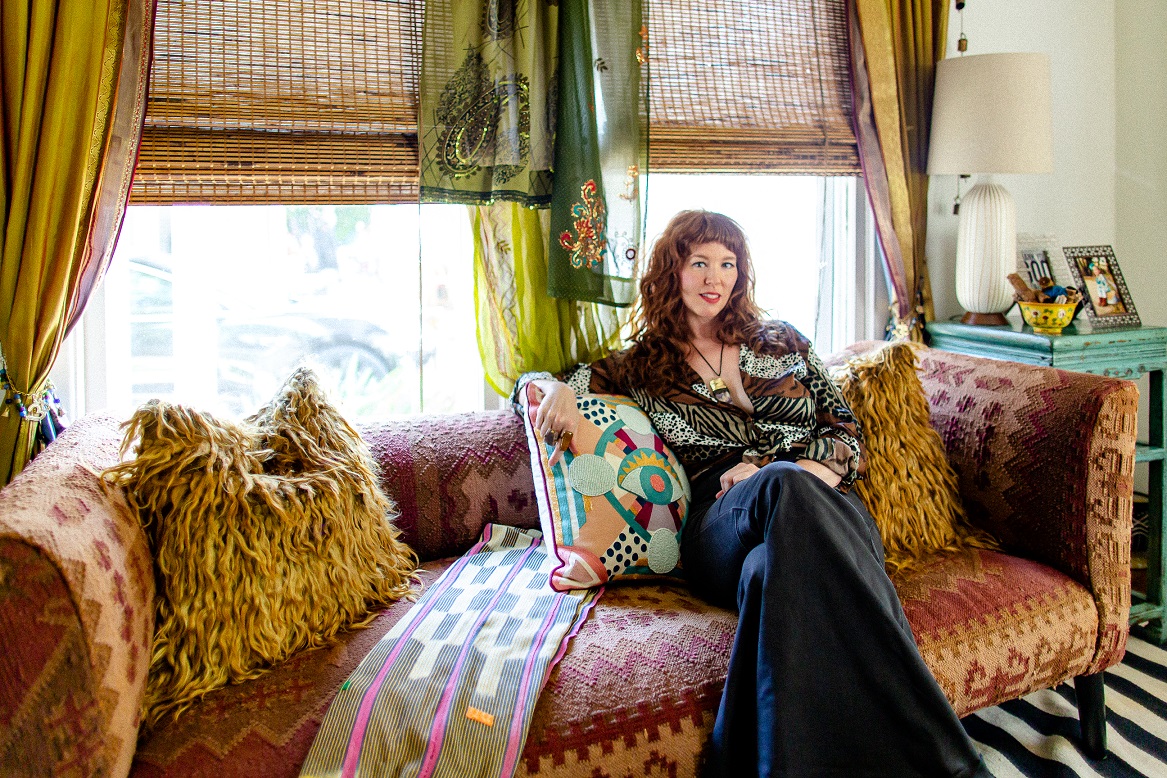 We had the good fortune of connecting with Melody Tarver and we've shared our conversation below.
Hi Melody, we'd love to hear more about how you thought about starting your own business?
I grew up in a world of chaos and trauma and I think that has a lot to do with my determination and perseverance. I am constantly testing my limits and pushing myself to evolve. I come from a family of scrappy entrepreneurs so I believe that starting my own business has always been in the cards. When I was a kid, my father opened up an auto body shop and restored vintage cars. My mother had an in-home day care. My brother owns a thriving organic farm in Granbury. After years on the agency and client-side of the advertising world, one of my mentors encouraged me to go freelance. I'm so grateful that I took his advice. It was from that perspective that I found an opportunity to do all of the things I love to do, from curating beautiful spaces to running and developing the creative for national magazines to art directing photo shoots and working on brands both large and small. Our business Red Ambush has been in the making for 10 years now. I was tired of the limitations that stifle the scope of traditional ad agencies. I wanted to be able to art direct an ad campaign and help a client with the design of their restaurant or boutique. I have a unique portfolio as a creative director running national accounts, building brands, designing sets and interior spaces, and creating packaging designs, and I didn't want to let go of any of it. Now I don't have to.
I have always been surrounded by very strong women—women with grit and gumption. The two women in this ride or die endeavor with me are strong and fiercely independent while also possessing a great deal of empathy and killer intuition. We have a burning desire to bring more beauty and positive energy into the world and we tend to attract clients that have that same goal. We don't abandon our spirit and neither should they. We feel incredibly lucky. There is plenty of room for us all to do what we are wildly passionate about and no reason not to love and support one another while doing it.
Can you give our readers an introduction to your business? Maybe you can share a bit about what you do and what sets you apart from others?
I co-own a boutique creative agency called Red Ambush with two other amazingly talented women. As it stands today, only .1% of creative agencies are women-owned and that is a sad story; it was pretty obvious to us what our calling would be. We are committed to helping other women thrive, so many of our clients are women. We help them to amplify their stories through both traditional and nontraditional advertising. We are strategists and problem solvers and we throw ourselves into collaborating with our clients to develop their brands. We also offer design for commercial and residential spaces, as well as set design for videos, movies, commercial print shoots, event design and live installations. Say all of that three times fast! Our biggest challenge with Red Ambush thus far has been to really try and figure out who we are and the best way to tell our story. We continually put ourselves through the same brand exercises we do for our clients because we expect to evolve.
Prior to starting Red Ambush, I certainly had my share of financial struggles and failed partnerships. And like many other creatives and entrepreneurs, I have a mad case of imposter syndrome. I believe all of these struggles have made me a stronger, more resilient person and business owner. My business is my baby and it has to be nurtured. I learned one of my biggest business lessons from an interview with Spanx founder Sara Blakely. Quote: "Ideas, even million-dollar ones, are most vulnerable in their infancy; don't share them with too many people. However, don't hide your plan from people who can help you move it forward." Another very valuable lesson for me is learning to live with failure. As cheesy as it might sound, failure is indeed a part of the journey to success. Trust me, I do not live without fear. I fear a lot of things, but I also have a great deal of courage and stamina. I also believe in the law of attraction and the power of manifestation. I do vision boards all the time and I have an ongoing gratitude list I add to every day. At the top of the list: self-care, self-care, self-care.
Any places to eat or things to do that you can share with our readers? If they have a friend visiting town, what are some spots they could take them to?
Great question! Dallas has so much to offer. I live in Oak Cliff and frequent these gems… For nourishment, Tribal All Day Cafe, Veracruz, Enos, Cretia's, Lucia, Trompo, Nova, Tacodeli, Whisk Crepes and Spiral Diner. I also love Ascension, The Goldrush Cafe, Bangkok City, Desperados and ITSO Vegan. For coffee and spirits, Houndstooth, Wild Detectives, The Botanist and Bishop Cider Co. For sweets Emporium Pies, Dude Sweet Chocolate and Melt Ice Cream. For shopping, Harkensback, Magic Hour, Beatnik Fine Goods, Favor the Kind, Roam Fine Goods, Dolly Python, We Are 1976, Benny Jack Antiques, Lula Bs and I would definitely schedule some shopping time with Sarah Bull who owns Pennylane Vintage. For yoga, The Yoga Movement, Dirt Cheap Yoga and Urban Hippie or personal yoga time with Jenny Hunter, Barb Totzke, Douchka Lecot, Chinook Wusdhu and Bruce Boyd. For art: The Kettle, Pencil and Paper Gallery and just about anywhere in the Design District. For ecstatic dance Monica Blossom who started Ecstatic Dance Dallas and Mati Vargas-Gibson of Body Spirit Dance (5 Rhythms). For movies Alamo Drafthouse or the Texas Theatre. For live music The Kessler Theater, Tradewinds (both in Oak Cliff) and Three Links in Deep Ellum.
Who else deserves some credit and recognition?
My higher power; my bae, Allan Hayslip; my momma, Karen Adams; my father, Gary Tarver; my Papa and Granny; my Grandma; my stepfather, Steve Adams, my sister, Shelly White; my brother and his wife, Aaron & Allison Tarver; Abby, Liza Grace, Eli, Lucy Sue; my Aunt Toni, Liza Rhima, Liz Tucker, Rosie Kurtz, my business coach Jill Allison Bryan, Sherry Hayslip-Smith, Erika Gilbrech, Shana Fields-Frelin, Pam Simmons, Sarah Holmes, Ric Delzell, Zandra Zacarias, Linda Ball, Suzy Batiz, Kendra Smalley, Jenny Hunter, Barb Totzke, Douchka Lecot, The Johnsons, Leah and Barry King, Molly Davis, Scott Harben, Robert Germany, Michael Mayo, Dan Couto, Mike Lee, Michael Molin-Skelton, Chinook Wusdhu, Bruce Boyd, and my little furry interns who never leave my side.
Website: https://redambush.com/
Instagram: https://www.instagram.com/redambushagency/
Facebook: https://www.facebook.com/Red-Ambush-Agency-105662934559998/
Other: https://www.melodytarver.com/
Image Credits
Photos of me: Allan Hayslip
Photos for Daltile campaigns: Dan Couto