We had the good fortune of connecting with Kirby and Dixie Berger and we've shared our conversation below.
Hi Kirby and Dixie, what is the most important factor behind your success?
When people ask where we got the ideas for our interchangeable accessories, we reply, "We can't take all the credit" followed by "a lot of prayer". Our most important success factor for our business IS prayer. We are very thankful to have been given the business that we have along with the unique ideas that go along with it.
The first time I can remember, specifically, when prayer led to one of our biggest break throughs, was when we were at the western wholesale market in Denver, CO a few years ago. We had only been making a few leather belts at that point, we were down there looking for ideas, connections…something. We felt completely lost. So, we sat down together on a couple chairs against the wall of a busy hallway where people were walking by between different expo buildings. I don't know what we prayed for exactly, but we were seeking God's direction for what He had for us there. Later that day we were introduced to a lady named Diana who has become a good friend and our major connection to some of our largest suppliers. But what was even more amazing was how we were given the idea to turn a belt into a purse strap! At that time, we were making all, one-of-a-kind belts, Diana was looking through a small bag we brought filled with our belts. She would pick one up, look at it and throw it over her shoulder to look at the next one. The first one was a beautiful beaded belt that we had made, using a beaded strip made by a Native American artist that we bought at Cheyenne Frontier Days (which later became our first big 'launching show' for Pure Dixie).
The 3″ wide beaded belt looked so good over her shoulder, we both looked at each other and had the same thought. We went home that next week and started working on the prototype for a belt to also become a purse strap- now the center of innovation for our product line!
There have been so many stories like this in our business. Including one problem that we ran into with the fastening system with the belts. We had a few belts that were coming loose when the leather had stretched after several months of use. We were facing the possibility of maybe having to redesign and redo all of the belts in the line. We calmed ourselves enough to sit and seek wisdom from God through prayer. We were answered very quickly with the idea of a metal concho that can be added to any belt fastener to prevent this from happening, and it looks amazing too! We have never had to change, redesign, or fix any belts since.
Another time, we went to our first outdoor show in Belle Fourche, South Dakota. We bought a tent and it got completely wrecked by the wind. We knew that this type of set up was going to be unsustainable moving forward. We had another show in a week and didn't have anyway to set up. We had looked into some vendor trailers and thought that would be the way to go. There were a few out there, none that really fit what we were doing, and not one of them west of the Mississippi! Again, we prayed for an answer. A couple days later, I found one on Ebay (of all places). It was the first one that we had seen that looked like it might even remotely work. But how would we possibly get it? It was most likely in Georgia. But it wasn't! It was in Salt Lake City, only 5 hours away! We got an unbelievable deal on it and actually had it set up for the next weeks show! It was incredible!
Please understand, this does not always happen. Prayer isn't about telling God what you want and then recieving whatever you ask for, it is about aligning our hearts with God's will. These are just some unforgettable highlights that have helped lead to the success of our business, and giving credit where credit is due.
We have also had answers to prayer that have not been so easy to follow. We have been led way out of our comfort zone. Another time we felt lost, looking for the next step, God showed us some signs that led us to the Houston Stock Show and Rodeo. It was amazing how we got into the show, we had never been that far away from home with our business before, and it was pretty intimidating and uncomfortable! But we went knowing we were supposed to be there. This was in 2020, we were there for about a week (a third of the show) and it was one of the first things to shut down over the COVID 19 pandemic. It was hard to come home from that. It would have been harder if we had gone on our own desires. That did get us in the door, however, and we just got back from Houston, 2 years later and it was incredible!
Seeking direction out of prayer had also helped us keep our focus on people and not things. The people are the most important part of our business. The customers, our team, and all the others we meet along the way. We love our people and care about our customers. We work really hard at our customer service, not for reputation, but because we really want to help and make things right. There are many stories besides these about how prayer and seeking God has directed our business. There are also times the answers have not seemed so clear but we move forward faithfully. We are currently seeking some very specific needs, and are still waiting on answers. The answers aren't always what we want to hear and many times aren't the easiest or safest. But it helps us to find joy in tough circumstances (James 1:2-4 also where our business got its name!) and it is better than relying solely on our own finite understanding! We aren't perfect people, but we stay as close to God as we can through prayer and his Word, the Bible. And this has served us well and is the most important factor of the success of our business.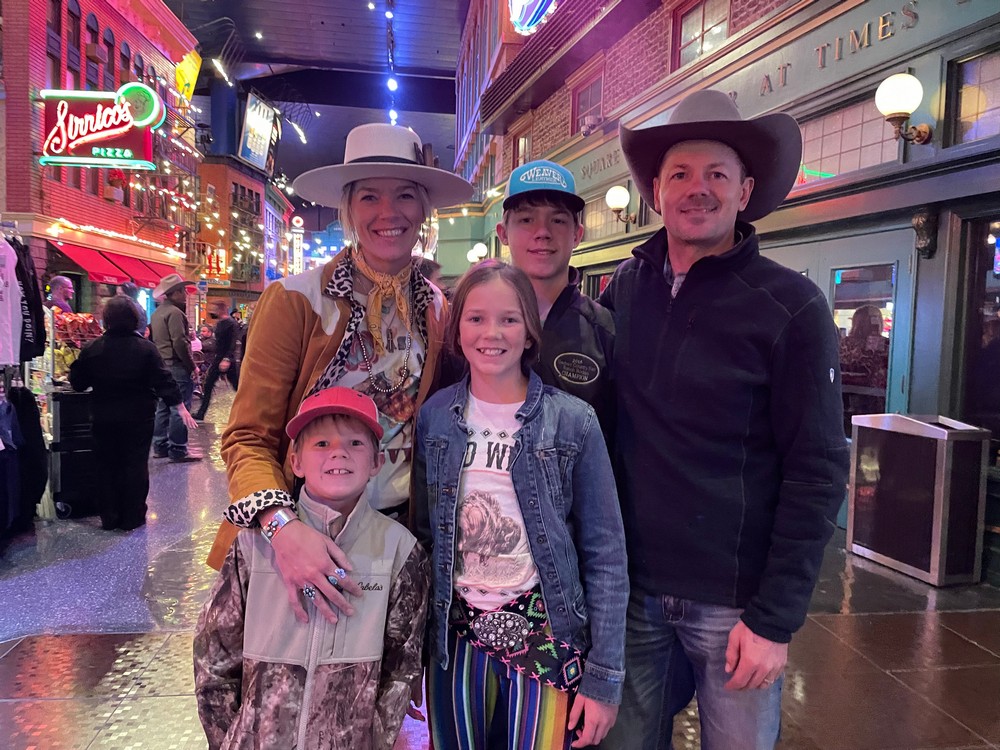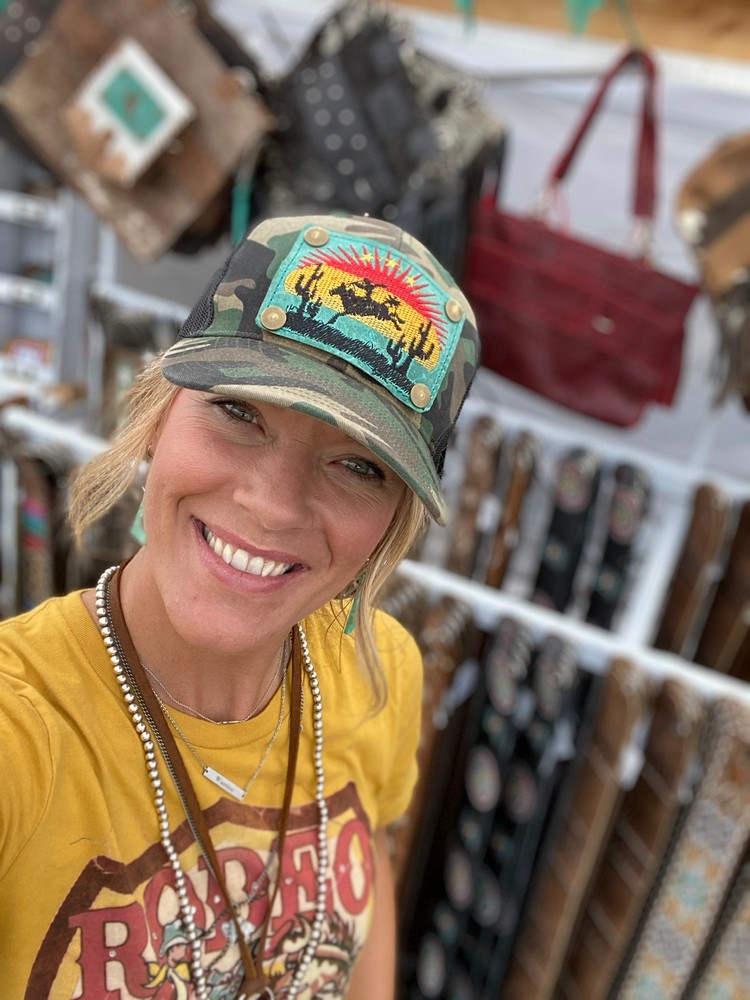 Please tell us more about your work. We'd love to hear what sets you apart from others, what you are most proud of or excited about. How did you get to where you are today professionally. Was it easy? If not, how did you overcome the challenges? What are the lessons you've learned along the way. What do you want the world to know about you or your brand and story?
The biggest thing that makes Pure Dixie unique is that all of our leather accessories are multi-use and interchangeable. This allows our customers to create a unique look by mixing and matching different pieces in our line. Whether it's a cap and a patch, or our Dixie Fix (handbag, mini, belt and patch) our customers get to choose which pieces they want to wear together. Our mini cell phone purse will attach to the front of any of our handbags, and our belts can become a strap. If you want to change it up, take it all apart and slide the mini on the belt like a fanny pack, and you have a whole new look!
One things that my wife, Dixie, and I learned early on is that things we do together usually have been the most successful. We have different gifts and talents that, when combined, generate the most useful and unique ideas. Dixie's gift is more for design and what looks good together, and mine is more for function. She usually comes up with a great idea of what will look good, and I come up with how to make it work and function properly through my experience with saddle making and other leather work.
An example of this is how our patented belt fastener came about. We had to redesign the fastener early on because it wasn't staying secure. I had designed a set of saddle bags for myself with a unique D-ring style closure a few months earlier. We used this same idea for the belts. Dixie tried it on and it wasn't quite right. It was a prototype, so there was no design and the second time she put it on backwards, and that was it! The belt laid flat and was completely secure!
Combining our gifts and abilities has served us well. We have expanded this by bringing others in who have different gifts than we do. We have had some of our team members come up with great ideas that we incorporate into the product line, marketing, and systems creation of our business. We have also brought in various other artist who apply their mediums to out products! This allows for 'mini collections' featuring different artist to display their work with with us, and our customers have been loving it!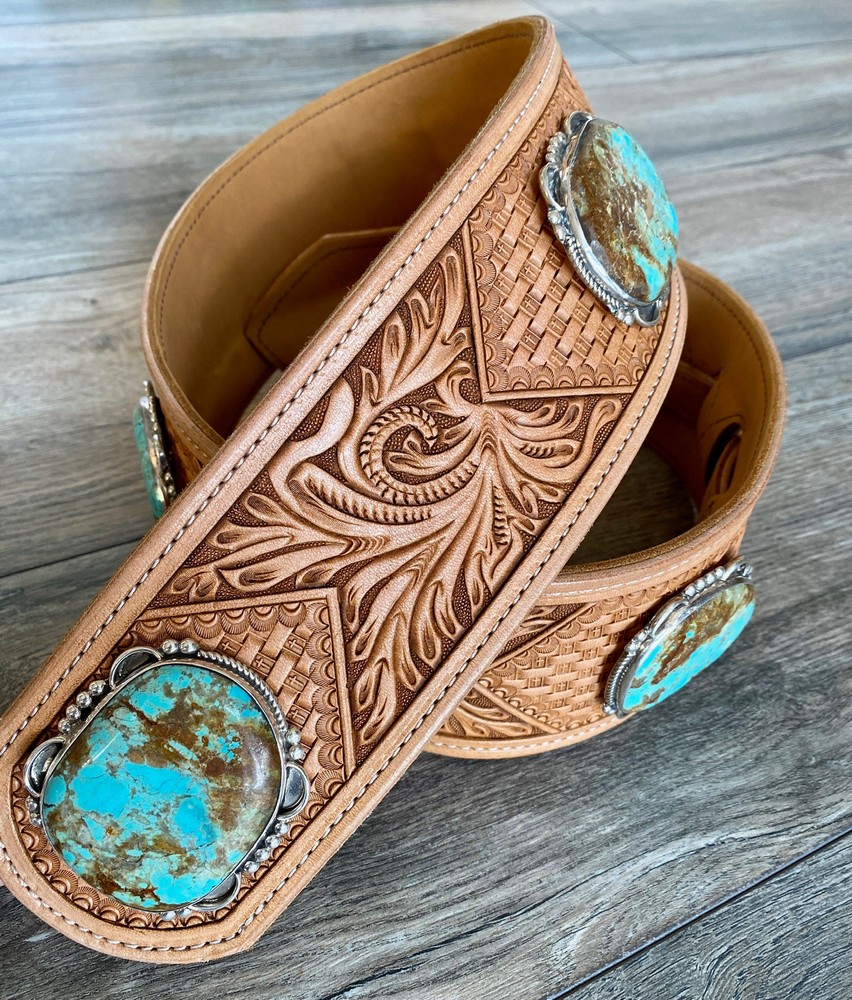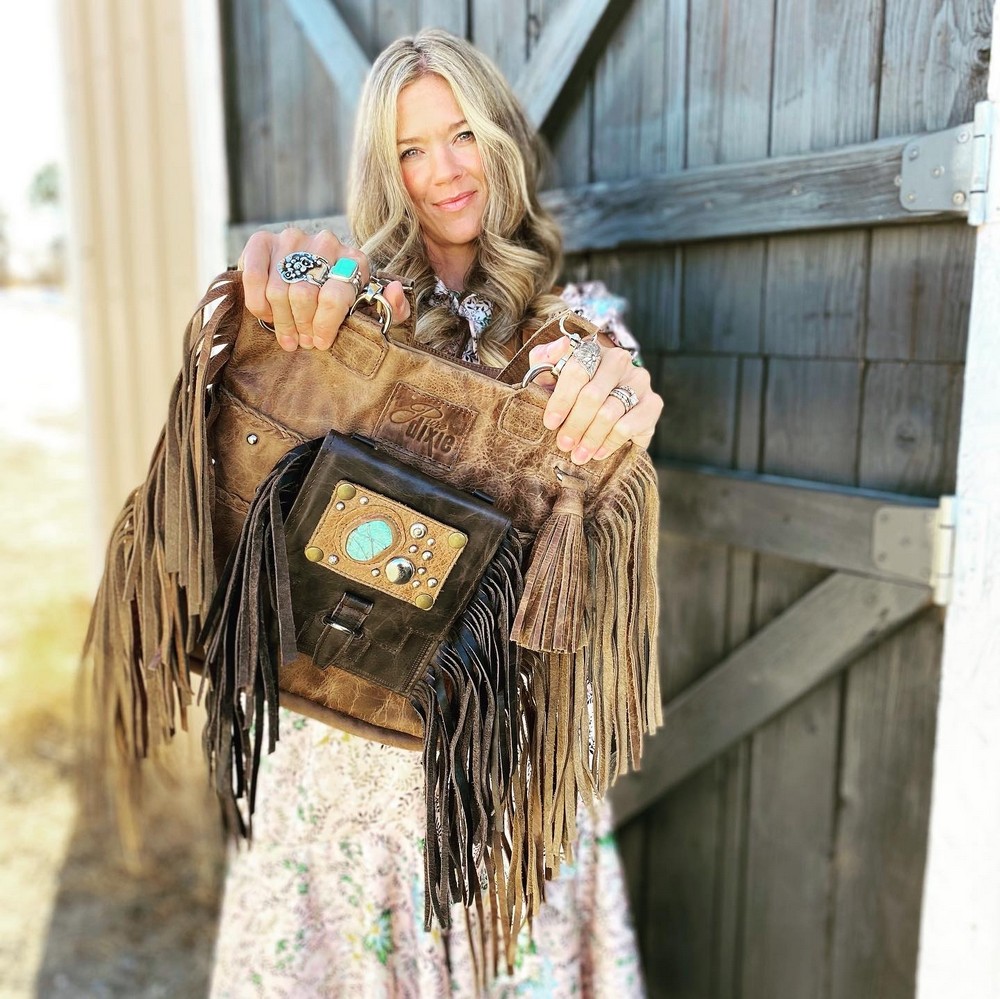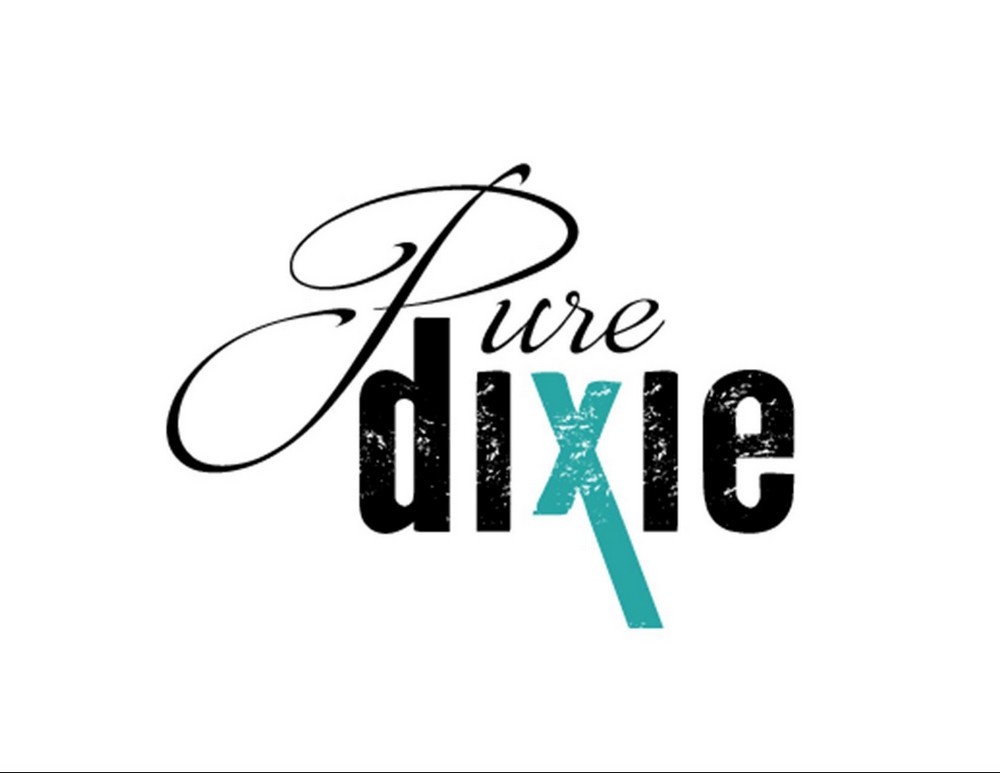 If you had a friend visiting you, what are some of the local spots you'd want to take them around to?
I guess this isn't applicable to us, as we are not from the Dallas area. It is interesting, the only time either of us has spent any time there was the spring of 2016. It was our first and only wholesale show at the Dallas Western Market we only had prototypes to show and would make the products later. We really did not know what we were doing, but you have to start somewhere!
My favorite spot in the DFW area is the Stockyards! A lot of great shops and restaurants. It is great how they have preserved the History there! Of course, we are not from around there, anyone wanting to visit our home State of Wyoming might want to plan to come to Cheyenne Frontier Days in July. One of the country's largest outdoor rodeos. There are dozens of stories how things that have happened at CFD have helped push our business to the new levels. We consider it our 'home town big show'!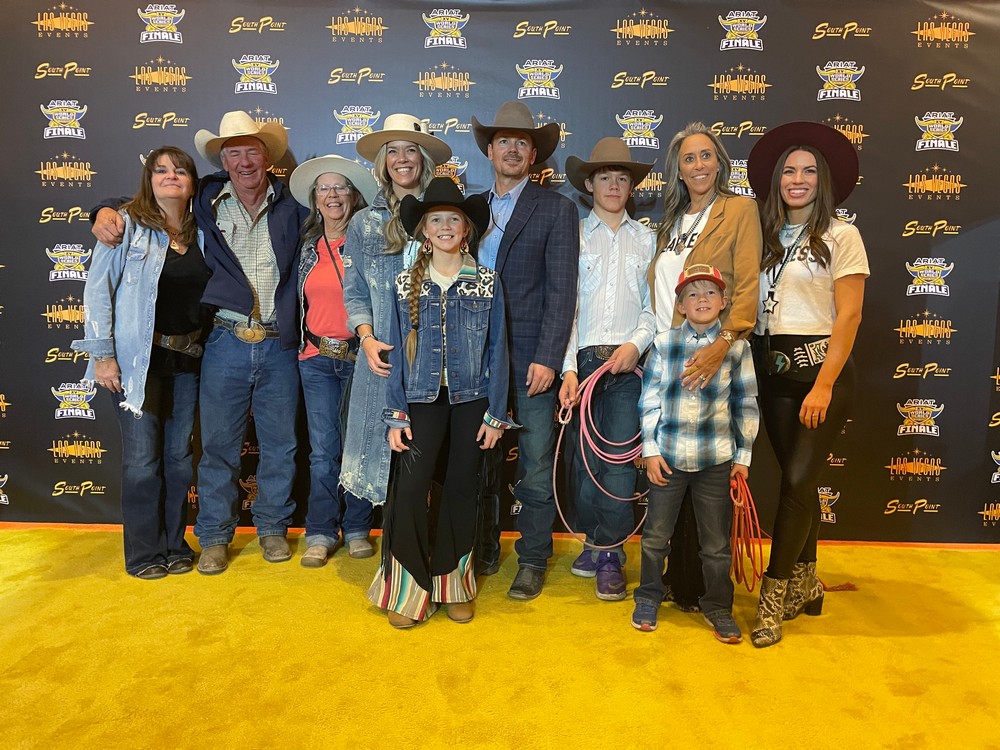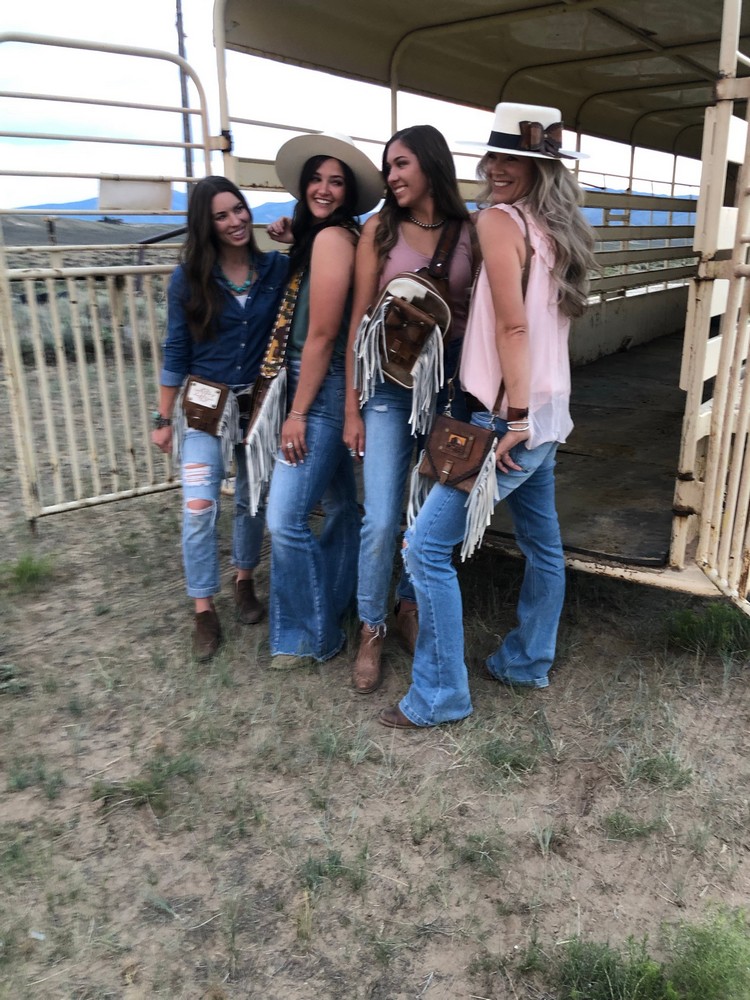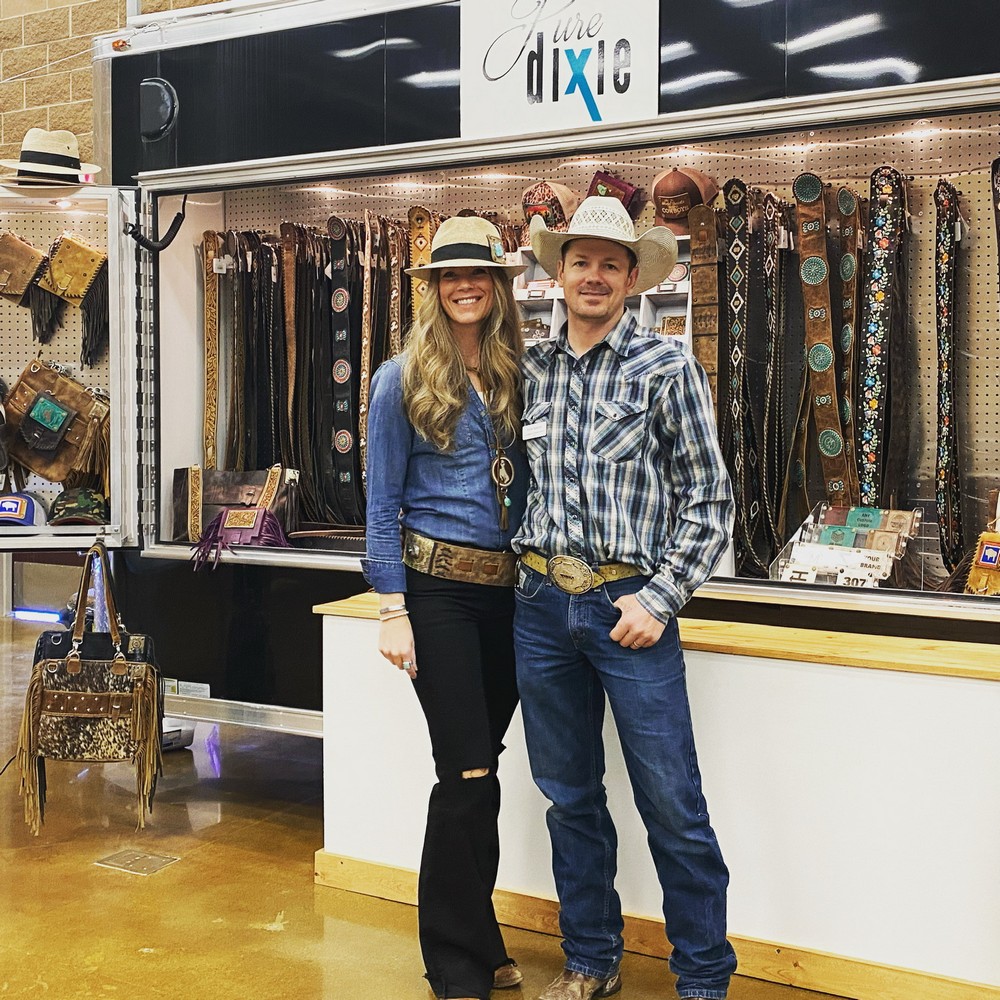 Who else deserves some credit and recognition?
Our Shoutout goes to those who have given us encouragement and prayed for us! Some we know and some we may never know.
Website: puredixie.com
Instagram: @puredixie
Facebook: puredixie
Image Credits
The Rancher's Wife Photography.
Nominate Someone:
 ShoutoutDFW is built on recommendations and shoutouts from the community; it's how we uncover hidden gems, so if you or someone you know deserves recognition please let us know 
here.