Meet Brandi (BMichavery) Jones: The Dallas Hope Dealer™ -Accountability Mentor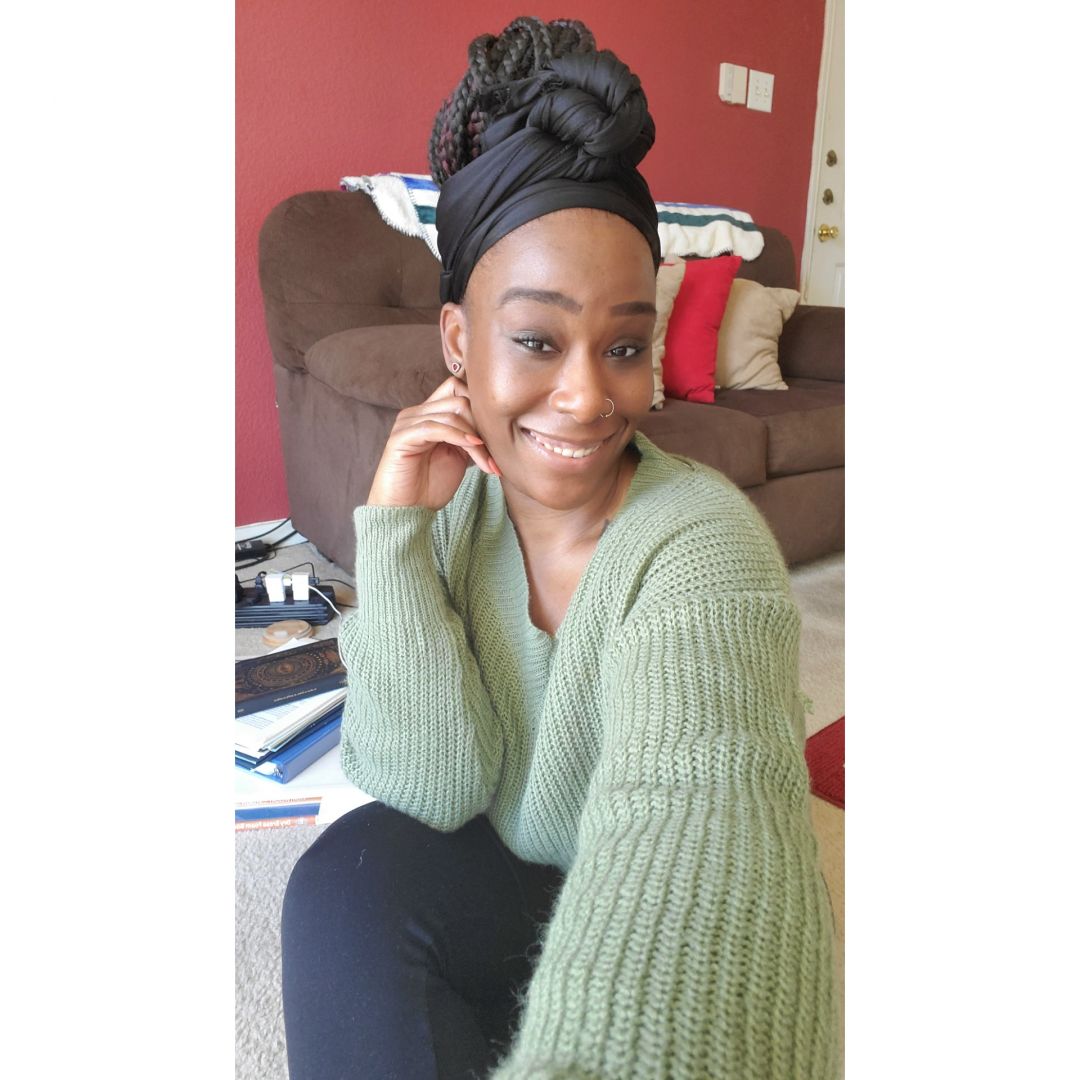 We had the good fortune of connecting with Brandi (BMichavery) Jones and we've shared our conversation below.
Hi Brandi (BMichavery), we'd love to hear more about how you thought about starting your own business?
When I first began my business I didn't even think of it as one. I just needed a space for release & through my own desire to express my thoughts, feelings, fears or experiences that I did not feel were easily translated or wouldn't be easily understood, I began to connect with other's who felt the space I had created for myself gave them a place to express as well. I've always been someone who flows to the beat of my own drum per-say & never been one to try to fit in or desire to be a part of any particular crowd, because honestly when you are moving in authenticity you rarely see a mirror that reflects the truth of what that is in someone else. So when I decided to create my nonprofit it wasn't something that I wanted to do to be popular or anything like that because truthfully, I'd already been doing the work 5 years or so before I even joined social media in 2010. The purpose while very unorthodox for me at the time was clear to be a mirror of transparency, authenticity & light. I then found solace in expressing those things in the form of writing, creating documentary's that were honest, partnering on projects with organizations, company's etc. ultimately becoming a voice for people without losing my ability to speak my own truth. All of this helped me continue to grow & create opportunities for those who needed them on my terms. Was this easy? No, was it scary? Yes. Have I wanted to walk away and silence the urges in my spirit to continue through these uncharted waters, absolutely? However, every time I attempted to do so I was reminded through yet another experience, dream, etc. that it just wasn't an option. It was clear that when God puts a seed in you, the only option is to push through it. It matters not that it's hard, dark, lonely, or uncomfortable during the implantation period, because during incubation you still cannot abort that mission. So the thought process behind starting my business was that there was not a thought process. It was birthed out of a necessity God saw fit in order for me to recover, heal, and identify who I am within my purpose.
In return this journey to self, created a foundation that has not only continued to help me but for now over 15 years, has literally helped so many people on their own journey, all ages, ethnicities, gender & walks of life.
What should our readers know about your business?
The interesting thing is that I rarely think of what I do as a "Business" because I know it is truly my purpose & often times, the gimmicks and trend patterns that are chased in the name of a Brand truly are not of interest to me. The last 10 years have been the "Business Era" of what I have done for the last 15+ so naturally there is a transition to align both the knowledge, wisdom, experience etc. that has been added to the vault of building this "Business". I take great pride and ownership in every aspect of it, from the filming, to the podcast, to the newsletters, speaking engagements, partnerships, mentorships and more, every ounce of what I put out or become a part of includes my soul. Meaning, because I am not chasing pavements to the "Illusion Of Success or Wealth" I am invested in creating the foundation of where it grows from and if I cannot stand behind every aspect of it wholeheartedly, I do not do it no matter how "popular, profitable or predictable" it may be . 
I started in 2007 as an intern at local radio stations, then became part of street teams for marketing & branding which eventually lead me into PR & artist management.  All of these starting points helped me to discover different aspects of myself from being in studios, creating formulas for promotions, meeting so many influential trailblazers to becoming one in my own right, every single door required a different part of me, & most times it was parts of me I had not even discovered.  Mastering self-acceptance and purpose where two different battles on unfamiliar territory without any help in navigation. I have always been someone who once I start something, I have no option but to see it through, even if it means choosing another path in the end. Learning very early that my thoughts, feelings and views where mine and being held accountable for them was deeply rooted in me by my upbringing so I had that to follow back on. One of the most impactful lessons I can remember as a youth was given by one of my favorite teachers Mrs. Banks in the 3rd grade. She was very hands on and always pushed me, much like most of my teachers growing up, she was like an extension of my family. (It was nothing for us to go to grandma's house and she is sewing a dress or something for one of my teachers! It was like we could never escape them lol). Anyway, I use to be I wouldn't say "shy" but I never wanted to be the center of attention, even though it seemed I always was. I liked being in the back ground especially if it made others feel better about themselves. I always had this feeling of I will always be ok even as a kid, but I felt for some reason other's wouldn't. Maybe because by the time I was in 3rd grade I had already seen a lot of stuff and my emotional intelligence for a third grader was already developing at a different yet unique pace, now back to the lesson! I remember every Friday we had spelling bees and I would always get a 100 percent, but this time whoever received a perfect score would have to be a part of the oratorical contest (a performance contest that we did every black history month). You would  memorize and study a civil rights activist or influential pioneer of Black History and get in front of the entire school, and all its visitors to perform a piece of art celebrating the life of the person you chose. The winner received a trophy, got featured on news & more & this HORRIFIED ME! I did not want to be in front of anyone, saying anything not then not ever Lol, so I had the genius Idea to purposely misspell the word "Beautiful". Misspelling one word still got me an A but not a perfect A & I wouldn't qualify for the contest! SMH. The issue is when you have a teacher that pays attention, and really knows her student, you can't "Sh*t The Sh*tter".  She called me to the desk, made me stand in front of the class and spell the word. At first I kept saying I don't know how to, even when she threatened me with the "Pancake" which was an old raggedy belt with silver duct tape on it, lol (we could get disciplined during this time at school) for the 3rd time, I would have rather her do that so I wouldn't have to get in front of the school! She made me stay after class, couldn't go to recess, got a spanking and had to write the word 100 times, front and back, THEN she still entered me into the contest! I cried, was angry and said she was no longer my favorite teacher for that day, because she wasn't being fair (in other words she didn't do what I thought was right for me lol), I was a little feisty one even then. I was assigned Harriet Tubman, I memorized her story both what was taught in school and what my grandmother/mom told me that wasn't. My grandma, sewed me a performance outfit and I had to practice for what seemed like forever until I got it down. The sass, the frustration, the discomfort was all put in that performance. I won second place because 1st place went to a 6th grader & even though I received second place I still was proud and happy it was over. My trophy, my grandma still has it, & I was taught a powerful lesson, as Mrs. Banks said "never ever let your fear hold you back from being everything you are capable of being! You are a bright star & even when you don't feel capable or worthy enough, shine anyway"! Your way", the look in her eyes did something to me. She believed in me even when I was afraid to, she pushed me, & made no apologies for it, this is something I remind myself of often. Later, I was mentored by Dr. Mae Jemison, first African American Astronaut, in 4th grade. She said something that sticks to me even now, "You are a light, something everyone sees but you feel. Hold on to that & never let the darkness of other's make you forget that, you are going to change lives". I was in 4th grade. 
Those are 2 examples of the foundation I was laid in, there are a million more examples of that I could share but for time's sake I just want to say,  in life you are dealt so many hands, experiences etc. that change the trajectory of your mission. The most important thing is to take everything you are, put it into a pot, and create from a place of authenticity, eventually that stew is ready to be served. You can't rush it, or force feed it to anyone, and along the way you may implement different ingredients, but it's still yours. My business is that. I focus on the ingredients in the pot, the purpose for each, how does what I do benefit, help or shift the trajectory of one's life in a way that builds them up and feed's them long term in areas of mind, body & soul all while not losing myself. There is not a price point for that, even when at times you feel it's costing you everything. If you still have your sanity & soul at the end of the day, you are doing good. Keep going & remember your why! Trust me, it is beyond worth it in the long run. I am blessed and super excited about how people gravitate to my work, most importantly I am happy that God has allowed me to use every aspect of who I am as a blueprint. Has it been an easy thing? No, giving yourself never is because that's an investment that takes a massive toll if not managed. Being responsible for the souls you encounter is a major responsibility and one that often keeps me up at night. I do not get to ignore my gifts, even when it is convenient to do so because I am constantly growing, learning, studying, and being hands on in every aspect of my life, personal and public. Through my study of astrology, spirituality, behavior science & personal development, it allows me to utilize different aspects of myself to create a safe place for people not only to obtain resources but also be heard, seen & felt despite the noise around. That's my purpose and that is what has continued to be a contributing factor when it comes to my success overall.
Any places to eat or things to do that you can share with our readers? If they have a friend visiting town, what are some spots they could take them to?
So all my friends or Tribe as I call it, know I am someone who loves, water. I love to also be at home (Im a cancerian) & I love to Dance! Not much of a foodie but they are so I like to plan random things for them. I am a very eclectic person, don't really like clubs, but as the tribe say's I know everybody so when we frequent it's always an experience. So let's say we are doing a bit of a "Welcome to Dallas" thing,  I am from Oak Cliff, (Glendale)  so there are a few spots you must know about even if you don't frequent them often in order to have the experience of the Triple D. We would go by , Rudy's Chicken ( not the BBQ place, Rudy's legit has 1 location & the line is extreme even on a slow day so you have got to get there early), Catfish Floyd's for the fish, Halls Chicken, Oak Cliff Vegan spots, Recipe Oakcliff, Big T ( just to check out the vibe  ), Trinity groves is a cool area, Bishop arts district, African American Museum, Deep Elum for the street art murals, Pan African in Glendale for your sage, books, black soap incense etc, For Oak-Cliff Community center, ( next door), Ft Worth Zoo, ( in my opinion its better than the Dallas one but either is fine, the Aquarium in good too! Epic Waters, indoor water park, we may go to the Studio movie grill, or a nice low key hookah lounge w/a great DJ, I love to karaoke so we may find a place to do that, King spa for relaxation or Barnes and nobles to scout books oh & one of our favorite secret spots is Sara's secret LOL.) There are so many things to do, it's hard to put together one list but more so it just depends on the mood. Especially with everything going on now, we are good with game night at the house and calling it a party.   
Who else deserves some credit and recognition?
I would absolutely not be who I have grown to be without the foundation that I have been birthed in. All areas of my life have allowed me the access and experience needed to navigate this journey for sure.
 First, I have to start from the beginning my core, my great grandparents, grandparents, & my entire family I am an embodiment of and so very grateful for them. God, how blessed I am. My grandmothers, super powerful women (Dothia Mae- my dad's mom & my grandmother in heaven I miss you every single day & feel your spirit often, I love you) Grandmamma Mae- I love you so much, I work so hard to make you proud. Everything you sacrificed to create the foundation we depend on today is and has always been why I will forever be indebted to you. I can only pray, that when you see me & my achievements you see the power your love & sacrifice has fertilized. I hope I am an ounce of what you have prayed for me to be. Mommy, I love you so much! You are the strongest, most beautiful, fire cracker I've ever known & God out did himself for sure when he created you! You are my superhero! Daddy, I miss you. I honor you, & I live every day as if you are a phone call away. I know you are proud! My Siblings Brittney & TJ- I love yall so much!! I am literally tearing up thinking about the depths of love I have for you & I would never choose to do life without you two by my side. My hearts in physical form, my reasons. I am so proud of you and can only pray to continue to be who you need me to be in this life and after! My sister in law Myrna & Brother in Law Anthony, how awesome is it to have me as a sister? I love yall! My two Pisces tribe lol ! My nieces & nephews- Erynn, Jaden, Kyree, Prince (Tommy III), & Brooklyn! Yall are my peace, my calm, my sanity, my heart & my healers! Auntii loves you deep! All my aunts, uncles, cousins, etc. (its literally not enough room to give all of your names) I love you! All of your late night talks, strict limitations, laughter, dance offs, adult talks about life, finances, home buying, relationships, extracurricular activities etc. so on lol are greatly appreciated and also at times embarrassing to think about but I wouldn't change anything! Where would I be without yall (Smile)!
 Last but absolutely not least, Darryl, (It's Just Too Much! LOL) (Insider) you have shown me new depths of life partnership. Friendship, rare transparency, authenticity through the good, & uncomfortable seasons. This has allowed me to grow in life internally and externally while learning so much from you. I continue to be in awe because of your strength, willingness to learn, teach, grow & explore all possible angles of existence freely all while in the midst of uncertainty & change. Thank you for listening, your support, love, presence and selflessness is not without notice or appreciation. I Love You. 
~My friends/Tribe~ to be seen, heard felt and loved from both a distance and up close is an honor. I know I am safe to be who I am and respected, loved and appreciated just as much for it. Know that even when day's and months go by, there isn't a day, you aren't with me. I consider your existence in everything I do, you are my sacred jewels & I Love you. Terry, Devosha, Tiara, Brandee, Shirlese, David (Drastic) , Leon, Kyawna, Shannon, Keddrick, Mia , Toya (quanta), Ashley R. Steven D. , Ms. Pam, Felecia, Cassandra, Jimmy, & Gary S.! BMK, Rhonda Moats, Krystal ( K Houston Videos), Dominique, David (Drastic), my creative team, my partners throughout this journey of entrepreneurship. Starting in 2007 in the industry and connecting with so many people that believed in my mission and purpose even when I was unsure myself provided me the tools, confidence and support I needed to continue to see it through. Giving up was just not an option because of circle of support I had around me. ~Taylor Toynes & the For Oak Cliff Team! ~ This is Family, This is grassroots & everything necessary for the survival of my core. Taylor and the entire team continue to remind people of the importance of giving back, supporting the community, providing access to things otherwise unattainable, helping to feed, clothe & educate our culture and the culture within the culture of all possibilities within their reach. I am beyond proud & honored to not only do work with them but to support every single thing they do for our community. For Oak Cliff is not just an organization in Oak Cliff, It is the blueprint.
Website: https://iambmichavery.com/
Instagram: IAmBMichavery
Facebook: IAm BMichavery- The Dallas Hope Dealer
Other: Listen to Daily Podcast – Intuition Speaks W/BMichavery (Astrology overview's, Relationship, Spiritual talk & Resources ) On Apple, Google, Spotify, Anchor Etc.) Weekly newsletter Sign up at- IAmBMichavery.com