Meet Stephanie O'Callaghan | Certified Personal Trainer & Collegiate Diving Coach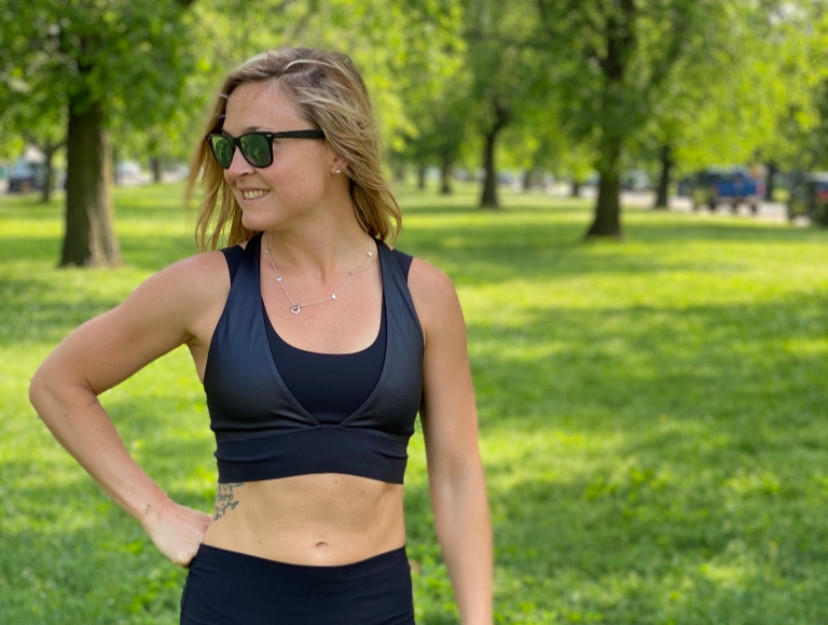 We had the good fortune of connecting with Stephanie O'Callaghan and we've shared our conversation below.
Hi Stephanie, can you walk us through the thought-process of starting your business?
I have always had a strong desire to help others and to be a positive motivator/encourager to those around me. I wanted to find a way to reach more people and impact a broader audience beyond the college athletes who I've so enjoyed working with over the last 11 years as a Division I Collegiate Diving Coach (currently at University of North Texas). I pride myself on being very personable with my athletes; it's important for me to be more than just an X's and O's type of coach…I want to help my athletes grow as people and support them through that. I think that's something that is missing in the fitness industry; I want to do more than run you through a workout; I want to help you heal your relationship with food, working out and with yourself. I want to have an impact on as many people as I can through the passion, joy and excitement I have around food, fitness and life.
Can you give our readers an introduction to your business? Maybe you can share a bit about what you do and what sets you apart from others?
I have been a collegiate coach for the last 11 years working with elite level athletes. During that time though, I struggled with my own physical health and well-being after retiring from the sport of diving at the collegiate level. I had physical ailments I was dealing with due to the high level of training I was at, as well as an eating disorder. I went from being in the best shape of my life to being totally broken and struggling through bulimia (during college and after). I had always loved sports, but now I was on my own without coaches telling me what to do and I struggled a great deal to find a new workout routine. I was stuck, I was in physical pain, I was unhappy and I was gaining weight that I struggled to shed. I was also struggling being ok with all of that; with loving myself for where I was at. It took me many years and deep soul searching, but through the help of many wonderful people, I healed my body, my mind and my soul. Now at the age of 33, I feel better than I ever have in my life. I no longer have workout restrictions or issues with food; in fact I love food! I love cooking at home and going out to eat…I'm always on the lookout for the best tacos in town! (just check out my instagram account @texas_tacos_travels_ )
That challenging up and down process in my own life is the reason why I chose to start my own business as a certified personal trainer; something I could do alongside my college coaching job and a way to help others like me who feel a little lost or stuck but want to feel better. It has always been a goal of mine, my driving force, to be the kind of coach that coaches the person, not just the athlete. We all need a cheerleader in our life to support us and to keep us on track with our goals.
I recently moved to the DFW area for the position of Diving Coach at UNT and am working on growing my personal training business in a new area. Moving across the country is a huge, scary and challenging process. I moved away from family and the things I knew best. But if there's anything I've learned, it's that you do your best learning/growth when you push yourself outside your comfort zone.
Being your own boss / opening a new business for sure has its challenges…you have to be self motivated, you have to plan ahead and stick to it, you have to put yourself out there and expect a few no's, you just have to keep trying and network as much as possible. There hasn't been a job along the way that I've had that hasn't come through networking. It's not easy and it's not perfect, but that's ok. I'm not looking to be perfect and I don't want my clients to feel like they have to be perfect. I teach and encourage balance, patience, forgiveness and understanding. I guess I'm kind of like a personal trainer, life coach, cheerleader, nutritionist, therapist all wrapped up into one! haha There's so many factors that affect our health, so if you want to be happy and healthy long term with consistency, it's about more than just lifting some weights at the gym 3 times a week and that's what I focus on as a personal trainer.
Most people just want to be heard, I am here to listen, to read between the lines and help you take care of yourself! It's all about the self love /self care! (that thing that's always talked about, but hard to do without a little help). Over the years I have slowly shifted away from the heavy lifting. Using weights is super beneficial, but there's so many ways to do that now. I've found great results through functional training aka training like an athlete. I teach people to be mobile, flexible, quick, dynamic. I want you to feel strong but agile and sharp.
What do I want the world to know about me and my brand? Let me help you. I've got years of experience being an elite athlete myself and being an elite level coach that's taught me how to understand how the mind works and how the body functions best. I have always had a deep understanding of the body….knowing the skeleton and understanding posture, reading body language and what a person needs most even if they don't know how to express it verbally themselves. Let me make one part of your life a little easier and a little better. That one small piece (working out, bettering nutrition, understanding yourself a little better) can have a huge impact on every other area of your life. If you're not taking care of yourself, then how can you expect to take care of others, your family, your job, etc? Let me be the cheerleader you need so that you take care of yourself and make you your number 1 priority.
I want to have an impact on as many people as I can through the passion, joy and excitement I have around food, fitness and life. My greatest moments as a coach are the times I get to witness my athletes/clients surprise themselves; when they do something they never thought would be possible.
Any places to eat or things to do that you can share with our readers? If they have a friend visiting town, what are some spots they could take them to?
Oh gosh, there's so many fun things to do all over the DFW area…I love exploring them all! Of course you gotta go down to the stockyards in Fort Worth one day and do all the quintessential cowboy things. Another day should definitely be spent outside, on the water at Lewisville Lake…on a boat, or a paddle board or maybe beach volleyball at the park lakeside. Or maybe walking the Katy Trail which is so pretty and so full of life! Hit up the artsy vibe and great music scene in Denton (where I live), check out Miss Angeline's for great cocktails on tap, or Harvest House for live shows while you sip a beer and get food from the food truck. Every little neighborhood of Dallas has a unique vibe. I love all the areas like lower Greenville, Deep Ellum, Bishop Arts, Highland Park (to see all the beautiful homes), Harwood and more. A trip would not be complete without a little barbecue either! Hutchin's BBQ in Frisco is one of my favorites! and so many great places just named to the 50 best list in Texas Monthly! I also love that this area has strong roots in bbq influenced by Mexican flavors and techniques ( like vaquero's bbq, and hurtado), As I mentioned before, I looooove tacos! You gotta check out El Arquito, Chilangos, Revolver Taco Lounge, Trompo, Taqueria El Paisano, just to name a few! If I'm planning a trip somewhere, I also book one nicer meal out somewhere. If it were up to me, I'd tell you to go to Carte Blanche which hasn't been open long but man, every single course just blows you away (and they also have delicious pastries they sell in the AM!).
I love sports, so if you're in town, see who's playing so you can watch a game in person! Between the colleges and the professional teams in the area, you've got so many to choose from! But whatever tickles your fancy, you're should to find what you love…museums, the zoo, botanical gardens, and lots of great food! Did I mention the tacos yet? The cocktails at José are so fresh, interesting and delicious. Or head to Las Almas Rotas for all your margarita and mezcal needs. And if you need coffee, head to Jupiter House in Denton or La La Land Kind Cafe or Foxtrot Market for that and so much more!
The best part about this area is the people…everyone is so nice and willing to help you out. I've gotten so many great recommendations from so many different people.
If you're like me, a vacation will include working out because you just feel better when you do! So hit me up for some virtual workouts at your hotel (maybe the Omni Downtown? or a cute boutique hotel in uptown?) or I'll meet up with you at a park nearby to get some fresh air while you workout!
The Shoutout series is all about recognizing that our success and where we are in life is at least somewhat thanks to the efforts, support, mentorship, love and encouragement of others. So is there someone that you want to dedicate your shoutout to?
My right hand man, Victor deserves a huge shout out. He's been my number one supporter and fan from the get go. He's boosted me up when I didn't feel so confident, he's helped me brainstorm ideas when I was feeling a little less than creative, he's made me feel like I can do anything. He taught me how to root for myself and how to find better work-life balance in my life. He's also taught me how to run a business more efficiently and encourage me day in and day out to just put myself out there even if it feels a little scary. I wouldn't be where I am today without him.
Website: https://move-train-smile.square.site
Instagram: @move.train.smile
Linkedin: Stephanie O'Callaghan
Other: Check out my other instagram accounts…the things I do for fun: all about the food at @texas_tacos_travels_ and all about the handstands all over the world at @peace_love_handstands – @move.train.smile is at https://www.instagram.com/move.train.smile/?utm_medium=copy_link – LinkedIn is at https://www.linkedin.com/in/stephanie-o'callaghan-756b3214/
Nominate Someone:
 ShoutoutDFW is built on recommendations and shoutouts from the community; it's how we uncover hidden gems, so if you or someone you know deserves recognition please let us know 
here.