Meet Poonam Patel: Building Designer & Founder at the URBAN LOOP STUDIO | TEDx speaker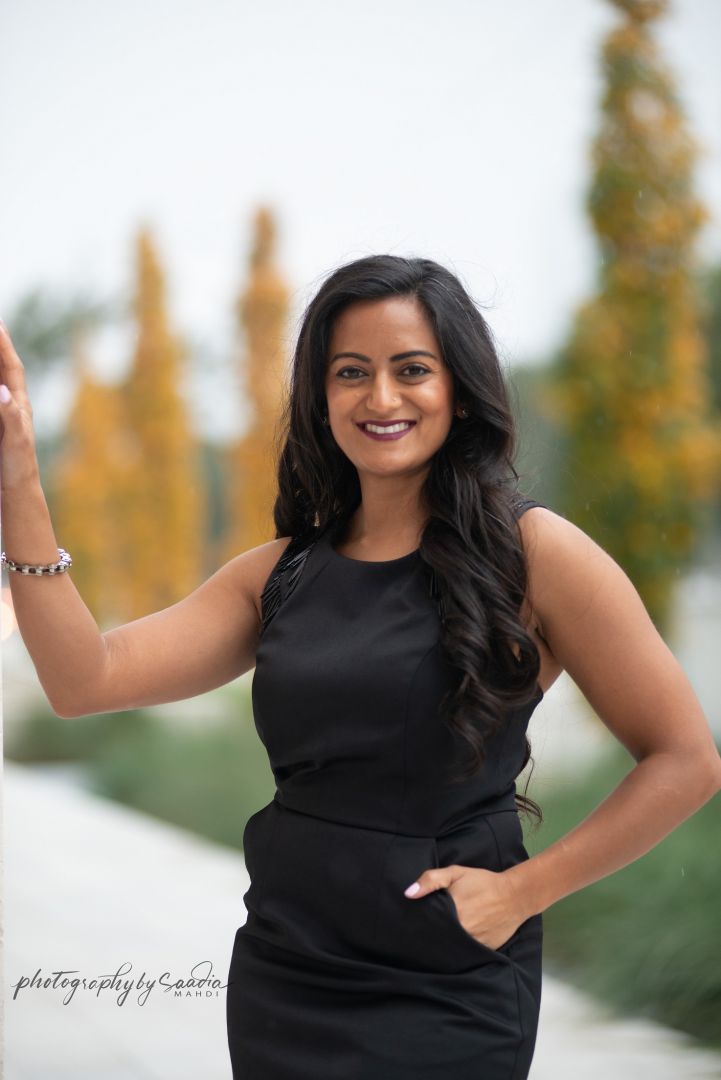 We had the good fortune of connecting with Poonam Patel and we've shared our conversation below.
Hi Poonam, where are your from? We'd love to hear about how your background has played a role in who you are today?
About 90% of  the hospitality industry is dominated by Patels, and considering it being  a 24 hour operation, some lived on site, including my father.  I lived in a motel room from 3rd grade until I graduated high school, and later shared an apartment with 3 other roommates in college, until I finally got my own place. I have always had a small space that I had to share with others. In other words, I never had a beautiful space of my own to live in. The motel room was a dark room with a black tinted window, the most uncomfortable bed and a window A/C unit that was also used as a storage room. Living with roommates wasn't the best, cleanest or nicest environment, but definitely a step up from the motel room. Designing beautiful and functional spaces can help impact your health, well-being and your mood. Learning the skills of design was the solution to all of this.  Being able to position myself to learn the skill to improve people's moods, through design, empowers them to do better and be better.  Buildings provide shelter, allow people to feel safe, help move civilization farther by living longer, have protection from predators, and can have a positive impact on how you feel, and this is a way of giving back. The next step is to figure out how to make design available to everyone, not just people who are financially well off. Poonam's Pandemic Projects is a first step in that direction where families in quarantine have access to some of the best design tips to help create a heaven with their home during the pandemic.  Helping the city of Dallas come up with affordable housing solutions and helping them meet the demands of the Housing shortage is also another valuable way to give back while an opportunity for the less fortunate to enjoy design.  I know that my clients are very happy living in their beautifully well designed homes during the pandemic and enjoying spending more time at home and I wish that for everyone.
Can you give our readers an introduction to your business? Maybe you can share a bit about what you do and what sets you apart from others?
Creativity and purpose has always been a driving force in the decisions I make.  Creativity allows me to be resourceful in ways a lot of businesses could only dream of. Purpose propelled me towards success at such a young age, by becoming the role model I never had. I am most proud of being able to check off so many gratifying things in life through my business: -I get to exercise my talent -I get to give back, by helping my clients' dream homes become reality -I love seeing my clients happy -I get to be a role model for minority girls who aspire to do daring work in a challenging, male-dominated field -I love being an inspiration to others -I love seeing 5-star reviews -I love seeing the before and after photos of renovation projects -I love seeing the creativity bloom from a line drawn on paper to an inhabitable 4-D space. -I love creating -I love turning nothing into something -I love seeing the transformation of a space; it makes me feel like everything I touch turns into gold -I love the challenge and complexity of what I do -I love being the boss and calling the shots -I love the opportunities that have come my way as a result of the Urban Loop Studio -I love getting to know my clients and the fascinating lives they lead. I got here by putting in the work needed to be equipped to do this in a responsible way. I went and got my Bachelors and Master's degrees in Architecture, and I worked under licensed architects at some amazing firms. I may not know everything, but I definitely know when to ask and I'm resourceful enough to learn and have put in the time and energy to increase my chances of success. My path has not been easy, but I had confidence and faith in myself and in why I was doing this, and that's what kept me going. If your why is strong enough, you'll figure everything out, even if it means skipping a party or two. Although your absence may be upsetting to friends and family, you have to choose and do what feels best for you. For me, that sometimes means showing up to thanksgiving with a laptop 
 Overcoming challenges is something that one has to become an expert at. Whether you choose to stay complacent and comfortable, or embark on a challenging journey, you WILL face challenges. There will be plenty of things to complain about on either path. Life is not easy; the sooner you accept there will be challenges, the sooner you can get over them, and the sooner it will feel like it never happened in the first place. The best example I can give is the story of when I had a flat tire on the way to the airport. I could have cried and pouted about it, waited for help, missed my flight, and lost money on the flight and hotel with their no cancellation fees. But instead, I got out of the car, changed the tire in a record 15 minutes and made my flight! I was able to maintain my vacation schedule and brag about changing the tire in record time and still make my flight! I have learned that if you can find the opportunity in a challenge, then it becomes fun and addictive. One thing that I have learned is that I need multiple reasons for doing something in order for me to do them. I have always asked myself, Why do I want to do this? Why is it important? And once I figure that out, I allow myself to get out of my OWN way and move forward more easily than if I hadn't. This works for me – I like to think it can work for everyone. I want the world to know that my brand is living proof that young minority girls can go as far as their hearts desire, even in a world where the odds are against us, and in a world where people still believe that women belong in the kitchen. You can curate your story how ever you like, just as I have. Be the inspiration people have not yet seen. Slowly, together, one by one, we can change the world's mind about us through how we choose to contribute to the world.
Any places to eat or things to do that you can share with our readers? If they have a friend visiting town, what are some spots they could take them to?
In the world of high achievers, there is always something to celebrate! I love to celebrate. For this, I would take a friend for cocktails at a rooftop bar and dinner at a fancy restaurant, like Uchi or Hillstone. I might even convince them to try some vegan places, like El Palote Panaderia or the Farmers Market or a hole-in-the-wall like Taj Chaat House. With covid, being somewhere outdoors is popular, so I'd suggest the lake or hiking.
The Shoutout series is all about recognizing that our success and where we are in life is at least somewhat thanks to the efforts, support, mentorship, love and encouragement of others. So is there someone that you want to dedicate your shoutout to?
Yes! I have an arsenal of mentors, coaches and support systems for every facet of life from Health, Wealth, Relationships, Business and even my recent TEDx Talk. I believe, as a high achiever, that if you want to be the best, you must learn from the best. Here is a list of some of the people who I am most grateful for helping me discover my potential. For the TEDx Talk I had an entire support system. I had so many people contribute in helping me including former professors Mahesh Daas, Mark Blizard, and Donna Kacmar. I also had one of my business coaches, Frank Woosley, and an assigned TEDx coach Kimberly Hardman help me craft the talk to perfection. So many friends and family took time to listen to the talk and gave valuable feedback, including The Dallas Chapter of American Institute of Architects and The Dallas Builder's Association. The biggest shoutout goes to Ricardo Leon for inviting me and encouraging me to take the first step. If you would like to learn more about the journey to the TEDx Stage, Check out this Blog https://www.urbanloopstudio.com/post/poonam-patel-joins-tedx Also check out the trailer, testimonials and the actual talk itself on this youtube play list https://www.youtube.com/playlist?list=PL8p82YzllaV-SlF8Zqh7eGbuES9M-5Qt_ For the Urban Loop Studio – I have business coach's and people on my team to help me get through accounting, taxes, legal, technical and other critical aspects of the business. I don't know where to start but I can say, my late father, Jitendra, who I lost this past February, had a lot to do with helping me create the frame work on how I need to think as a business owner. I remember he was so upset when I told him that I wanted to get a masters degree because he knew that owning a business would earn more money, not another degree. My father was the first one to help me file paperwork to start my business. I am so lucky to have had his support. A few more aces I keep up my sleeve are Ron Wichter, Frank Woosley, Lloyd Vaughan, and Stan Booth. I keep several trainers, nutritionists, massage therapist, on speed dial based on what I need at the time. I call on Gavin when I need a recommendation on a stretch or workout to help ease some tension in my body. I recently got a Gait analysis performed by Mario Calvo for those who want to learn about better running posture and running efficiency. Can I add Pinterest on here too? I get juicing recipes off there and vegan charcuterie ideas for a high energy diet. I also have a coach for my investments, again my late father taught me at a young age about credit scores, how to leverage debt, how to maximize profits from a business and encouraged me to invest. Although I self taught myself how to trade stocks, for 10 successful years now, I have moved on to Real Estate, where I have more mentors. I even have coaches when it comes to relationships to help me build my emotional intelligence and ability to connect with others in a meaningful way. These coaches have helped me communicate better with clients, contractors, and in personal relationships. Some of my favorite resources for this are Julian' Treasures, "How to speak so that people want to listen", a book called "Verbal Judo" and I am currently reading "Nonviolent Communication" "Why go through life alone when we can all help each other get through life with ease? "
Website: www.urbanloopstudio.com
Instagram: https://www.instagram.com/urbanloopstudio/
Linkedin: https://www.linkedin.com/company/urban-loop-studio-architecture-and-interior-design
Twitter: https://twitter.com/UrbanLoopStudio
Facebook: https://www.facebook.com/UrbanLoopStudio
Yelp: https://www.yelp.com/biz/urban-loop-studio-dallas-4
Youtube: https://www.youtube.com/channel/UCu6ukRiv5R2F4M6OoFb2QjA/videos?view_as=subscriber
Image Credits
Photography by Saadia Urban Loop Studio
Nominate Someone:
 ShoutoutDFW is built on recommendations and shoutouts from the community; it's how we uncover hidden gems, so if you or someone you know deserves recognition please let us know 
here.