Meet Nanu Berks | Artist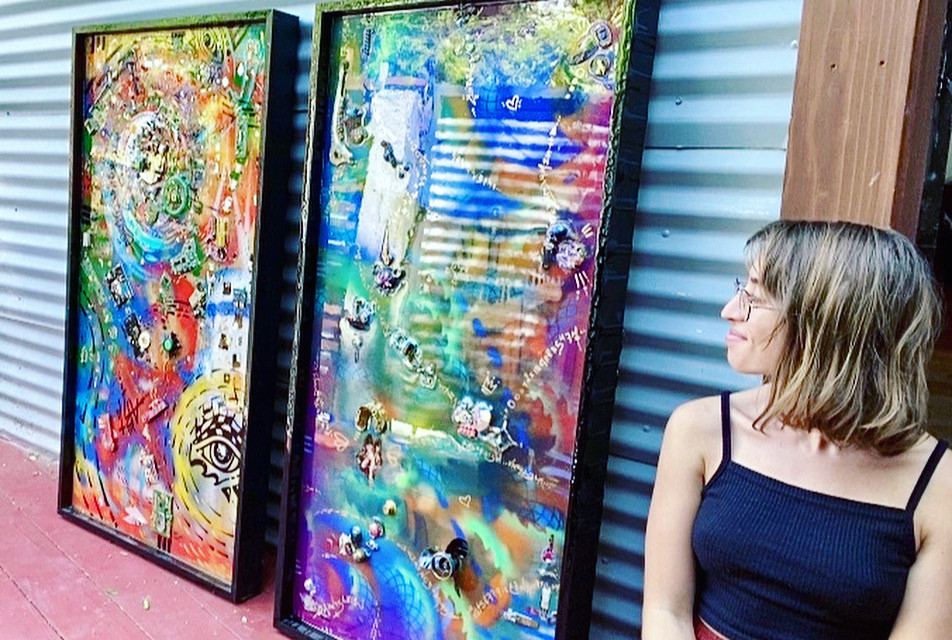 We had the good fortune of connecting with Nanu Berks and we've shared our conversation below.
Hi Nanu, how has your perspective on work-life balance evolved over time?
I have been an entrepreneur ever since I can remember, from selling bracelets at the beach in Chile at the age of 7, to pursuing a career as a full time visual artist now. I have only had a few gigs here and there that were not related to art, and I have mostly worked an average of 14 hours a day to reach the goals I set for myself. And yes! working that hard that much that often will lead to results, but also to burn out. My last burnout after much success led me to a year of recovery. I was unable to create or connect and all I could do was replenish my energy and rest. Since then I have drastically changed the way I engage with my career. I believe we are moving away from as hyper masculine way of "pushing through" the field into success, and into a more balanced flow of "waiting, contemplating, receiving, and acting" Contrary to the common belief, waiting and receiving is actually harder than being in go mode at all times. Slowing down requires us to really look at our blocks and limiting beliefs. Being in receiving mode is an active role of mediating, clearing, and managing the anxiety and fear that comes with "making space" which our society equates to failure. But what I am learning is that attracting one opportunity that is nourishing in all the ways (financially, creatively, matching values, etc) propels us forward in ways that three or 12 other mediocre or miss aligned opportunities would never. If anything, over extending for a "good financial or exposure op" only diverts the path into multiple options that often slows us down.
Being a full time artist, and I imagine being a good person that is satisfied with their lives in general, takes as much contemplation and discernment as it takes seeking and pursuing. I know for me I need to spend a lot of time in nature, in water, in silence, walking, eating good food, and understanding where my goals and ambitions come from and what they are for, in order to be successful. If a goal is coming purely from ego or from a childhood wound such as "I am not smart enough" then I am wasting my energy pursuing opportunities that show that I am smart enough, but they don't lead to actual alignment with greater success because it is coming from a fear scarcity place of "I am not enough" if I am pursuing a project from a place of genuine interest, and inspiration, the vibe is totally different and it helps to open doors in complete alignment to where I am headed.
There are plenty of challenges with this system of slowing down, as there are with the traditional one of "bulldozing through" but in my experience this one makes life much more enjoyable and balanced, I sleep better, I am able to really be present in my down time, and even most of my "relaxation" investment ends up creating some of my most lucrative ideas. We are always borrowing time or energy from somewhere. It is much harder to mend and fix over extension than to mindfully balance as we go. If we want longevity of inspiration, we must find a way to feel fulfilled and balanced now, on our way to our more ambitious goals.

Alright, so let's move onto what keeps you busy professionally?
I think all true art is channeled. I feel my job is to keep my antenna sharp and clear and connected so that I can listen and receive the transmissions of inspiration flowing through the collective. What makes my art valuable and vibrant is that I put the love and time into honing the skills that I need in order to bring into the 3d world, the ethereal ideas that I see floating around the universe. This can be very challenging, everything from quieting the mind from the chatter and anxiety to actually create room for flow and excitement, which drives energy up to be able to spend 17 consecutive hours a day on a project for 3 months if needed. As well as learning new skills that sometimes we are not particularly interested in.
For example, I was called to learn a lot about technology and economies of the future, in order to create and share some of the messages that I feel are important for us to receive as we move through our tech evolution. I don't enjoy spending time on my laptop, writing endless proposals and researching so much in order to distill one simple idea out of a complex mass of entanglement, but it is so deeply satisfying creating a piece of fine art with social commentary that spark peoples interest in understanding a certain topic or idea. I am most proud of always listening to the divine muse, and absolutely never compromising the raw inspiration of the art that wants to come through me. Some of the biggest challenges for artists are pricing and selling our own work. I have burnt bridges and made a lot of mistakes and what I understand now is that there is a sweet spot between charging whatever you want for art you created, and also understanding the several threads of energy exchange that are involved in one transaction.
Working for exposure is rarely useful, however giving 110% of you for a project that nourished your soul but is underpaid, will bring more opportunities and satisfaction than the actual payment we are agreeing on. Also useful keeping in mind that energy as money or as abundance comes in many forms and we can adapt and be malleable in order to thrive. This requires listening to how you feel while involved in the project, and almost ignoring how you "think" about the project. Follow what energizes you, and this way you will always get your return on investment from the experience alone, with financial benefit as a plus. Being a woman in the art world is crazy. I have turned down big sales because I could feel the collector was more into me than the art, or into me and the art and it would make me uncomfortable. Now I understand I am imprinting a piece of my soul and energy into my art and essentially that piece of art is me, it is my sensuality, my intelligence and my energy, and of course collectors are going to be attracted to the artist as a whole, their brand their essence however they show up in the world. I still encounter challenges here and find myself disengaging from potential projects when I feel disrespect or manipulated, at the end of the day for me it is very important to do business with people I like.
There are amazing humans out there in every field! don't settle for working with people you don't feel good interacting with. The world will bring you all sorts of tests and the more we say no to and clear, the more we solidify the types of yeses we want to bring more of. Something that has helped me a lot lately is checking in with my intention, basically why am I doing this? I either feel called to join because of a bigger cause, to help improve our environment or societies, to follow my bliss and joy and creative expression for the purpose of play and healing, or pursuing an opportunity that is sharpening my skills or improving my quality of life. When I feel off course or stressed, I check in with my why, and if it isn't one of those three, I am happy to pivot and let go.
I am currently focused on enjoying my present moment more. I know this is over said and over played "enjoy the journey and not the destination" but this is so real right now more than ever before. I feel successful instead of chasing success. I wake up everyday and work on designing a life I love that feels in integrity with what I am and want to become. That is so deeply satisfying. Selling art for tens of thousands of dollars feels damn good as well, but if that is the only motivation or measure of success, it is easy to feel disappointed or like we are "failing". In my experience money and recognition ebb and flow based on my feelings about self worth. The more satisfied and successful I feel every day the more of that I become and attracts. It sound cheesy but its true. In short, if I am always projecting the energy of "I want to be or I want to have" my field continues to replicate this experience of "I want" If I feel "I am and I have" the field continues to present experiences that match that vibration.

If you had a friend visiting you, what are some of the local spots you'd want to take them around to?
Nature. Always. A short walk through nature and dropping in to be really present with the person I am with is my favorite. I enjoy walking through nice murals as well. Sitting by a river or lake always healing and replenishing.
Shoutout is all about shouting out others who you feel deserve additional recognition and exposure. Who would you like to shoutout?
I am so grateful for my friends and family, and the strangers I encounter that spark my soul, motivate and inspire me to continue on this weird path that only forms as we keep on walking. A few of my super solid girlfriends keep me sane, and really good audiobooks like "conversations with god" and "everything is fkd" as well as of course inspiring music like FKJ, visual artists, and small artist communities that I am involved with, where we can all relate to one another and help each other through though times. Community, vulnerability, great resources, and a lot of courage, that's the formula.
Website: www.nanuberks.com
Instagram: https://www.instagram.com/nanu_berks/
Twitter: https://twitter.com/nanuberks
Facebook: https://www.facebook.com/nanuberks/
Youtube: https://www.youtube.com/c/NanuBerks/videos
Nominate Someone:
 ShoutoutDFW is built on recommendations and shoutouts from the community; it's how we uncover hidden gems, so if you or someone you know deserves recognition please let us know 
here.