We had the good fortune of connecting with Miso Kim and we've shared our conversation below.
Hi Miso, how has your work-life balance changed over time?
Last time I talked to Voyage Dallas, I mentioned my struggle is about finding the right balance of public and private boundaries. And this time, Voyage Dallas asks my perspective on what balance is. Let me use one of my favorite painting since childhood, "Cafe Terrace at Night" by Vincent van Gogh, as an example to describe my version of balance. What draws your attention the most at first glance of this painting? Most likely, warm-lightened yellow cafe terrace is the first one you see–ok, but why? Because the night time blue atmosphere contrasts and accentuates the yellow despite the small ground yellow covers compared to the blue. Yet, yellow isn't isolated but in active conversation with the rest of the picture frame. They keep communicating by yellow becoming starry stars, sleepless window, or textured rock street tiles and blue giving variation to deepen the atmosphere people are creating on the terrace. So here is my stance; as long as everything and anything I do are in active conversation and I am able to let them mingle organically, I would say I am perfectly balanced. Not judged by its volume or quantity of time, but for activating the flow and demolishing boundaries. That, I will say is what I call healthy balance I strive to maintain.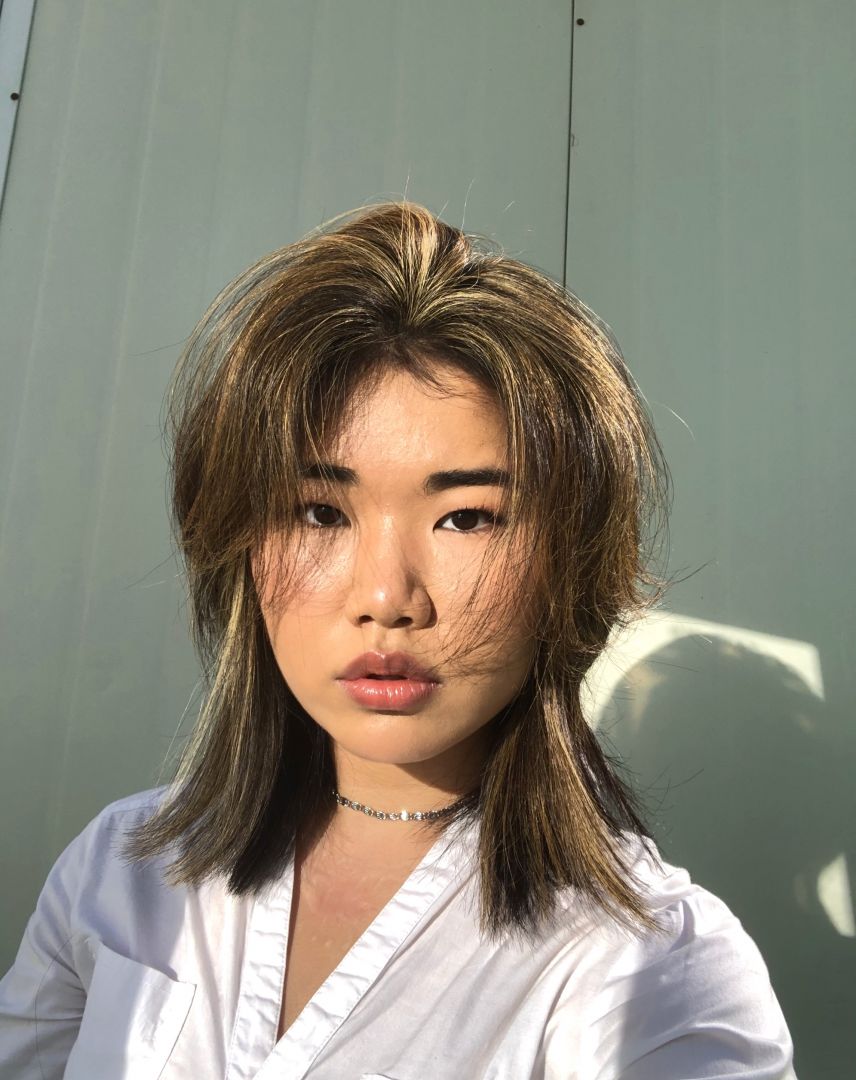 Let's talk shop? Tell us more about your career, what can you share with our community?
I enjoy questioning my exploration with spaces, patterns, intuition, and compositional formality of dots, lines, and planes. I believe that intuition validates its importance in my works by revealing the true content whether it's intentional or unintentional. Seeking for my pleasing way of composing formality yields personal narrative and purpose. This is my first year as an artist not affiliated to any kind of community or institution. Being completely free from any restraints, rather contradictorily, made me feel cornered. I did temporarily lose the conviction of my true purpose of art making after becoming experienced to repetitive academic system of constant confirmation and requiring persistence to my short thinking. I had to re-carve the way I once forgot by letting my habit of seeking confirmation go and being okay in the state of unknown. If I could give one advice, I would say that believe that everything and anything you do is relevant and applicable for the bigger picture, called life. Life doesn't deserve being restrained by minor worries. My art deserves me, always. To keep up with my future upcoming projects, check out my art instagram account(@misokim_art) and website (www.oneofakindmisokim.com).
If you had a friend visiting you, what are some of the local spots you'd want to take them around to?
It is a fun thought to entertain myself especially around this time of pandemic. If my friend was visiting my hometown, I would first take them to NamPo-Dong. NamPo-Dong is well-known commercial and shopping area where you can find pretty much everything and anything that will attract people, from street food, local eatery to fashion district, thrift stores, and charming coffee shops within the walking distance. If one cannot find anything interesting here, then I don't know where will. This area has a long history for food and foreign goods market, called Kangtong Market and Gukje Market, which are still maintained occupying a large amount of crowds to this date. At the same time, right across few blocks away, there is a huge walking street concentrated with fashion stores, cafes, restaurants, theaters, live shows and other trendy places to visit, targeting tourists and younger audience. After enjoying the flashy and crowded part of Busan, I would like to drive through Song Do, one of the most famous yet quite calm beaches in Busan. Night drive around the beach could show a glimpse of the nightlife beauty I personally enjoy. Speaking of driving, if the schedule allows, I would love to take my friend on a short roadtrip to Jindo. I haven't visited Jindo until last year when I got an opportunity to join a group show there. Roadtrip to Jindo was an eye-opening experience where I found so much beauty and history of this Korean land in untouched nature and its bizarrely shaped landscape that I was taking it for granted or dulled and blurred by familiarity. Jindo is a group of smaller islands that held one of the most significant historical incidents happened in Korean history. The incident dates back to October, 1597 when Japanese were invading Korea and the battle is called Myeongnyang battle. What made this battle so memorable was the fact that with only 12 warships, Koreans triumphed vastly against 330 Japanese ships under Yi Sun-sin's command, one of the most significant Korean historic figures. Despite being outnumbered by remaining Japanese forces later on, the victory of this battle and the humiliating naval defeat for the Japanese gave Korean hope to keep fighting for their freedom afterwards during the Japanese colonial period. While there are many trendy places that celebrate the current state of Korea, I thought introducing somewhere that embodies Korean history and its root would give a different experience for my friend to better understand Korea and me on a deeper level.
Shoutout is all about shouting out others who you feel deserve additional recognition and exposure. Who would you like to shoutout?
I cannot agree more to the good intent of the Shoutout series and I would have to revise the word "little credit" to "endless gratitude" to say the least. I have so many people and moments to give proper recognition to. First, my parents and my sister deserve the biggest shoutout, if not all–they are the core pivot to who I am and the foundation I can firmly stand and reflect to. The relationship and love we evolve to recreate every moment is one of a kind and I'm forever grateful. Second is the misdiagnosed appendicitis that caused me to be hospitalized for a year. While it paused the momentum of my college career, hospitalization forced me to put everything into perspective I wouldn't have been able to otherwise. All the while, Ortiz family devoted their time and love to take care of me. Third, I of course have to thank the UTA, University of Texas at Arlington, art community for helping me flourish with prominent mentors, fellow artists, friends, and opportunities. Every mentorship and friendship I was able to make was and still is the blessings to count; meeting congenial fellow artists/friends–Joyce Liu and Garrett Golightly, starting my first 1:1 mentoring with Matt Clark in freshmen year, learning painting for the first time from Sedrick Huckaby and Spencer Evans in my sophomore year and continuing invaluable interactions until now, learning how to question and strengthen my voice from Marilyn Jolly, getting prestigious opportunity to attend Yale Norfolk residency, meeting my life long friend and admirable artist, Shamia Gaither, being challenged every drawing, every step of the way by Stephen Lapthisophon, who I now call him friend with respect. I hold them all dearly to my heart. Last will have to be the decision coming back to Korea instead of choosing to extend my academics to graduate school.
Website: oneofakindmisokim.com
Instagram: instagram.com/misokim_art
Linkedin: linkedin.com/in/miso-kim
Youtube: expected to launch soon
Image Credits
Miso Kim