Meet Maureen Beville: MS, Owner & Instructor of Dwell Yoga Studio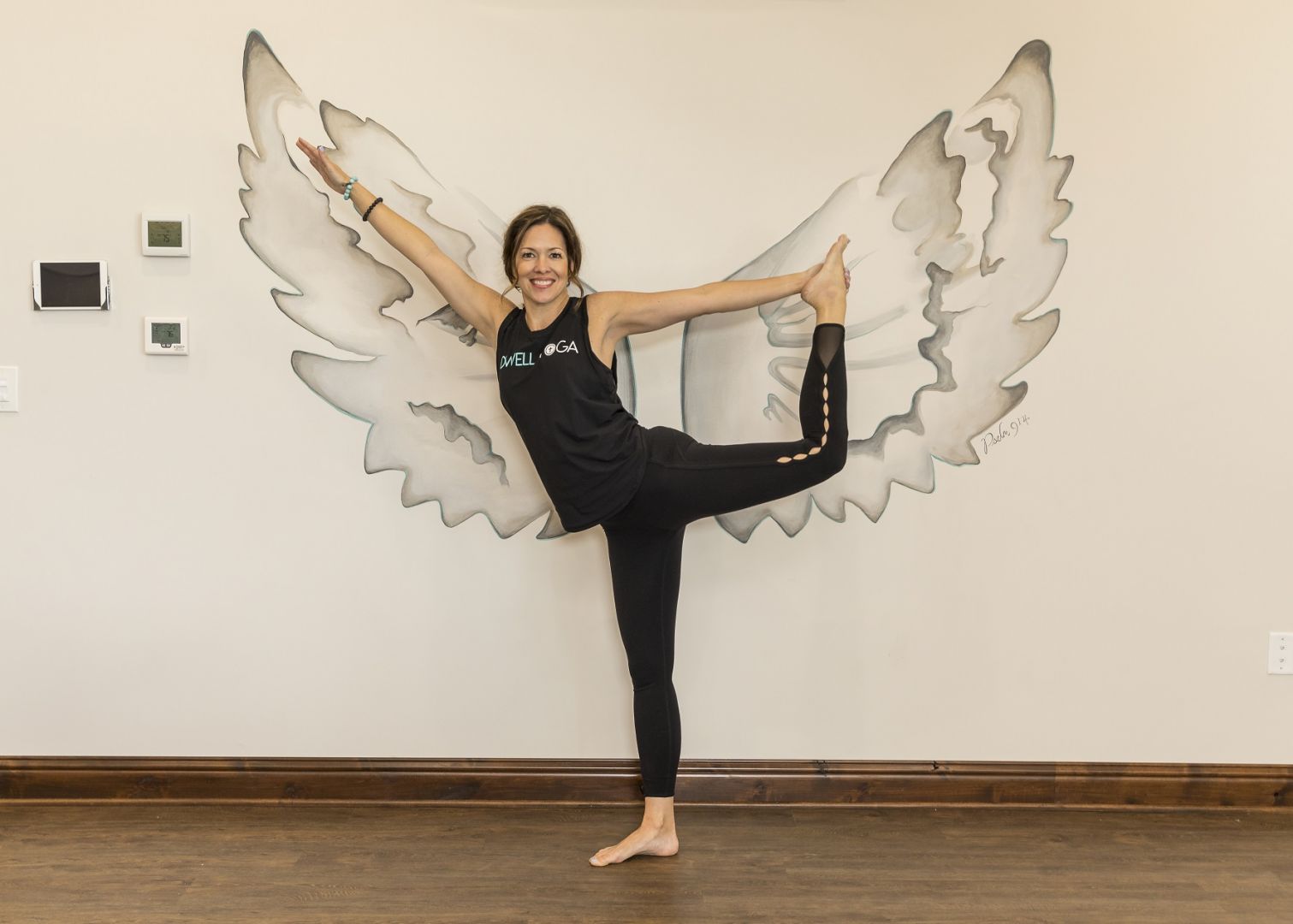 We had the good fortune of connecting with Maureen Beville and we've shared our conversation below.
Hi Maureen, what's one piece of conventional advice that you disagree with?
"Fake it until you make it" This piece of advice has always annoyed me. Maybe it's the strong wing of my enneagram number coming out, but I have always had an annoyance around "inauthenticity". And this phrase seems to suggest that you can just put on a smiling face and fake your way through and everything will be ok, but to me that is not authentic. Acknowledging feelings of insecurity or fear and working through them honestly is what sets a person up for real success, not a fake version of it. Throughout business ownership, I have gone through various phases of feeling unqualified, ill-equipped, and uncomfortable. But for me, I just have to press in to my faith and my calling and surround myself with good, like-minded people. In the last couple of years, I've really tried to take an honest look at myself, my gifts (and my faults) so that I can show up for my family and my friends and my business as the most genuine version of myself as I can. It's definitely a process, but if I tried to fake it and act like I have it all together, I wouldn't get the satisfaction of real relationships and learning more about who God has made me to be.
Can you give our readers an introduction to your business? Maybe you can share a bit about what you do and what sets you apart from others?
Well, I opened Dwell Yoga Studio in Frisco, TX on October 1, 2018. We offer a variety of yoga classes in a faith-based environment. We welcome individuals of all beliefs, all levels and all abilities. After receiving my yoga teacher training through Holy Yoga, I began teaching throughout my community. People would come take a class and tell me that they didn't know that classes like mine existed where they could worship on their mats with body, mind and spirit. As my client base grew, so did my confidence that there was a need in my community for a Christ-centered studio One of the many things I love about our studio is that we truly offer classes for all levels and abilities. We have everything from restorative yoga to quiet the mind and rest the body all the way to hot vinyasa that is energetic and powerful. This spring, we began operating an infrared sauna as part of our services, in addition to our group classes and private pilates Reformer sessions. Like most businesses affected by COVID-19, we quickly had to pivot so that we could continue to stay engaged with our clients. We began offering our classes online for our clientele and realized there was a greater need for this format even beyond our stay at home guidelines. We began hearing from individuals who have wanted to experience our classes but either lived too far away or their schedules never permitted them to join a class in studio. We also learned that many times, our clients don't have time for a full 60-minute practice, and so we've also included in our online offerings 10-, 20-, and 30-minute sessions. I love that we are a micro-small business, and thus we are able to adapt quickly to the needs of our clients. Having an amazing team of instructors who are eager to serve is also a tremendous asset.
Any great local spots you'd like to shoutout?
I love living in Frisco. Some of the things that I would introduce a new person to in my city are: The Star – We could let the kids throw the ball and run around on the football turf in front of the stadium while we sat on a patio and enjoyed lunch or dinner. Mi Cocina never disappoints – lunch or dinner. I also love Tupelo Honey for brunch and their happy hour menu. Flea Style at The Star is also fun for lunch and browsing unique finds. Downtown Frisco – would definitely need to hit the shops on Main Street. I love supporting other small businesses like Sunny Page, Bittersweet Ivy and Twisted Simplicity. They have such cute clothes and they are great places to go for unique gifts. After some shopping, we would definitely hit Eight-11 Place's amazing patio for a glass of wine or hand-crafted cocktails. You can also catch some local live music there. One of my favorite little coffee shops, The Book Shoppe and Coffee has such a quaint atmosphere. It's a great place to catch up with friends, as well as The Nest. Other places we must visit are Clean Juice Frisco, Up Inspired Kitchen & The Heritage Table. Depending on the time of year, we could catch an FC Dallas or Frisco Rough Riders game here in town or maybe the wine festival downtown.
Who else deserves some credit and recognition?
I have been blessed with an amazing family and community of friends . I have so many people in my life who have contributed to my success a business owner. I have to start with my husband who has always supported my ideas. I tend to be more emotionally driven where he is more factual, and so this pushes me to do my research and consider other points of view. He is my sounding board, my cheerleader and biggest fan. My mom is also instrumental in my success. She owned her own studio years ago and has been instructor of fitness and yoga for over 20 years, so I'm constantly asking questions and getting her opinion. I know that she will always tell me the truth and I respect her advice. And I have to acknowledge the amazing group of instructors that we have at Dwell. Beyond their ability to teach yoga, what I really value is the unique strengths and personalities that they bring to the table. Each is so different, but all have a heart of gold. Our studio would not be what it is without them.
Website: www.dwellyogastudio.com
Instagram: /dwellyogastudio
Facebook: /dwellyogastudio