Meet Liz Splatt | Stand up comedian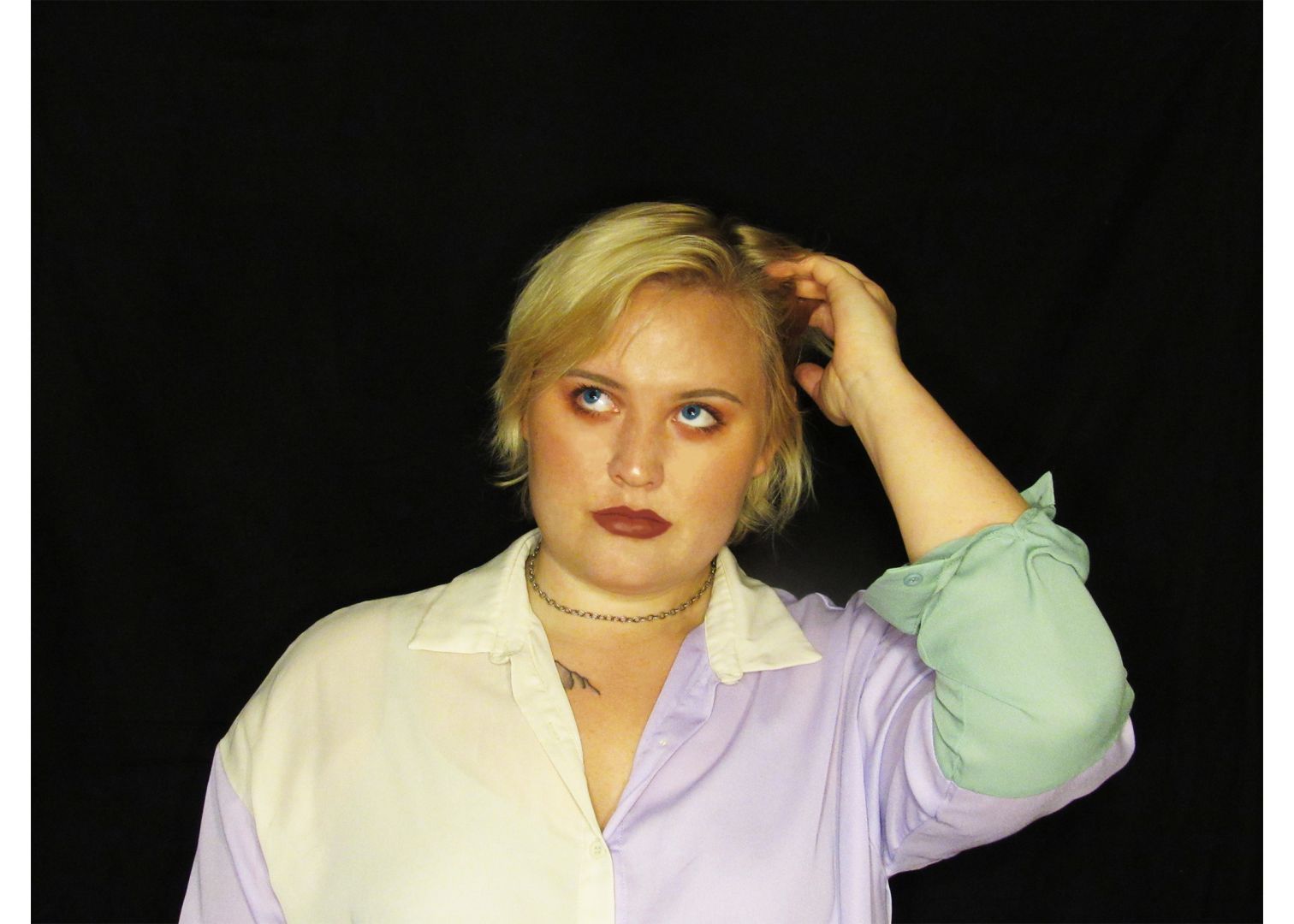 We had the good fortune of connecting with Liz Splatt and we've shared our conversation below.
Hi Liz, why did you decide to pursue a creative path?
The simple answer would be, it's the only thing I'm good at and doing anything else seems agonizing. I never really considered being a stand-up comedian until I tried it for the first time, then it quickly became the only thing I thought about. Growing up I knew I wasn't very good at school or anything that required standing still or staying in the lines of someone else plans, so when I went to college I majored in art. For a while, that was just enough hope in having a creative life that it kept me going, but still, it was very much staying on course and following rules. When I got into stand up it quickly became clear that making my own rules was the only way to stand out and keep moving up. People don't want to see the same thing, people want to be thrown off and shown something they weren't expecting which is just the opposite of what they teach us in school about being successful, thankfully I never listened in school. For a long time in life being the weird, crazy, loud, and the outspoken kid was a downfall; in stand up its something I hold my head high about and people in the scene acknowledge me for it. I have other talents, I can kind of draw, I can kind of sing, I can kind of paint… but stand up is the first and only thing where I feel that I can do particularly well. Stand up comedy puts a fire in my stomach, talking about it excites me, watching it motivates me, and doing it is damn near orgasmic. Not sure if I can say that in an interview so if I can't just put something like "doing it is as beautiful as childbirth and I can say that because though I have never given birth to a child I can see that it looks really hard and disgusting and it ends up being a life long process that takes all of your money and youth and you talk about it nonstop to people who don't really care and most people with any sense at all end up aborting within the first 5 months." Honestly please put that in there either way that analogy ended up being the shit haha.
Alright, so let's move onto what keeps you busy professionally?
Conan O'Brien once said "When comedy is going well, I would do it for free anytime any place. But when it's not going well, I want to be buried alive in a 6-foot deep hole." Stand up is the easiest thing I've ever done that makes me work harder than I ever have. There is nothing more frustrating than bombing on stage, it's embarrassing, heartbreaking, and annoying because you feel as though you've wasted time and disappointed people. However, it is all so worth it when even one joke lands. Before COVID-19 I would hit anywhere from 9-12 open mics a week. I wasn't even creating a lot of new material or anything, it was just genuinely the only thing I wanted to do. So in that sense comedy has been super easy for me because for better or worse, its the number one thing I want to do so every negative experience I've had so far just feels completely worth it. That being said I'm only a year in at this point so I'm sure more crazy stuff will happen though I'm optimistic that it will still be worth it in the long run. Some lessons I've learned are, move the mic stand behind you at the beginning of your set, don't joke about your trauma unless you are actually over it (the crowd can always tell if you're not over it), pee before your set (shout out Emily Grefer) and have fun with it. Having fun with it seems like simple advice in passing but it can be hard to continue to have fun with stand up sometimes because I can get wrapped up in wanting "success". When really, the most rewarding thing for me is having a crowd of people laugh because of me while I'm on stage. It's easier to laugh with someone if they're comfortable and at the moment and when your mind is focused on the business more than the moment, the crowd can read that. That goes hand in hand with not taking myself too seriously. I started to stand up because I think I'm funny and that's as simple as it is, just maintaining being that same person that I think is funny, who I am when I talk to people off stage is what will get a reaction because it's authentic. That's what works for me so far, anyone else will have to figure out their own path as they go but don't judge the path because again that will take you away from the moment. That being said the only thing that actually sets me apart from other comics is that I'm Liz Splatt and they are not, no one can be me for better or worse haha. Sometimes I get in my head about having sex jokes like that it's pursuing this negative stereotype about female comics or that it's easy but I remind myself that its what I thought of if other comics male or female thought of it and they thought it was funny… they'd do it. I don't like to get too deep into WHY something is funny, its fun to talk about and it can certainly help to grow a joke so I for sure suggest any comic asks themselves why something is funny but ultimately if it makes me laugh or smile I try it.
If you had a friend visiting you, what are some of the local spots you'd want to take them around to?
This is a stressful question for a people pleaser to answer during a time of quarantine hahaha. My first thought is food which would probably lead me to Award Daiquiris & More, I don't drink but their wings are off the chain. Bam's vegan at the Dallas Farmers market always slaps, Ms. Bettie's Gumbo at the Frisco Fresh Farmer's market on Sunday's, of course Rudy's chicken is an iconic place for fried chicken in DFW. I like to hang out at open mics mainly so I'd probably force them to come to one of those like Hyena's which is always a good time or any of the bar mics in the area like Hat Tricks in Lewisville, Playground and Bodega in Fort Worth, Dusty's in Denton and Tavern on the Square in Garland. I live in denton for college so I like to go to East Side Denton to kick it with the homies. I'll probably watch Shrek and play some Banjo Kazooie on my Nintendo 64 at home. Maybe try and catch some weekend pro-shows at either Dallas or Fort Worth Hyena's or Addison or Arlington Improv. Go to the local Black Lives Matter Protests and act up.
The Shoutout series is all about recognizing that our success and where we are in life is at least somewhat thanks to the efforts, support, mentorship, love and encouragement of others. So is there someone that you want to dedicate your shoutout to?
Oh snap, there are tons of things I want to shout out. Shout out to my parents and family for not disowning me eventhough my stand up routine is in direct opposition of everything they taught me in life. Shout out to George Redd Speaks and Comedy Junkie society for hooking me up to be in this article. Shout out to Monna and Claws Out Comedy for booking me on my first ever paid gig. Shout out to my cats, Prison Mike and Marceline for never ever caring about how successful I get and keeping me humble by letting me come home from my first pro-show at Addison Improv to clean up throw up on the floor. Shout out to the sexism in the fashion industry to giving women smaller pants pockets then men becuase thats the basis of the first joke that people rememered of mine in the DFW scene. Shout out to Zach Rippey and Train Track productions for all of the shows and mics I've been able to do because of you. Shout out to all the female comics in DFW for making the scene better and funnier by simply existing and being hilarious people to talk to and listen to on and off stage. Shout out to Hyenas for letting me preform in the red room, thats a real dream come true for me. Shout out to Tina Fey and Amy Pohler for being my comedy icons and breaking down so many barriors in comedy for everyone but specifically women. Shout out to super plus tampons because who the hell uses anything else. Shout out to men who don't care about pubic hair. Theres a lot, feel free to use whatever works best.
Website: https://www.facebook.com/coveredinliz
Instagram: @coveredinliz
Twitter: @coveredinliz
Facebook: https://www.facebook.com/coveredinliz
Youtube: https://youtube.com/channel/UC_wGJS2fpt4O6t7BeDddqLQ
Other: Cashapp $LizSplatt please send me money I'm a working comedian in a quarentine. Is it legal to beg for money in an article? If not just cut this lol
Image Credits
I took all of these photos except the one of me on stage that is a screenshot from a video of my set recorded by Sibb Shady Razz
Nominate Someone:
ShoutoutDFW is built on recommendations and shoutouts from the community; it's how we uncover hidden gems, so if you or someone you know deserves recognition please let us know
here.