We had the good fortune of connecting with Julia San Roman-Naughton and we've shared our conversation below.
Hi Julia, let's jump right in. What are you most passionate about? Why?
I can say that I am a passionate person, and have many interests, but what I am the most passionate about is experimenting with color and composition to create my paintings. It gives me a sense of joy, but most of all of liberation. The road to create a painting is not easy and, at times, it is almost painful but the end result is usually fulfillment. I feel I was born to do it, like a calling, which enables me to deliver a message. That makes it even more compelling, almost like a necessity. A secondary passion of mine is music and dancing to it. Because of it, I frequently mix sounds and visual images in a synesthetic way. I mean that, when I hear music or certain sounds, in my mind I see color and images, so I use the music as a conduit to inspire the painting. Lastly, I do love taking care of animals but most of all helping people. In this regard, apart from my art, I am also a certified medical interpreter. As such, I help our valuable foreign workers, who have been injured on their jobs, communicate with their doctors because they have limited English proficiency. I have discovered that helping and giving dignity to these individuals is, as well, a passion.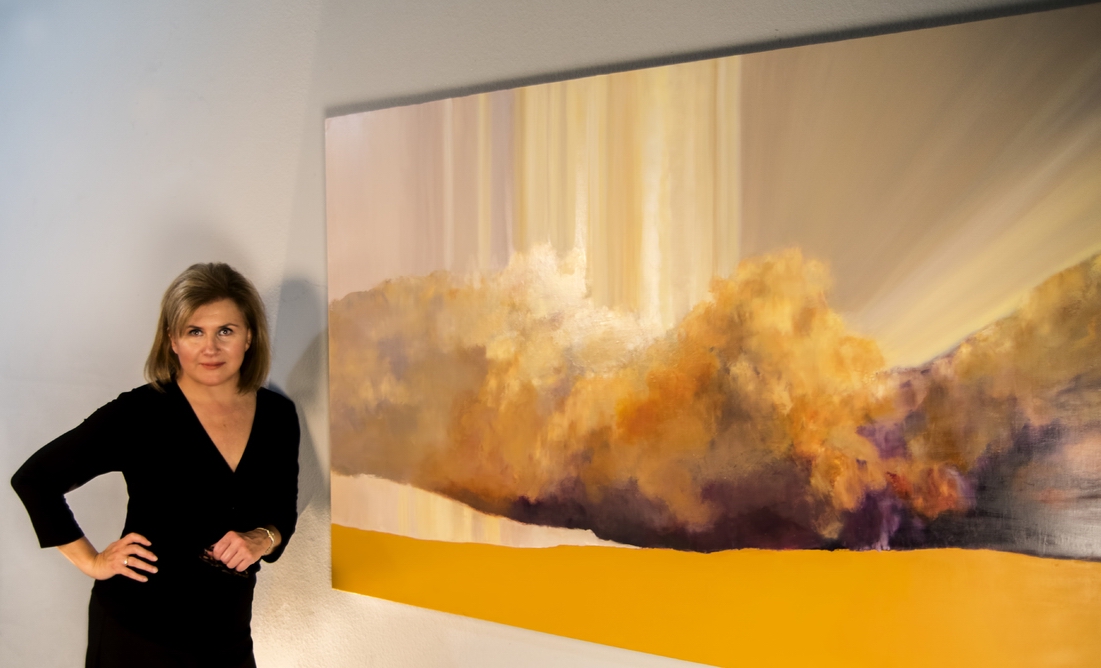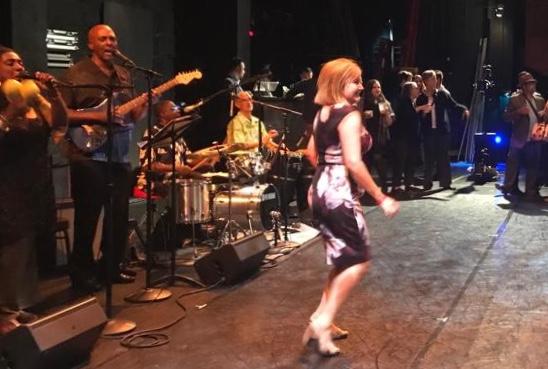 Let's talk shop? Tell us more about your career, what can you share with our community?
My art is a direct expression of my passion. Creating art elevates me to a higher level of consciousness, and when I am truly inspired, it is almost like a mystical experience. You can see that as a personal component of my style. I create my art to convey a state of mind that longs to escape the quotidian. My subjects, though always evolving in the form, they are constant: the human figure interacting with nature and most significantly, with birds– in flight, at rest, and in relation to the figure. Birds and clouds for me have become the liberating icon, the ever present emphasis on the spirit taking flight. Lately, and this is what I am the most excited about, in a new series called Glimmer, I am focusing on light to express a sense of HOPE. Here, under the influence of the Southern California Light & Space Movement, I find myself exploring abstraction with a new impetus, where I integrate geometric abstraction, in the form of color stripes, with realistic episodes of light passing through clouds. I am a foreign born American fluent in two languages, so in this way, I am creating a type of work, which I call bilingual, in order to express in a more efficient manner who I am in the realm of where I exist. At this point, after producing many series of paintings and participating in numerous group exhibitions across the United States, I have been recognized by a museum to have a small retrospective exhibition. It has been a long road, since the beginning when I was learning and trying to find my own voice. It was not easy but I persisted with my passion and resilience, always keeping authentic to my voice. What I have learned is to be patient and keep focusing on that passion. My story is one of HOPE, hope for dignity that might include all living things.
Any places to eat or things to do that you can share with our readers? If they have a friend visiting town, what are some spots they could take them to?
Every neighborhood in San Diego has a particular mini-culture. The first day, I would take my guest to Torrey Pines State Park to walk up through the trails, enjoy the most gorgeous views of the Pacific ocean, while coming down to the beach for an extra walk towards the parked car. Then, it is nice to continue driving north, enjoying ocean views, through Del Mar on S. Coast Hwy 101 up to the Lotus Café in Encinitas to enjoy a casual healthy lunch or to Trattoria E Truli for a magnificent Italian meal. Afterwards, I recommend a walking stroll along S. Coast Hwy 101 to observe downtown Encinitas, a classic Southern Californian surfer town, frozen in old times. Driving further up on Hwy 101 we would reach the Paninkin Café for an afternoon coffee and perhaps desert. Following along up north on Hwy 101, enjoying gorgeous views of the ocean again, I would reach the Carlsbad community, and past that, Oceanside to visit the Oceanside Museum of Art. Here, you can enjoy wonderful contemporary exhibitions of the best local and international artists. Later on, I would drive back south to Del Mar for an exquisite dinner experience at Pacifica restaurant, with an ocean view and an incredible menu. And finally, if we still have energy left, we could enjoy a rock-pop concert at the Belly Up on Cedros Ave., Solana Beach. The second day, we would start by driving to the Birch Aquarium at Scripps Institution of Oceanography and then come down to La Jolla to observe the wild population of seals and pelicans. For a casual lunch, we would eat at the Goldfish Point Cafe overlooking the ocean. Afterwards, we could walk through Prospect St. looking at stores and galleries. Some of he best ones are, Fresh Paint Gallery, Contemporary Fine Art Gallery, Martin Lawrence Galleries and more on the cutting edge, Quint Gallery, R.B. Stevenson Gallery and Joseph Bellows Gallery. More walking and when it is time to dinner the offerings are many. La Valencia, a landmark Spanish style hotel offers a nice view and dinner menu, you can also go to Eddy V's and have a lobster burrito with jazz in the lounge upstairs, or if it is a Tuesday you can enjoy Mexican tacos at The Lot and dance to Latin-American salsa in a nice open-air terrace. The choices are multiple and good. The third day, we would drive inland to enjoy the scenery of Del Dios Hwy running along Lake Hodges (this scenic road looks better in the winter and spring) to arrive to Wild Animal Park, if you do not mind wild animals emplaced outside their real environment. Afterwards, we would visit the local wineries, including Orfila, and have lunch there to enjoy the afternoon. For dinner, I would visit the nearby Rancho Bernardo Inn and enjoy the Veranda restaurant outside terrace. The fourth day, we would visit Balboa Park and enjoy the beautiful Spanish Colonial architecture, as well as the Japanese garden and other exotic plant garden areas. We would, later on, have lunch at The Prado Café outdoor terrace and in the afternoon we would visit the museums: San Diego Museum of Art, Museum of Photographic Art, San Diego Art Institute (for contemporary local art); and a final stroll though the cute Spanish Village to enjoy crafts and decorative arts by local artists working in their studios. The Imax Theater with its 360 degree screen usually features great films at different times of the day. At the end of the day, I would have dinner at the nearby restaurants Cuccina Urbana or Mister A and finally I would pay a visit to Croce's, run by the late musician's widow, for a sensuous night of jazz. The fifth day, we would visit downtown San Diego to enjoy the Museum of Contemporary Art and later on walk through Pacific Hwy along the harbor to admire the Spanish old ship the San Salvador and the Star of India to end up at the Fish Market Restaurant and have lunch. In the afternoon we would enjoy Seaport Village and visit the Galleries on the Gaslamp Quarter, in special Sparks Gallery; we would finally end up in little Italy to enjoy the ambiance and all the restaurants in that area for a nice dinner. At the end of the day we would visit the Westgate Hotel for a night of jazz with the international Gilbert Castellanos (Fridays), or enjoy the opera or a theater play. On the sixth day, we would drive to Coronado Island in the morning, with all it has to offer: the amazing view of the downtown Skyline from the ferry landing and the striking old Victorian "Hotel Del" featured in the "Some like it Hot" movie. However, for lunch, we would return to land for a casual authentic Mexican meal at "El Zarate" (4642 Park Blv.) the oldest Mexican restaurant in San Diego; and afterwards we would visit the beautiful historic Old Town: walk and stroll through the stores and landmark buildings; have a coffee to finally rest at any of the numerous Mexican restaurants and have the most delicious dinner meal accompanied by a Margarita and Mariachi music (Casa Guadalajara is my favorite). On the seventh day, we would drive to Cabrillo monument in Point Loma and return to Liberty Station to enjoy its museums, arts and crafts and the numerous restaurants, including "Solare", "Stone Brewing World Bistro & Gardens" or the Food Court. And for dinner we would visit Harbor Island (i.e. Island Prime or Tom Ham's Lighthouse Restaurant) for a final magnificent view of downtown San Diego. And finally, at the end of the day, we would drive to Shelter Island to enjoy a concert at Humphrey's by the Bay.
Who else deserves some credit and recognition?
My late husband, Brian, my dear collectors, my closest and social friends, museum officials (Maria Mingalone, Katie Dolgov, Karen McGuire and Tim Field to name some) and gallery dealers (John Cacciola in NY; Sue Greenwood, Deborah Williams of Fresh Paint Gallery in California) and definitely many of my peer artists, like the TWA art group I belong to.
Website: www.juliasanroman.com
Instagram: https://www.instagram.com/jsanroman513/
Linkedin: https://www.linkedin.com/in/julia-sanroman-naughtonphd-9b5b187/
Facebook: https://www.facebook.com/julia.sanromannaughton
Image Credits
All the pictures of the art are by Julia San Roman. The profile pictures are some by Michael Orenich and I have the right to use them.