Meet Janet Bernstein: Intuitive Coach, Author, & Founder of Every Heart Project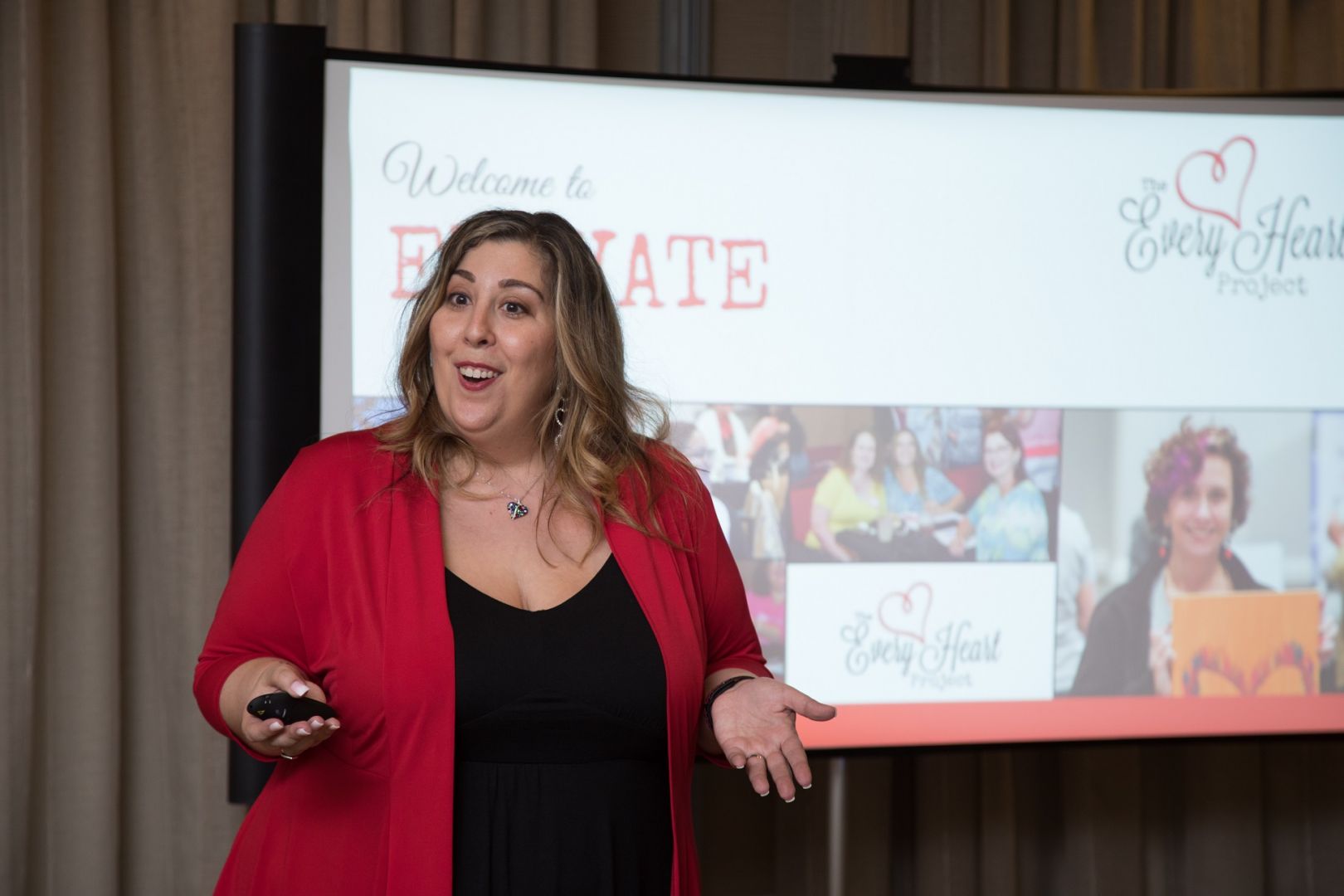 We had the good fortune of connecting with Janet Bernstein and we've shared our conversation below.
Hi Janet, can you talk to us about the impact the Covid-19 Crisis has had on your business.
As someone who creates more than 30 live events per year for women in the DFW area, Covid-19 has drastically changed my business. Due to the 'shelter-in-place' orders and social distancing requirements, our in-person events have been put on hold indefinitely. Instead, we have been offering zoom calls, virtual happy hours, and more videos in a private Facebook group. Although it's been tough on many of our members, I still see a lot of connecting happening in new, creative ways. I love the birthday porch deliveries, video recordings, and I even surprised many of my members by driving to each of their homes and leaving them a little gift on their porch. It took 3 days of deliveries to make it happen, as well as more than 500 miles total, but it was worth it to see the surprise on so many of their faces as I waved from the car. Covid-19 has also changed my intuitive coaching practice. I no longer offer coaching sessions in my home office, so everything is being done virtually now. It was a relatively easy switch to make, but I truly miss the magic of sitting across from a client who is having a major breakthrough in her business. I know things won't be like this forever, but I'm thankful for the technology that is keeping us together during challenging times.
What should our readers know about your business?
I'm an Intuitive Coach, Author and Speaker, which sums up my mission pretty well. I believe I am called to use my gifts of intuition, writing and speaking to help women show up and shine and be who they are meant to be in this crazy world. But I wasn't always living my dream. In 2014, I become a published author for the first time, participating as an author in a collaborative book project with 11 other women. When the book was published, I began to desire to write and do more, even though I was working in the corporate insurance world at the time. I was juggling a career, motherhood to 3 kids, a new marriage, and coaching teenage girls' fast-pitch softball. I knew I was doing a lot, but I felt unfulfilled. I started to dream of a life where I could set my own schedule and speak on stages across the world! But then I'd still find myself driving into work each day, frustrated I couldn't do it all. All of that changed in October 2015, when my insurance career abruptly ended after 17 years. I found myself making that familiar drive back home, except it would be last from that office. I decided to make the leap and start my own business that day. I had no idea the twists and turns that would come my way, and there were so many times I wanted to quit. But I stayed the course. And something magical happened; I found my passion for helping women also follow their passions and dreams was a driving force for me. It fueled me, even on the darkest of days. I wanted to show up for them. I wanted to inspire them. I wanted them to know that I was cheering for them. That's why I do what I do.
If you had a friend visiting you, what are some of the local spots you'd want to take them around to?
As I write this, everything is just about closed due to the global pandemic, so I feel incredibly reminiscent about my favorite spots in Dallas! I absolutely love heading down to the Margaret Hunt Bridge, seeing the view of the Dallas skyline in the distance. I miss having lunch on many of the gorgeous patios in Plano, such as Kenny's East Coast Pizza. Of course we'd have to take a trip to Hard Eight BBQ in Coppell to get the absolute best brisket, sausage, and bacon-wrapped chicken ever! Perhaps a tour of 3 Nations Brewery in downtown Carrollton to try amazing local craft beer, following by a sample tasting at Lone Star Taps & Caps to taste other local beers and even some from far away. I'd have to treat my visiting friend to some amazing thai food, so we'd end up at Asian Mint, a fabulous woman-owned restaurant. And of course, no trip to Texas would be complete without lunch at Whataburger, followed by a favorite, Henry's Ice Cream in Plano. We'd also head up to The Star in Frisco, as well as visit Legacy Hall and catch some live music on their patio.
Shoutout is all about shouting out others who you feel deserve additional recognition and exposure. Who would you like to shoutout?
I am the Founder of Every Heart Project, a heart-centered sisterhood providing inspiring events, retreats, workshops, and mentoring. And although I am technically the leader, it truly wouldn't exist without its members and board members. I'd like to recognize my amazing board members first, who are my sounding board for new ideas, tissue-holders for any necessary tears, and cheerleaders for the good and bad days. Without them, I wouldn't be able to lead this group with confidence and ease. First of all, my amazing Treasurer, Janet George Flaig. She is our financial guru in the project, but she is also our bookkeeper, and keeps the books. Her firm, Your Best Asset Bookkeeping, has helped us achieve our financial goals, while still donating more than $3600 to local charities since 2018. Josie Gamez is our Sister Advocate, and has been involved with the project as a member and board member since the beginning. She personally reaches out to every new member and invites them to coffee or greets them with a phone call. She answers questions about membership and helps them maximize their benefits. When my husband went into surgery on his knee this past January, she coordinated a meal-train, which provided meals for our family for more than two weeks! She has a heart of gold. Christy Simpson is our Vice President of Outreach. She coordinates the needs of our partner charities to ensure we have volunteers ready or donations provided that they may need. Our 2020 charity is A Motivating Love. Lyn Smith is our Vice President of Membership, and known to all the group for making everyone smile or laugh. She has a sarcastic, yet endearing, sense of humor, and is loved by all. She works with the board to create new opportunities to grow the membership and promote the project. She also our proud 'Vanna' at live events, as she loves to give the gifts to the members in our door prizes. In addition to the amazing board, our Heart Sisters (members) are the reason this group thrives. These are truly heart-centered women who show up and support each other in amazing ways. They deliver care packages to those who need them, donate funds when a member is in need, and support each other on social media in ways I've never seen before. They are incredible and I'm honored to lead such a powerful group of women with integrity. I also have to give a huge shoutout to my husband, Harold. In addition to being an incredible special education teacher, he is my biggest supporter. He attends every speaking event and every women's event I host, to make sure I have everything I need from a technical standpoint. He gets my microphone hooked up and sets up my audio and visual equipment. He steps in to help with anything that pops up, and does it all with a smile. We had a t-shirt made for him a couple of years ago with the title 'RETREAT STAFF' stamped on the back. He wears it with pride and loves to support the Sisterhood and my business.
Website: www.janetcbernstein.com
Instagram: www.instagram.com/savvygirljanet
Linkedin: https://www.linkedin.com/in/janetcbernstein/
Facebook: https://www.facebook.com/janetbernsteinpublic/
Image Credits
All images provided by Evadiana Photography