Meet Ashley Friemel | Travel Blogger & Makeup Artist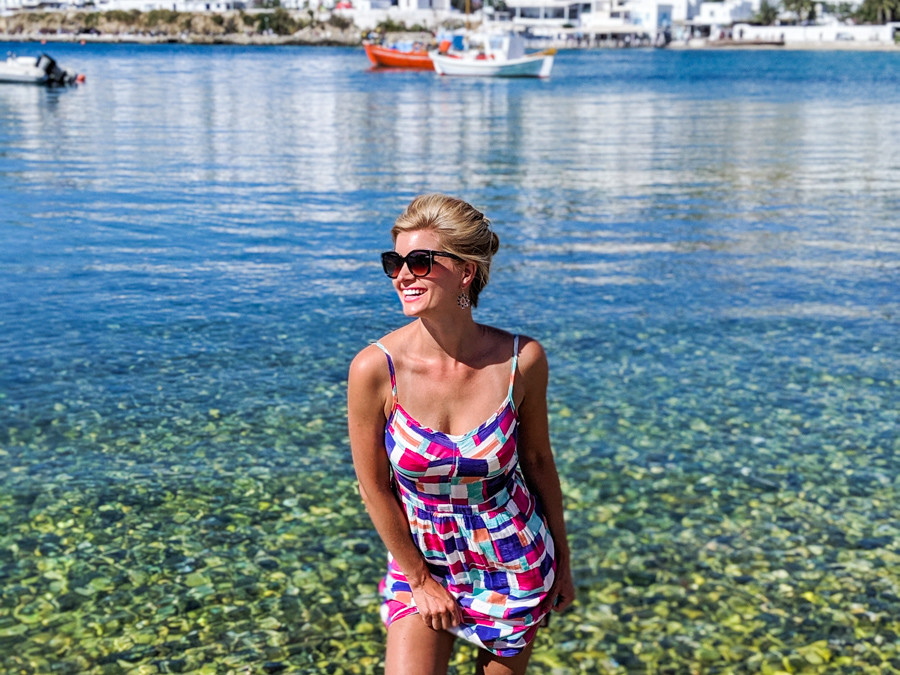 We had the good fortune of connecting with Ashley Friemel and we've shared our conversation below.
Hi Ashley, have there been any changes in how you think about work-life balance?
When I worked in finance, my schedule was black and white (for the most part). I worked during business hours and was able to unplug when I went home at night and while on vacation. Of course, things would come up here and there, but for the most part, when you weren't in the office you weren't spending considerable time working outside of "normal business hours".
Once I switched to a more unconventional career path, travel blogging + being a makeup artist for weddings and events, my schedule completely flipped. Being a makeup artist, I work a lot of weekends, which was to be expected. This career is a little more straightforward (than working on the travel blog) since I am in charge of my schedule and decide how busy I want to make my schedule. It's also a job where when you leave, you're done.
Travel blogging on the other hand is a situation where you could work 24/7 and still have something to do. About 10% of my time is spent actually writing and creating content. The other 90% is learning, social media, SEO, etc. With something like a blog, you have to stay up to date on the latest trends and best practices. This means constantly learning, pivoting your strategy, editing old content, etc.
It really does seem like there is always something you should be working on at every moment of the day. And of course, there is always more content to write. Travel blogging requires a computer and a WiFi connection, which means you can work almost anywhere at any time. It's difficult to unplug and not think "I should be working now…there's something I should be doing at this moment".
This has made the work-life balance a bit tricky. I have to really make a point to put the computer away while on a family vacation or learn to enjoy having a weekend where Jake and I relax and spend time with friends. It's a constant battle, especially when you have a type-A personality and you tie your future success to how much time you commit to your work.
So, while my schedule has become more flexible moving from finance to becoming a travel blogger and makeup artist, I still work the same amount of hours…if not more. With the flexibility, you have to learn how to set parameters for yourself so you don't become that person that's glued to their computer 70+ hours a week. Where you learn to put the computer away and not feel guilty to take some time to see a friend or read a book.
Over the years I have learned to set a schedule for myself and carve out time each day where I do something for myself. That could be a workout class or grabbing a cup of coffee at my favorite cafe. Creating a schedule, setting time parameters for certain projects, and being mindful of taking a break has helped create that work-life balance…but it's still something I struggle with, and have to be mindful not to become a hermit blogger that's always glued to my computer.

Let's talk shop? Tell us more about your career, what can you share with our community?
I left my corporate finance job about 3 years ago to pursue a path that allowed me to focus on my creative side. I first started building up my makeup artistry business (which I was already doing on the side while in corporate America). Once Ashley Friemel Makeup was running smoothly and I was making an income, I then began my travel blog, Abroad with Ash.
Transitioning from a full-time finance job, and leaving the salary that went with it, was difficult… but absolutely the right decision. My husband, Jake, and I decided life was too short to not pursue a life you are not only happy with but excited about. I absolutely love telling my travel stories and helping others to plan their adventures. My objective is to provide beneficial advice and insights through my travel tips, firsthand experience, and itineraries. Keeping travel within the realm of reality for ordinary people is my motto.
While my transition from corporate America has been exciting and allowed me to tap into my creative side…there have absolutely been challenges along the way. COVID anyone? The pandemic has had an obvious impact on my travel blog and threw my 2-year and 5-year plan out the window. I was hitting all my benchmarks until the pandemic hit. It was crushing to see my numbers drop in an instant and have to work twice as hard to get back to where I was at the very beginning of starting the blog.
Another challenge is the push back I've had from my family from the start of Abroad with Ash. "Ashley leaving the safe world of finance to start a travel blog?" Many viewed this move as irresponsible and "fun-employment". Little did they know I was putting in more hours with my blog (as well as my makeup business) than I was when I worked in finance…and that's saying something.
Most of the people in my circle didn't, and still don't, understand the world of blogging, Instagram, social media, etc., and how a career can be made from these platforms. To not have the support of family or friends in something you are truly passionate about is hard and anyone starting a business or career that may be unconventional needs to be prepared for this.
One thing I learned from this career transition is if something is important to you-you have to be prepared to push through even if you are the only person in your circle that believes in yourself and your idea. Sometimes, you have to be your own cheerleader. Thankfully, my husband Jake has been beyond supportive from the very beginning. As long as you have a dream, a thought-out plan, and something valuable to offer…I truly believe the hard work will pay off.
I first came up with the idea of Abroad with Ash when I would plan my own trips and become frustrated with blog posts that were beyond wordy and took forever to get to the point. When I search for the best coffee shops in Madrid, I want to find a post that gets to the point, does the work of finding the best coffee shops, and makes it a quick/easy/to-the-point read.
I found that those blog posts were lacking. When I started Abroad with Ash, I wanted to help the person with a full-time job that is trying to plan a trip. Someone that doesn't have all day to sift through paragraphs that don't serve a purpose. I wanted to provide bullet point itineraries, top 5 lists, downloadable PDF itineraries, etc. that were easy to follow and quick to get to the point. If I don't have time to sift through a list of the 35 best coffee shops in Madrid, I'm sure my readers don't either.
I write my posts in a way that you can visit my post and get the gist in a few seconds or get more in-depth knowledge by reading the post in its entirety. For a top 5 or top 10 post, you can easily see what my top picks are by quickly scrolling through the numbered headlines. For itinerary posts, it's easy to see what I'm suggesting you do each day by the bulleted or bolded lists.
Because I had years of experience planning my own trips I understood that sometimes people just want to skim a blog or website and get a general idea and sometimes they want to read every word and every suggestion. I created Abroad with Ash to cater to both types. Nothing makes me happier or more proud of Abroad with Ash than when people tell me they used my 3 Days in Marrakech Itinerary or list of the Top 10 Things to do in Mykonos and it made their trip more memorable or their planning a little bit easier.
Traveling not only broadens your perspective but teaches you more than anything you could read or watch on a screen. If Abroad with Ash helps others get out there and explore, then my mission is completed.

Who else deserves some credit and recognition?
Lindsay Dalton is an incredibly talented interior designer with a lovely blog. She is currently flipping homes in St. Louis and it's so fun to see what she does with them. It's an inspiration to watch her positivity and creative nature come through in her work. 
Website: https://www.abroadwithash.com
Instagram: https://www.instagram.com/abroad_with_ash/
Linkedin: www.linkedin.com/in/abroadwithash-35943918
Twitter: https://twitter.com/abroad_with_ash
Facebook: https://www.facebook.com/AbroadwithAsh/
Other: Pinterest: https://www.pinterest.com/abroadwithash/
Nominate Someone:
 ShoutoutDFW is built on recommendations and shoutouts from the community; it's how we uncover hidden gems, so if you or someone you know deserves recognition please let us know 
here.