Meet Alexandria Angel: Owner of Ms Painted Lady [professional makeup and hair artists serving the globe]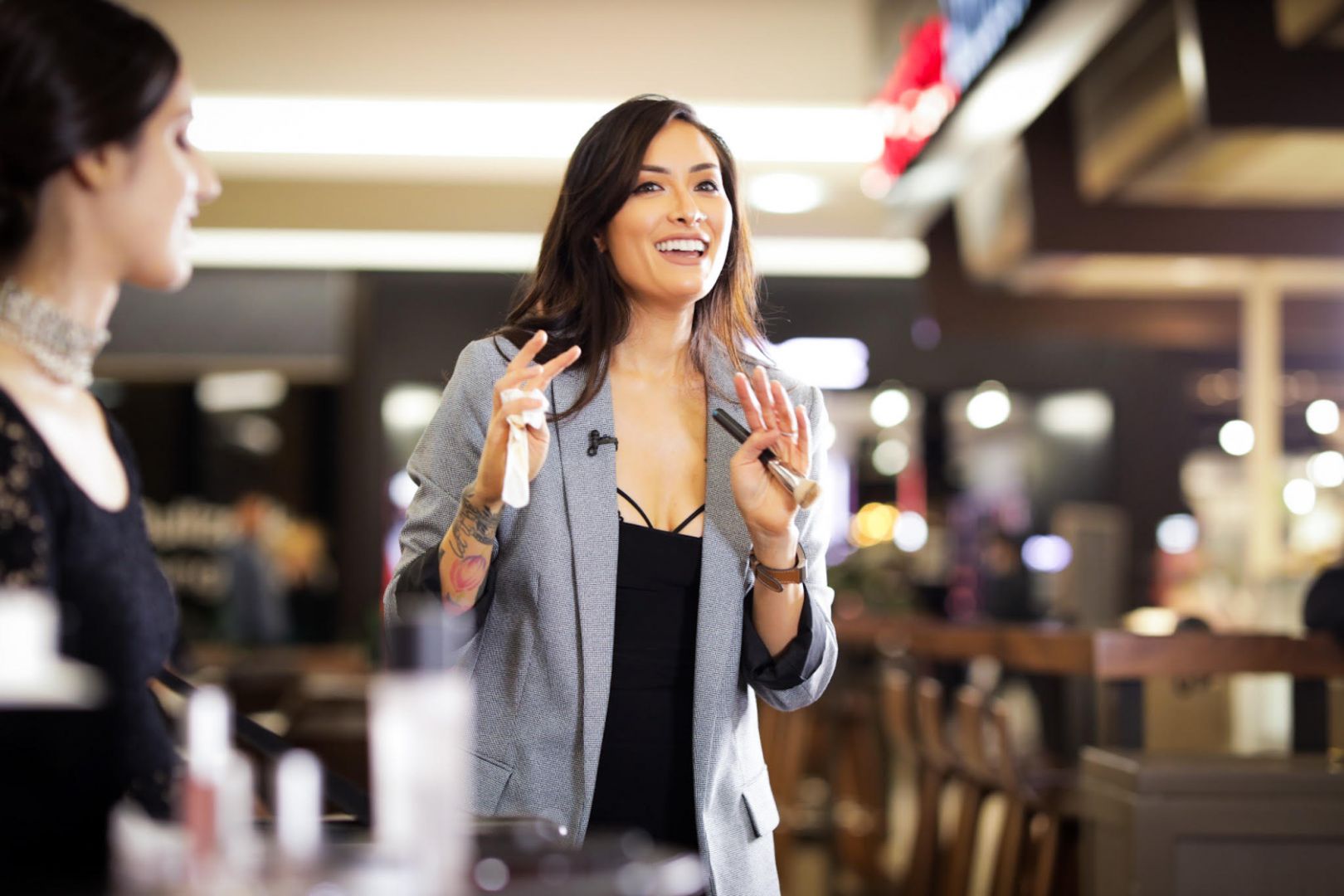 We had the good fortune of connecting with Alexandria Angel and we've shared our conversation below.
Hi Alexandria, do you have some perspective or insight you can share with us on the question of when someone should give up versus when they should keep going?
I believe in the power of pursuit and passion. There is an irreplaceable sense of worth that you gain when you work hard to establish your value. It is the determination of proving yourself to yourself that builds most character. John DiMartini says your true calling will embody the top 5 things you value the most. You won't view things as in the way, but on the way. I have certainly had my number of disappointments in business, especially the first 8 years; but my perseverance has birthed the biggest sense of accomplishment and growth. There were times I wanted to give up, but I listened to the wisdom within me that knew I had more to give. The stripped down answer would be this: sit in silence, close your eyes, and ask yourself, does this make me happy, or does this make me heavy? And if there is joy in your soul, then there you are. A great book I have read that confirmed my path is "Everything is Figureoutable" by Marie Forleo. She has an online tv show as well, you can Google MarieTv and find all her goodies on there.
Alright, so let's move onto what keeps you busy professionally?
Wow, how did I get to where I am today professionally and was it easy? Absolutely not haha. I do believe the challenges we face and overcome build character and tell us whether or not something is truly made for us. Persistence and passion built me. The artistry is certainly the easy part. As soon as you get out of your mind and lead with spirit, everything flows. There is one main aspect that I push for on the artistry and business side. When it comes to brides, I ensure their experience is not only organized and stellar, but that each encounter is uniquely fit to the individuals. After all, this is a luxury service and our clients are dynamic, why should there be a one size fits all approach? I've overcome challenges as they were thrown at me. I discovered that as I became more aware of my presence, that I had far more control over how these experiences were navigated. I was not stuck in a position of meeting a client's demand, but rather, always offered one to two solutions. Perspective is huge. Respond rather than react. I think my biggest legacy for the Ms Painted Lady brand will be that I put all my love and soul into our brides and my artists.
If you had a friend visiting you, what are some of the local spots you'd want to take them around to?
Fun! So if I could plan a perfect Dallas visit, it would look something like this: Day 1: Brunch at Oddfellows, followed by coffee at The Wild Detectives. It would be perfect on a sunny day to just drive around from Bishop Arts to Kessler theatre with the windows down and music up viewing the gorgeous home restorations in the area. After we work up at appetite, we would grab dinner at Sushi Bayashi at Trinity Groves, followed by drinks on the rooftop at the Belmont hotel. Day 2: Hop in the Dallas Museum of Art and get lost for a couple of hours. The walk to the Performing Arts Center is a little over a mile and so enjoyable. The architecture is absolutely stunning and the water instillation will ignite your senses. Once of my favorite crowd pleasers is the Perot Museum. It allows the freedom for your mind to wonder. Of course, all that walking will have us hungry, so we would hit Happiest Hour for the views and eats followed by drinks at The Typsy Alchemist. Day 3: Katy Trail Ice house is a visitor must! The outdoor element cannot be matched anywhere else. We would start there with a delicious lunch. Next stop is the an iconic Dallas establishment, Dolly Python. This store is the mecca of all things quality vintage! You can find clothes dating to the conservative 50's, polyester sequin jumpsuits of the 80s, and finally start the darling Texas cowboy boot collection you've been dreaming of. My favorite side to explore is full of anything your mind can dream up. Antique furniture, vinyl records, or even animal skeletons….I mean hey, if you are ever throwing a themed party, you certainly have options here. I would have to say the next go see is Lower Greenville area. I love listening to live music outdoors at The Truck Yard, or hopping inside the nostalgia of wood-lined walls of The Libertine bar. Dinner would have to be a Sundown at the Granada because they offer an insanely delicious vegetarian vegan menu, and who can refuse some sensational live jazz? Last stop, Unrefined Bakery for gluten free vegan cupcakes. Day 4: Every Dallas visitor must be shown Deep Ellum. It is an age old establishment that has a life of it's own. Where to start? I think we should begin at Brain Dead Brewery because they have an amazing vegan sandwich and queso. And of course, who can deny fresh in house beer? Not I. My next stop would be to explore Lulu B's vintage shop. This is top notch exploration gold! Cruising into sundown, I would say to hop over the rooftop of Stirr for some drinks and scenery. If we were up for live music with a bite, I would say hop over to The Free Man's Cajun Cafe for some Jazz and shrimp! Last stop of the evening would entail a visit to High and Tight. They have a back room speakeasy and it is always a shocker to new folks. Their handcrafted cocktails are pricey, but the vibe is definitely worth it. Day 5: I love the Statler Hotel. It is your one stop shop to swanky, rooftop views, good strong drinks, delicious food, and the mystery of the speakeasy vibe. I love the restaurant Scouts because they have pool, bowling, foozball, and food options to appeal to anyone. I would get a room and do a whole day to night vibe so she could get a real grasp of all the hotel has to offer for fun factor. Day 6: I would have to take my friend to lunch in the outdoor courtyard at Kalachanji's. The vibe of the temple is so cleansing for your spirit. This place serves an all vegetarian and vegan buffet. We would then allow our curiosity take a stroll through Klyde Warren Park to explore some cold brew coffee food trucks. If it is the first Friday of the month, we would have to hit The Nasher Sculpture Center for "Til Midnight at The Nasher". The outdoor area is dreamy. Later that night, we would hit Opening Bell Coffee for a live acoustic session, followed by drinks on the rooftop at Canvas Hotel to drink in the view of the city we conquered.
Who else deserves some credit and recognition?
I would say the person who's work ethic and energy that I like to mirror the most is Abe Nadimi. It is not common to see someone who is good in business that has a spiritual practice in place. To see someone cultivate a sense of belonging amongst his team is quite inspirational. Leading with compassion should be the standard but is so often not practiced so it certainly is refreshing to witness and have his presence in my life. My favorite book is "Everything is Figureoutable" Marie Forleo. She proves that we all can add value to the world even if we feel ordinary. My most notable teacher in recent has been this quarantine as a result of Covid. It has challenged me to seek outside my daily work practice and go deeper into frightening challenges. In order to not lose my mind, I structured my day with a schedule, enrolled in online classes, started a blog and am doing daily dance choreography to expand what I know.
Website: mspaintedlady.com
Instagram: https://www.instagram.com/mspaintedlady/
Twitter: mspaintedlady
Facebook: facebook.com/mspaintedlady
Yelp: https://www.yelp.com/biz/ms-painted-lady-frisco-3
Youtube: https://www.youtube.com/channel/UCZEfbUm0gwRXmR5bplDhuow
Image Credits
Keith Betters Rick Birt