Meet Kelly Gray: Director of Operations, Cane Rosso Rescue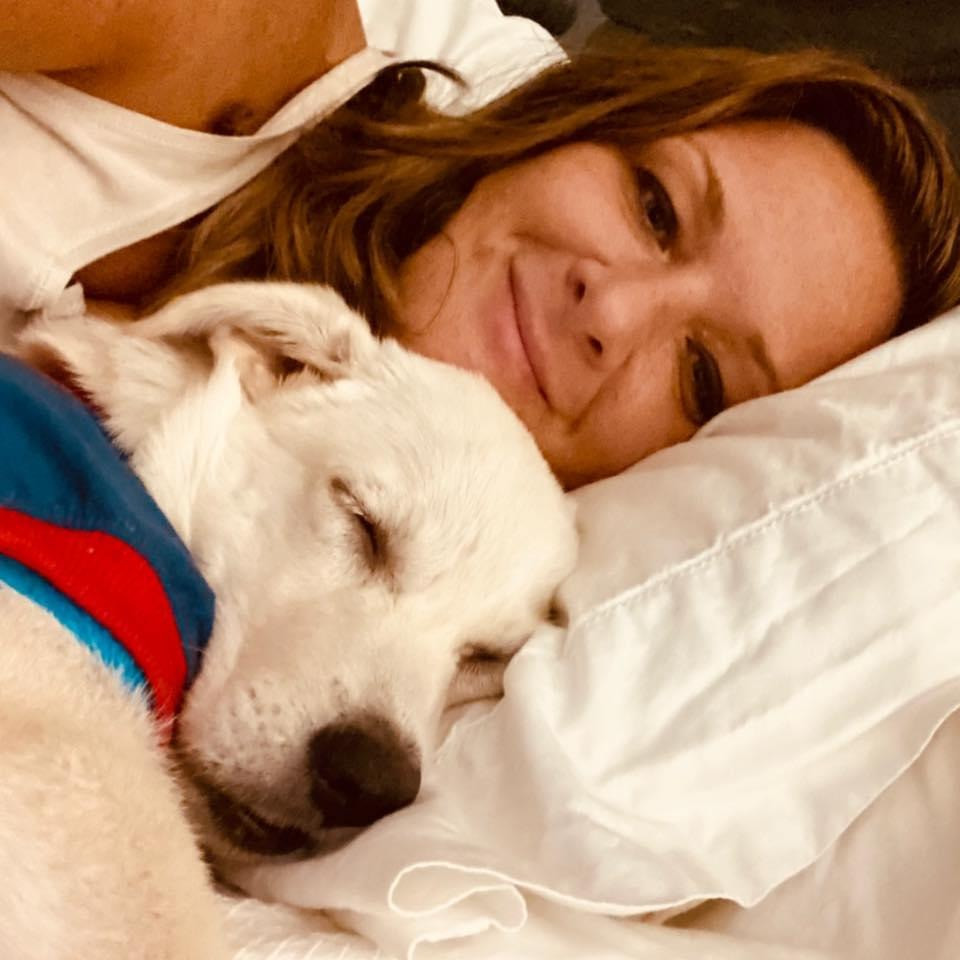 We had the good fortune of connecting with Kelly Gray and we've shared our conversation below.
Hi Kelly, what role has risk played in your life or career?
Risk is a funny thing. It has so many meanings. Are you risking your life? Career? Financial stability? My career has taken two very distinct paths, neither without their own versions of risk. I was hired right out of college in a marketing role for a Fortune 500 company, that owned and managed a large portfolio of brands. Over the years I transitioned through many different roles within marketing, and eventually transitioned into field sales, and then into sales management. After living on the gulf coast during Katrina, my family decided to relocate to Dallas in 2005. This is when I was hired by CitiBank into a role where I was the liaison between the sales and marketing. Over the next 13 years, through the market crash and various other banking disasters, I transitioned to a couple other large fortune 100 institutions with roles ranging from Director of Sales Operations, to AVP of Sales & Marketing. Each of these roles garnering their own level of risk in such a tumultuous time, but none ever fulfilling that empty spot within me. After a few years of hiring and having to lay off employees due to no fault of their own, I felt empty and like a cog in a machine that spent 90% of my time working to build plans and strategies that would inevitably end up shelved to never see the light of day. Around this time, I also learned that my son was diagnosed with Aspergers, and needed his mom around more than the couple weeks a month I wasn't traveling. He and I began volunteering with a local dog rescue and I found this level of fulfillment that I had never felt in my career. The one thing I could never complain about in my career was the income. Bankers are paid well, and deservedly so…with the level of time, energy, and exhaustion expelled. I knew I wanted to make a change, but I wasn't sure how to make such a change when my family was so dependent on my level of income. My husband and I did a lot of planning, budgeting, and discussing what we would need to give up in order for me to take the leap to leave big banking. We knew we would be giving up a lot of little luxuries we had enjoyed over the years, but we also knew I would regret it if I didn't at least give it a try. In September of 2018, I took the biggest leap of my life, and left corporate America to focus full time on rescuing dogs across the state of Texas (and surrounding areas). As you can guess, this isn't a job that pops up regularly in the "help wanted ads.' My contacts knew I was looking for a change, and at the time I was volunteering around 16 hours a day for another rescue as their Medical Director. I had talked to Cane Rosso Rescue about six months prior to this, as they were looking for a new Director, but my career in banking didn't really push me to the top of their "experienced" hire list. And, to behest, I don't think I was quite ready to pull the trigger on cutting my salary in more than half. So, as expected, they moved along with another candidate who had more experience on paper. Apparently I made a good impression during that initial conversation; because when they were in the market again months later, they reached out and we all decided that regardless of experience, something felt right about me in the role. The rescue had hit a wall with growth, and needed someone to come in to help build a community of passionate volunteers who, regardless of background, were driven to help make a difference. Our founder, Jay Jerrier, was the spark that started this amazing community. He is very well known around DFW for his restaurants and whit. To know Jay, is to love him…crazy quirks and all! His philosophy on community and being who you are regardless of what others say, is SO refreshing after spending 20 years in banking where you couldn't sneeze without writing a continuation of business plan. I was told that they wanted me to be the face of the rescue and build something great. I am a firm believer that if you are true to yourself, and what you are passionate about, similar minded people will be drawn to you and your stories. But, only if you are given the freedom to tell them in your own way. And that is the creative license Jay and the board offered. The first thing I did when taking over this position, was take control of all social media. The dogs needed their stories told, and they needed to be told in a way that others could feel the emotions we feel each day when working with them. But, it is a very fine line. I have learned that people want to feel a part of the story, but I don't think anyone would tell you they enjoy watching the heartbreaking animal neglect commercials on television. As with a lot of things in life, we sometimes see things we wish we could "un-see". So, I strive to build a balance of open communication, without turning people away with the overwhelming level of heartbreak. Texas is the number one state in the country for euthanizing animals. But, even more concerning, is the number of animals neglected, abused, and dumped, with no one to step up and help. A lot of rescuers will joke that rescue is like the Mafia, once you are in, you are in for life. I believe this is true, because once you see the sheer number of animals needing help, there is no way to walk away and stop helping. Jay originally founded our rescue to help sporting breeds such as pointers, vizslas, labs, and other mixes of these breeds. Traditionally, the dogs that didn't fit into the pure bred standards set by other rescues. While this will always be our core focus, we have also transitioned to helping some of the most tragically mistreated, abandoned, and neglected dogs across the area. The dogs no one else wants to rescue because they will take a lot of time, emotional energy, and financial support. Each time we take one of these animals, we are taking a risk. The risk that they might not survive. And the risk that their emotional and physical scars might be so deep that it takes weeks, months, or even years to recover. These risks put me, my family, our team, and our community that now spans across the globe, on a constant roller coaster ride of emotions. We have days where we are so incredibly thankful a dog has pulled through and is thriving, only to have to rush to the emergency room to be with another as we tell them goodbye. I could go on for days about the emotional (and physical) risks associated with dog rescue. While on the surface it may appear that we have the opportunity to play with dogs all day, the reality is that most days are spent trying to rebuild spirits, gain trust, and make excruciating decisions about a dog's health. At the end of the day, I remind myself that I chose to take the risk of walking away from a very lucrative career, to spend my days making decisions for those who do not have a voice. I chose to risk my health, safety, and financial stability, so that I can "Be the Good" that we all want to see…but few are willing to take the risk to actually do what needs to be done. Looking back, there are many days where my heart is ripped out and I have wanted to throw in the towel. But, then I look back at the 902 dogs who have been saved and adopted to amazing families since I have been here, and I look at our community that has grown from around 6,000 followers to over 15,000, and I realize that the return on my risk is immeasurable. I may not be the most financially wealthy person in DFW, but the friends, supporters, and most of all the look in the dog's eyes when they know they are safe and loved, is something that no dollar amount could buy. Our rescue's philosophy is to See the Good. Be the Good. Rescue the Good. 2020 has been such a nightmare for so many people. Regardless of whether you are working with animals, or just trying to make it through the day, I firmly believe that "Seeing the Good" in situations is the only way to avoid the risk of complete emotional shutdown. Being the Good was a huge risk for me, but it doesn't have to be for those who want to volunteer, foster, or donate to the cause. What I can guarantee is that if you have an open spot in your home and heart, the risk of rescuing one of our amazing dogs will come back with the most amazing returns. The appreciation, joy, fulfillment, and love you get back is the greatest reward I could ever ask to receive. 
Can you open up a bit about your work and career? We're big fans and we'd love for our community to learn more about your work.
While our rescue's core focus is sporting breeds, I am most proud of the work we do with the injured, neglected, and abandoned. While most are sporting breed dogs who have been failed by the humans who were supposed to love them and protect them. There are also the occasional dogs who were loved greatly, and lose their family for one reason or another. All of these dogs need to learn to be loved again. They need someone to show them patience, and be gentle with them physically and emotionally. There is very little that is easy about this job. For every dog I say yes to saving, I have to say no to ten more. The need and the overwhelming despair can be crippling. But, my community keeps us all going. They are who help pick me back up, tell me I am doing everything I can, and help us continue to grow our network of supporters so we can keep moving. Unlike most businesses, I can't have enough "competitors". I would love nothing more than for a day to come where none of us were needed, and I was out of a job due to lack of dogs in need. But, I do not see that day coming in my lifetime…without a major shift in laws, regulations, and education. What I would like for people to take away about our rescue verses others is that we truly strive to focus on the positive and do everything with the highest level of ethics and morals. While we do tell the story about how we found the animals, our job is to take them from this low point and focus on helping them get well physically and emotionally. While I would love to hold people accountable for their crimes agains these babies, that isn't my job. My job is to see the light and spark of hope in the animals eyes, and to grow that spark into a flame of passion and love of life. What an amazing job! Seriously! I get to work with amazing, passionate people, who allow me the opportunity to bring a dog back to life. In a lot of cases we are literally saving their lives, not just changing them for the better. How could anyone not want to be a part of something like this?! It is so easy to get caught up in the horrible part of how the dogs end up this way and what needs to be done to stop it. But, our rescue focuses on the Good we can all do to change the world for the better one dog at a time. No one needs more negativity in their lives right now. We all need a little more "Good" in our lives, and I think that focus is what sets us apart from many other animal rescues.
If you had a friend visiting you, what are some of the local spots you'd want to take them around to?
Oh, wow! This is a hard one. Obviously we would have to visit all of the Cane Rosso, Zoli's and Cow Tipping Creameries in the area. I would also take them to all of the awesome dog friendly breweries. 3 Nations, and Rahr & Sons Brewing are two of our favorite dog friendly patios. I love Downton Dallas, and would likely take them to Deep Ellum and some the other creative areas in the city. Dallas and Ft. Worth have so many amazing pockets of different cultures, I would have to show them how uniquely diverse the area is. That is what I love the most about DFW. If you get bored with one area, there are hundreds more to explore and see.
The Shoutout series is all about recognizing that our success and where we are in life is at least somewhat thanks to the efforts, support, mentorship, love and encouragement of others. So is there someone that you want to dedicate your shoutout to?
As I mentioned in my story, Jay Jerrier's vision to help save animals across Texas and the surrounding states is what allowed me this opportunity. His willingness to let me run with my ideas, and have creative license is something that most leaders wouldn't have been willing to release control of. Judy Warren and Kelly King are also a huge part in the success of the rescue. They are both volunteer board members and spend a large amount of time outside their "real jobs" to help me manage the business portion of the rescue. They help me balance my passion and the amount of time/energy one person can put in each day without completely burning out. I also would be remiss if I didn't mention my team and the amazing volunteers that help us keep the wheels moving each day. It has taken two years, but we have built the most incredible team of loyal employees, fosters, volunteers, and donors. We receive no government grants, and take on many very large medical cases, so the continued support is the only way we are able to keep saving these animals.
Website: canerossorescue.org
Instagram: canerossorescue
Twitter: @canerossorescue
Facebook: https://facebook.com/canerossorescue
Image Credits
These pictures are all amateur pictures. We have someone who can take better/more professional pictures. These are just what I had on hand to tell the stories.
Nominate Someone:
 ShoutoutDFW is built on recommendations and shoutouts from the community; it's how we uncover hidden gems, so if you or someone you know deserves recognition please let us know 
here.