Meet Gabby Sanchez | Cake Decorator & Pastry Chef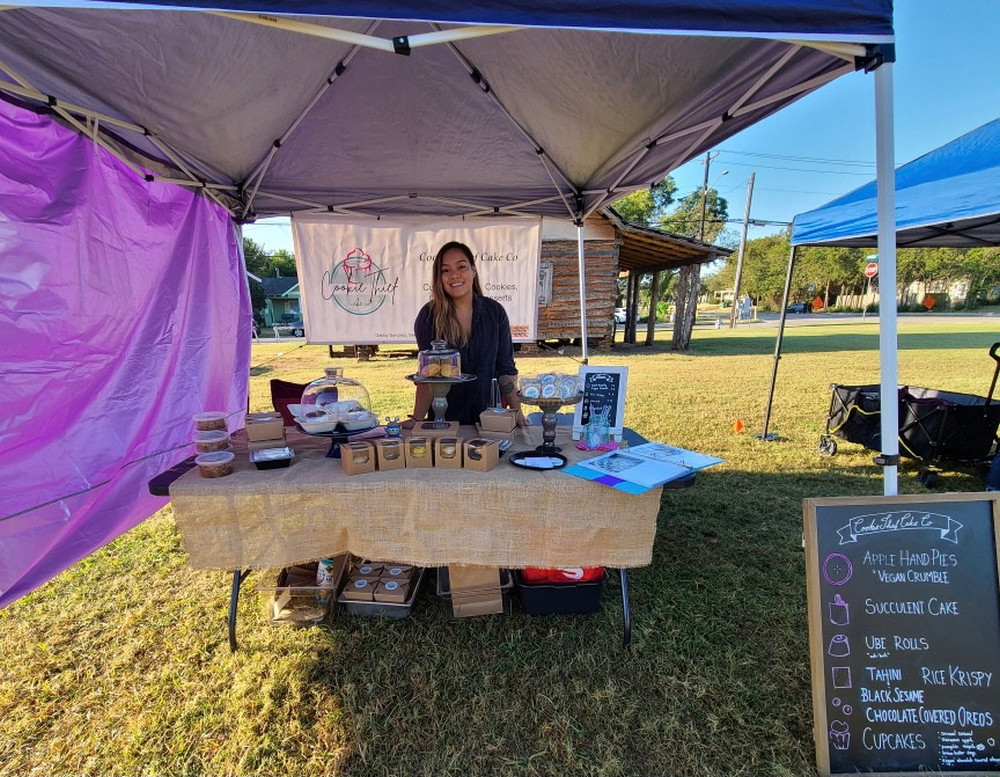 We had the good fortune of connecting with Gabby Sanchez and we've shared our conversation below.
Hi Gabby, how do you think about risk?
In the past four years, the word risk has become the new standard in my life. During this time, I have traveled all over the country, even outside of it, relocating almost every six months. Once I graduated from The Culinary Institute of America in Hyde Park, New York, in 2017, the longest I lived anywhere was one year.
Immediately after graduation, I moved to Wyoming and took the biggest leap into the unknown. Moving to a guest ranch in the middle of nowhere was, to say the least, completely out of my wheelhouse. I grew up right outside of New York City and rural living was unfamiliar territory. I was nervous and excited but, to my benefit, I grew—professionally, emotionally, and personally—at an exponential rate as a result of this risky venture. I met new and interesting people, learned from their experiences, valued their perspectives and, as a result, it molded me into a more empathetic person and, now, business owner. That job was only seasonal, however, so from there I moved to Napa to work at Bouchon Bakery, a world renowned establishment.
At Bouchon, I sharpened my skills but also learned more about the type of career I actually prefer. I wanted to support my team in every way and create a healthy work environment around me; however, the overall atmosphere at the bakery was incredibly hierarchical, and I could not envision a lengthy career in that setting. So, I took another gamble and returned to Wyoming for another season at the ranch. In doing so, however, an additional opportunity arose— a temporary position in the Caribbean: Grenada. My boyfriend and I seized the opportunity and hopped on a plane.
Working and living in a different country was also a worthwhile venture. I learned even more about both teamwork and myself, with the added benefit of being immersed in a completely foreign culture. After this three-month stint, I returned to Wyoming for my third and final season, assisting the White Lodging company open hotels in Louisville, Kentucky, and Austin, Texas. My boyfriend was promoted within the company during this time, requiring us to relocate to Whiting, Indiana, and I found myself working in Chicago for close to a year. This new gamble, however, included new struggles.
I had difficulty navigating my identity in Chicago because I was working my first salaried position with multiple responsibilities. This should be every professional's dream, but I found myself miserable engaging in mundane and emotionally draining tasks. I was losing my passion, a risk I was not willing to continue, to be sure. My boyfriend had the realization that neither of us would be happy until we were working for ourselves, and I wholeheartedly agreed. Acknowledging this was scary because although we had plenty of experience opening hotels and working in high-stress establishments, we had never started from scratch alone. The risks involved were many and varied: the lack of a steady income, the responsibility of marketing; the knowledge of business accounting; the desire for product interest; the need to profit; the anxiety of securing a place to live. These were the constant concerns swirling in my head as our lease in Indiana came to an end, but we took a chance and made our final move to Denton, Texas, to establish our own business.
Without risk, there is no growth, in my opinion; in doing so, I acquired more culinary knowledge than I ever expected. A person must be willing to step out of his or her comfort zone in order to succeed. Hard work and a realistic mindset is absolutely a driving force behind success but, as a person and a business owner, one must exhaust every outlet and induce growth, particularly during difficult times. As a small business owner now, working regularly at farmers' markets, I noticed an important trend that speaks to that idea: What sells well one week may not sell at all the next. This realization has forced me to be in a constant state of motion, keeping people engaged through challenging my own creativity. I consistently strive to produce new, exciting, and high quality baked goods for my clients with this mindset. I firmly believe that my clients see and appreciate the many risks I take through my creations. My collected experiences have shaped me into who I am now, influencing and honing my baking and pastry style. In fact, I was invited to compete on Chopped Sweets on The Food Network almost two years ago now, thus validating all of the choices I have made thus far.


Can you open up a bit about your work and career? We're big fans and we'd love for our community to learn more about your work.
My whole career choice actually derived from my love of art. In high school, I was really invested in drawing and painting. As my junior year of high school was approaching, the thought of college applications was looming over my head. I had a harsh realization that the fine arts would be an incredibly difficult field to succeed in for me. I had to figure out what else I could do realistically for the rest of my life. I was engulfed in a world wind of emotions and was convinced that I should look into business schools for a steady job later in life. I was so stressed out that I found myself baking muffins at four in the morning days in a row. One day it finally just clicked that I could do all three. I applied to The Culinary Institute of America and the rest is history.
I believe that having a fine arts background has forged my specific style when it comes to cake decorating and cookie decorating. I've found that having this training really helps me in the design aspect of my cakes and especially when it comes to creating plated desserts. I love bringing in the elements and principles of art. Just understanding the power of texture, balance, and movement can really affect the end result of my products. I really love hand painting on my royal icing cookies, they take a whole lot of time and energy but I am always so proud of the end result.
From questioning a career path of art through to four years after college, at twenty four, I have had a lengthy career already. Professionally, working really hard and putting everything I had into each and every job that I had has pushed me along this path. There's always ups and downs, but I have to keep reminding myself of my "why". "Why are you a pastry chef?" or "what's is my purpose?" I think without the answers to those two questions I would not have gotten very far.
The biggest lesson I have learned along the way is that everything happens for a reason. This may be a cliché but with every experience that I have had, whether it be for the better or worse has led me to opening Cookie Thief Cake Co. One hardship that has caused me to mature quicker was getting diagnosed with Papillary Thyroid Cancer when I was fifteen years old. The surgeons were able to remove the tumor but accidentally severed my vocal chord, they sewed it back together but I was left voiceless for six months. I had gone to vocal therapy until my voice came back that Christmas. My voice is back to its full capacity now but I am left with the mindset that my words require energy, I speak with intent and purpose and observe. There are a lot of hot heads in the kitchen and I can attest to being one at times. But with being so observant and relatively soft spoken, when I raise my voice, it demands respect. So in that, I am thankful I learned how to exert my vocal energy well. Another bump in the road was, ironically, getting diagnosed with Type 1 Diabetes when I was nine. I am clearly not good at people telling me how to live my life. But because of this, I am aware of how sweet things truly are so my pastries always have to be balanced or else I know it's not good for me. With that being said, I have become a stronger and well versed pastry chef because of it.
One of the other major lessons that I have had to remind myself, is to always stay humble. There will always be room to learn, and there will always be opportunities to grow. I've started to move away from chefs that have an air about them. I've noticed that most of the higher awarded restaurants and more decorated chefs and their employees tend to carry their honors in a pompous and arrogant way assuming that they are the best of the best, while destructing the self esteems of their less superior employees. all in all it's not a great environment for anyone to succeed. By staying humble you remind yourself that there will be moments where you need to learn something new as well.
The core of Cookie Thief Cake Co is high quality desserts for every occasion. We provide that through our education of ingredients and techniques, local ingredients, and our experience. We support local vendors as much as we can, because if we work together, everyone wins. I think the biggest takeaway from my brand and me personally would be that there will always be hardships, but it's all about how you respond to them. You have to pick yourself up and keep fighting for what you want. Opening this business has been a true testament to the challenges I have faced professionally and personally, and to all the hard work that I have put in up until this point. I am grateful for all the experiences I have met and all the people that continue to support us. We really wouldn't be where we are without them.


If you had a friend visiting you, what are some of the local spots you'd want to take them around to?
I have a bunch of spots in Dallas that I love! Petra and The Beast is an amazing restaurant that is a farm-to-fork new american concept with a focus on pickling. Knife is a great restaurant with a bacon tasting that includes a delicious bacon jam and even Iberico bacon. There is a really interesting speakeasy called Akai that gives you the full "Good Fellas" experience as it takes you through a busy dining room and kitchen to their hidden away bar. Deep Cuts is an incredible butcher shop that I highly recommend. You can never go wrong at The Truck Yard either, they have a couple locations around DFW, and they've got a bunch of beer on tap and rotating food trucks to support.
In Denton, my favorite spot and activity would be the Denton Community Market, but I guess I'm a little biased. They support so many local vendors and farmers it's an incredible environment and just something really fun to do on a Saturday morning. I also have so many coffee shops that I love visiting. West Oak Coffee Bar has a fantastic seasonal barista menu, it's always so creative. Golden Boy Coffee & Cocktails and Armadillo Ale Works always support local vendors and needless to say they have great coffee. Golden Boy has a separate room called "The Golden Room" where they occasionally host markets and events like concerts. I actually go to Armadillo every Tuesday morning to do sunrise yoga with Riagain from Twisted Bodies (a local yoga studio in Denton) and grab a coffee. They also have a brewery and even trivia nights! East Side is also great because they have a bunch of food trucks as well. Oh and lastly, there is a group called Every Witch Way Denton and they also host market events for local vendors and the women that run it, Elizabeth and Kayla, are amazing humans.


Who else deserves some credit and recognition?
I would like to give a big shoutout to everyone that has supported my baking journey up until this point. To my art teacher Claudia Papazian for giving me a great foundation in fine arts and ceramics which built up techniques I still use today in my food medium. To my coworkers, chefs, and friends that pushed me to become the best I can be. To my parents, brother, and grandma for supporting my career choices, and to my boyfriend and his family for supporting me through everything. I just want to give thanks to them, because without them I wouldn't be who I am today.

Instagram: https://www.instagram.com/cookiethiefcakeco/
Facebook: https://www.facebook.com/Cookiethiefcakeco
Other: To order email me at: Cookiethiefcakeco@gmail.com
Nominate Someone:
 ShoutoutDFW is built on recommendations and shoutouts from the community; it's how we uncover hidden gems, so if you or someone you know deserves recognition please let us know 
here.