Meet Craig Sefcik | Guitarist & Songwriter – The Dark Divide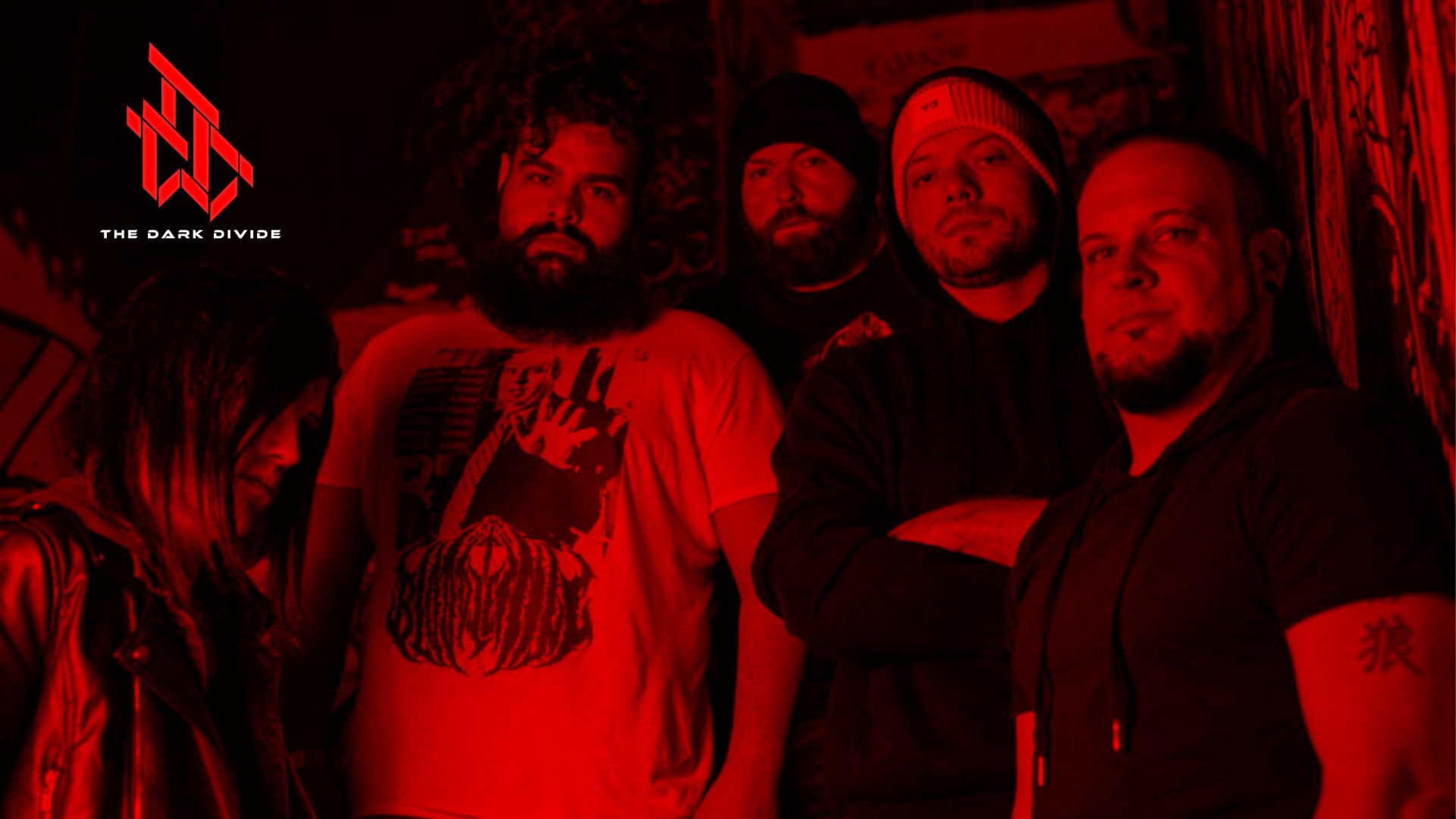 We had the good fortune of connecting with Craig Sefcik and we've shared our conversation below.
Hi Craig, why did you decide to pursue a creative path?
I can probably speak for all of us when I say we have an intrinsic, unsuppressable need to create; it's as natural and necessary as breathing, and not doing so feels much like, appropriately, smothering.
We all have careers and responsibilities and to be honest in some ways life would probably be easier to an extent if we didn't choose to carve out time for rehearsal and writing and buying expensive equipment and all the many trappings that come with being in a band, but denying that urge to create, as well as the feeling of comraderie and being a part of something that is greater than the sum of its parts and of course the irreplaceable feeling of performing would become a burning, tangible hole that is impossible to fill or replace with anything else.
We love what we do and even more so what we create, and we want to share that passion with people who hopefully find some type of resonance or joy in our music. But even at the end of the day, if nobody else likes anything we do or gets anything from it, my satiety is satisfied knowing I've created something from nothing with 4 other people who I care very much for; that's what it's all about.
So bottom line, we didn't choose the music life; the music life chose us lol
Alright, so let's move onto what keeps you busy professionally?
I've played in bands for over 20 years now; when I was young, I wanted nothing more than to make it big, which at that time meant getting signed to a label. Naturally, as time has gone on, the entire nature of the music industry has shifted; technology has leveled the playing field to such an astounding degree that an artist can record an album in their bedroom and potentially see great success if they have the means to market and distribute their music. I've learned so much along the way, kind of living in parallel with all these changes and understanding firstly that music IS a business (you can't just hope that your music is good, it needs to have value if you plan to make a living doing that specifically), and that the business requires so many facets that most people who are on the outside looking in don't see; marketing, promotion, distribution, inventory, branding, networking, etc.
As far as The Dark Divide, I started this project in 2018; I had a very specific vision and idea for what I wanted it to be, and I couldn't be happier with how it's turned out. I love the futuristic style of movies like Blade Runner, The Matrix, Akira, etc and the simultaneously dystopian-but-somehow-also-hopeful atmosphere that they purvey, so my thought process was "what would a band living in that type of environment be like? How would the music I write come off in a world like that? What would their world view be?" From there, things just took off and I ran amok with the branding and writing.
I know every artist says "you've never heard anything like my music, it's totally new"; I'm not saying that at all lol, our material very much fits into familiar genres overall in my opinion, but I try (and hope) to bring things in from disparate genres and sources to bring a fresh take to what we do. I pull from Industrial, New Wave, Goth, J-Rock and Electronic genres heavily in my writing, because I love all of that; it's what I listen to. Although I'd say we're a metal band first and foremost, I like to think we have crossover appeal and the feedback I've gotten has reinforced that so I feel like we're hitting our intended mark.
We are still very new and unknown, but we have a lot going for us thanks to past connections and experience; we have several dates booked and are close to releasing our first EP, Variant, which we have recorded, produced, mixed and mastered entirely in-house. It was very important to me that we DIY as much as possible; that ethos is near and dear to my heart. I think it's important that people learn how to do and make things for themselves as much as possible; it's easy to go buy something and just HAVE it, but there's no personal satisfaction derived from knowing how much work you put in to create something. For some people, they're totally fine with that; I'm not. Different strokes for different folks lol. But that principle is one that also runs central to themes in cyberpunk culture; you make what you need, not just because you have to, but because you're compelled to do so.
We write songs that are hopefully relatable to many people, and we try to craft a stylized, interesting image and mythos to pair it with; it's what we are interested in, and we hope others dig it too!
If you had a friend visiting you, what are some of the local spots you'd want to take them around to?
I've essentially done exactly this in the past haha, so I'll just go off that experience here.
I'd want to hit each of the major areas in DFW for somebody visiting, so basically consider a day/night for each of these locations:
Denton – the place to eat is Rooster's; gotta get the double grilled cheese burger and a breakfast shot, no contest. For music, we'd have to hit up Rubber Gloves, Killer's Tacos, Andy's (or Randall's, as known by our degenerate crew lol) and then for drinks/hangs, Loophole, Dusty's (for a second burger and quick pint!), Riprock's and Lucky Lou's. If you're still conscious after that, there are usually house parties to be found if you're lookin'!
Fort Worth – Fred's for a killer Philly cheesesteak; get the Pizza Cheesesteak, add italian sausage, extra cheese. The Rail Club, Lola's and Ridglea are the music highlights here, then off to Free Play Arcade for drinks and games (great rooftop patio there!) There's tons of places around that area to check out as well, all in walking distance. I haven't been to 7th street in a minute, but there was a great bar called Poag Mahone's there I used to frequent. Oh, and hit up Funkytown Donuts while you're downtown!
Dallas – Deep Ellum was always my home in Dallas; it's changed a LOT, but some of my mainstays are still around. Serious Pizza is great, but I still say Mama Mia's is the best pizza in Ellum. Hit up Wit's End, Trees and Reno's for live music; I don't drink anymore so I couldn't tell you where the hotspots are but you can't go 20 feet without finding a place that serves so go wild lol! Also, DO NOT miss Angry Dog; best burger in Dallas, full stop.
Arlington – I've had a love/hate relationshop with Arlington since I moved to the metroplex (5% love, 95% hate lol), but recently they've really stepped their game up in being a place I actually want to visit. The Free Play Arcade there is phenomenal, mainly because they have one of my favorite games (Super Puzzle Fighter 2 Turbo), and Legal Draft Brewery is a cool place with great drinks and great community events; went to a dog adoption event there and it was so rad! Caves Lounge is THE place to go, best jukebox in 10 counties (if it still exists), and even though it's tourist-y I say hit Six Flags, have some damn fun!
Lewisville – this is 100% personal bias because I lived here for many, many years, but there's a lot of good stuff here! Rusty Beagle has a delicious Juicy Lucy and massive drinks, and Alfredo's is the place to go for pizza; one of the waitresses (possibly an owner?) still remembers me from when I moved to the area in 2004. Unreal. Such good people! For drinks, you've got tons of options; Hat Tricks was my home away from home, Hot Shots/Shot Spot/Chophouse/whatever it's called now (you'll find it lol), T's, Canuck's, Daddy Rabbit's, all good. Go to the Lewisville mall for a creepy experience; it's like exploring an abandoned, timelost relic of capitalism. I don't know if Charming Cat Cafe is still there, but if so go pay them pet all the kitties!
I don't really go out like I used to, so my suggestions might be old but let me tell ya, I had some TIMES when I was younger at all these places lol
The Shoutout series is all about recognizing that our success and where we are in life is at least somewhat thanks to the efforts, support, mentorship, love and encouragement of others. So is there someone that you want to dedicate your shoutout to?
Wow, more like who DOESN'T deserve a shoutout lol? There have been so many who contributed to my world view and helped in so many ways it's practically impossible to quantify, but I'll throw out some:
Justen Nunno for exposing me to the world of local/underground music and all the countless lessons I learned booking bands and doing shows
Jesse Fugate, Ben Zellner, Andy Harvey and Jon Dye, my first ever bandmates, being the catalyst for all the adventures I've had pursuing music
My parents for putting up with the godawful racket we made while learning to play our instruments lmao
The American Legion #169 in Wichita Falls for being the breeding ground for so many local artists to bud and grow
My wife Sandilee for supporting me unequivocally and unwaveringly; to have that amount of honest support is just something impossible to properly convey and is truly invaluable
Rob Hofman, Eric Rader, Torrin King and AJ Tate (my fellow bandmates) for undertaking this endeavor with me; you guys are the best pack of buds a guy could ask for!
Richard Hudson, Kevin Dunlap, Brian Idell, Justin Mills and Tyler Berry for being excellent partners when I was getting my design side hustle (Lockehart Design) off the ground; these promoters found my work valuable and together we made some awesome things happen in the DFW scene
Website: https://thedarkdivideofficial.com
Instagram: https://instagram.com/The_Dark_Divide_Official
Linkedin: https://linkedin.com/craig-sefcik
Twitter: @the_dark_divide
Facebook: https://facebook.com/thedarkdivideofficial
Youtube: https://bit.ly/The_Dark_Divide
Other: https://www.uhive.com/z/FTSH98J https://open.spotify.com/artist/6LEZpaPcuPTvJxMKdT7kWI?si=cKDpG0afTv-0A1urQNjNwg&utm_source=native-share-menu
Image Credits
Chad Robertson Sandi Sefcik Ghostbunny Media
Nominate Someone:
 ShoutoutDFW is built on recommendations and shoutouts from the community; it's how we uncover hidden gems, so if you or someone you know deserves recognition please let us know 
here.