Meet Amy Maiello | Realtor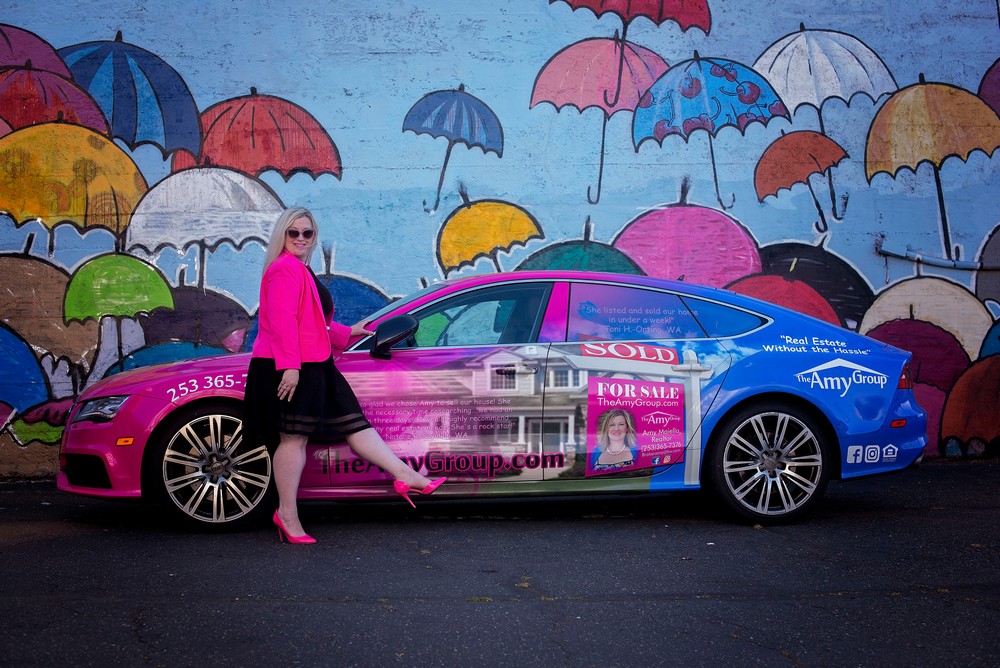 We had the good fortune of connecting with Amy Maiello and we've shared our conversation below.
Hi Amy, what is the most important factor behind your success?
My tag line is "Real Estate Without The Hassle", it's so important to me that I Trademarked it. For me it's all about the people who choose to work with me and my team, and I want to make sure that I take care of them as well as I possibly can. I purchased my first home at age 20, and 4 houses and one commercial business later I finally got licensed as a real estate agent. With each transaction I had a different agent and there was so much that I felt that they could have done better. When I started this journey as a newly licensed agent I made a list of the things I liked about what each agent I had previously worked with offered, and a list of what I thought they should have offered. I used that list to become the agent that I felt everyone would want. What I offer to my buyers and sellers is so much more than what the majority of agents in this industry are offering. Buying and selling real estate is stressful-for so many reasons-and it's so incredibly emotional for some people. I am a full service Realtor-I take care of everything! I am not only responsive to texts/emails/phone calls, but I also answer my phone at night (it's how I built my business!). Sometimes I'm their therapist when they need to vent, sometimes I stop by to make sure all the windows are closed at their home because it started raining, and sometimes I need to let a contractor in. I am a resource for my clientele so I have many vendors that they can call on to get things done (movers for moving out of state, handyman, contractors, cleaners, etc..). I also have solid relationships within the industry to help make their transaction as smooth as possible. People say that buying or selling real estate is a hassle-but when people decide to work with me I take the hassle out of it. I even offer the free use of my moving truck (it's PINK!) for local moves at the close of my client's transactions.
Can you give our readers an introduction to your business? Maybe you can share a bit about what you do and what sets you apart from others?
My family and I moved to Washington state at the end of 2013. I got licensed 6 months later. No local friends, family, or church. No kidding.
When I started my business I had to seriously hustle since I didn't have a sphere of influence. I dedicated about 15 hours to it every week by doing open houses three days per week. I met everyone that I possibly could and spent a lot of time dreaming of how I would put myself in a position to be the agent or team that everyone wanted to work with. I spent quite a bit of time thinking how I would market myself to people who needed my services. I never worried about my paycheck because I felt that if I put my efforts into doing an excellent job-the paychecks would come. And they did. I treat every client the same. I don't care if they are buying a piece of land, their first home, or buying a million plus dollar property on the water. Every client gets the same level of service! I think that is what everyone wants, and they deserve it. I appreciate every single person who chooses to work with me. In my area there are 35,000 other agents they could have chosen, but they chose me and my team. At the end of the transaction I always shower them with gifts, because I want them to feel special.
Have I made some mistakes along the way? Yes I have! We all do, but many aren't willing to admit it. The very first home I listed was on septic and I had no idea that there were additional addendums and tasks that needed to be completed by the end of the transaction because I hadn't closed many homes at this point and never had one been on a septic system. We closed on their house without the septic being pumped or inspected! Fast forward to a few months later, a phone call from the buyers agent and an "oh shit" moment-literally. The alarm on the septic had gone off and not only was the septic system in dire need of pumping, but there was also a very hefty repair that needed to be made. Instead of passing the buck, I owned up to it. Trust me, it was hard, there were tears from both me and my sellers-but we worked through it. We are still friends-I LOVE these people-and because I was honest they have referred me to their best friends, and daughter. I've also worked with them several times since that fiasco. How many agents could say that they screwed up royally, and their clients chose to work with them again and again?
From the beginning I have aligned myself with people in the industry (lenders, title and escrow) who also share my beliefs in serving their clients and doing the right thing even when there is no one to see it. I love my career and the people that I get to work with. Most of us are good friends, and my buyer's agent Charlene is a past client and friend. She was an excellent choice since she knows how I work and liked me so much that she referred me more than once. I love that I hired a fan! I have such an amazing tribe of people that I get to work with and I wouldn't have it any other way.
I started marketing my business as The Amy Group ten months after getting licensed. My brokerage was none to happy about the hot pink flair! I wanted to be ME and pushed back anytime my brokerage griped or asked if I could possibly choose a different color for my marketing. I had wanted a hot pink car since I was 20, and got one by the time I was 38! It took awhile, but I earned it! I don't notice my success as much as others do. I have worked very smart and hard to get where I am. If it were easy, I don't know that I would appreciate it as much.
Don't ever bet against me. I work my hardest when people think that I can't do something! Despite being new to the area I was an award winner at my first brokerage my very first year, and was an award winner every single year that I was there even though I was the odd duck with my hot pink flair. People would literally snicker about me in the computer common area of that brokerage-not realizing I was right there (because no one knew who I was, they only knew my car). I left my first brokerage after being there for 5 years and then joined eXp Realty. I joined because I wanted to be part of a better culture where it was all about the agents and less about the brokerage. I wanted to be an ICON Agent (the only award they give). I remember having a conversation with my Managing Broker about how far away I was from making ICON status (I was 11 transactions away) and he tried to soothe me by saying that we only had one or two ICON agents in Washington state and not to be too hard on myself for not making it. I was still a few months away from my deadline….yes, I made it! I did it again this year. One of my other goals this year is to finish as the top eXp agent in Washington state. Currently I'm number two, and my mark is just within reach. Maybe someone should tell me I can't do it…..
I'm really excited about celebrating my team at the end of this year. Charlene is on track for making her goals, and Kathy works behind the scenes to help both of us make our goals and keep us looking good. In December we are going to have a The Amy Group awards day where we head to Bellevue to have a special appointment at Gucci where both ladies will be given a generous gift card to spend on whatever they choose. We'll also have an amazing lunch to celebrate our success as a team. I want for these women to feel special and know that their hard work is absolutely appreciated. But seriously, would you rather have a plaque with your name on it, or some Gucci flair you get to wear??
Let's say your best friend was visiting the area and you wanted to show them the best time ever. Where would you take them? Give us a little itinerary – say it was a week long trip, where would you eat, drink, visit, hang out, etc.
One of my best friends will be visiting me soon for a long weekend. We plan on spending the first part of her trip at my home in Orting where we are just planning on taking it easy and catching up and relaxing. We may walk along the Orting Trail where there are EXCELLENT views of Mt. Rainier, or we may head to the river to enjoy a nice walk. I'm hoping there's no rain!! Both are easy to walk to from my house, so it's an easy choice and the fresh air is always nice. We'll more than likely stop by and order coffee from my favorite coffee house Parkside Perk. It's the cutest coffee stand that looks like a modern farmhouse. The espresso is also delicious, and the service is great. By the way the Orting Trail is 19 miles long. I've never walked the whole trail, and I don't know that I'll ever be ambitious enough to do so.
I know that she's a beer gal, so I'll be taking her to Rainier Growlers in Puyallup. Ben manages the place, and he and his crew always treat you like family! There are 40 beers on tap and it's always changing. I'm a huge fan of stouts and porters and there is always something new to try! You can also bring in your own food, so we'll probably do that.
We plan on heading to dinner at Stanley and Seaforts which has the best view of the city of Tacoma. It also has excellent drinks and food. I'm a huge fan of their filet mignon, its like butter. I also like their Old Fashioned, the cherries are the best. I always order mine with three cherries.
If you want to have the best drinks in Pierce county you head to Glow Martini Lounge in Bonney Lake. I can't wait to show her this place! Gorgeous chandeliers everywhere, and the ambiance is terrific. Every drink I have had has been not only fabulous, but definitely worth talking about. They also have small bites. If you visit be sure to try their lettuce wraps and their Glowtini-pink deliciousness with glitter!! It's just so pretty to look at and drink.
The last part of her stay with me will be at my pink house in Ocean Shores. Yes, I have a pink house! It even has a hot pink chandelier, pink fireplace, and tons of other pink flare! This is the house that I have always wanted, and it is right across the street from the beach. It has an ocean view with a nice deck in the front so that you can enjoy the scenery, the breeze, and the smell of the ocean. I will be showing her all of my favorite spots-actually ALL of the beaches in Ocean Shores are my favorite but for different reasons. I really like Damon's Point because you can find tide pools with starfish, sea anemones, and we've even found small crabs and clams there. There are also a couple of entrances to the beach where you can drive your vehicle on it. She hails from Oregon and there aren't too many places where you can do that down there.
I make a mean chicken fettuccini alfredo, so we will be working ourselves into a carb coma one of the nights that she is here, but I am really excited to take her to Oyhut Bay Grill in Ocean Shores. I have had numerous items on their menu, but my favorite is always going to be the salmon. They also make an incredible Old Fashioned with three cherries, just the way I like it.
Before we end our trip I'm going to drop by Ocean Pours. It's another tap house that is constantly changing their taps. They are always friendly and have an outdoor tent where you can enjoy the sounds of the ocean.

Who else deserves some credit and recognition?
Well, to be honest I wouldn't be a real estate agent without the help of my husband. He pushed me to become one when I said that I wouldn't be good at it. Little did I know. Adam is my #1 fan! He will proudly wear black and grey tees with a hot pink glittery The Amy Group logo on it!
A shoutout to my family for recognizing what mommy was trying to build and the sacrifices that I had to make for the dream that we all get to be a part of. I just love my girls and they really complete me. A special thank you to my dad for showing me what great work ethic looks like. That man worked even when he wasn't feeling well, I'm glad it rubbed off on me.
Thank you to my team of "homegirls" (Charlene, Kathy, Debbie and Meagan) for always being there! Not only do they help me with all of the real estate things, but they are also part of my tribe. They make me laugh, they help with ideas, and they are SOLID women. They'll even pray for you and give you great advice if you ask.
Thank you to my friends and clients (many whom are now friends). I appreciate you being in my corner always. I enjoy the time we get to spend together, and I'm so happy that you always give your all to this team. We are really building it!
Thank you to Jesus for molding me into what he intended me to be, and for putting certain people in my life that either I'm supposed to help and be a light in their life, or the other way around. I'm also thankful for those tough times (or obstacles) and unanswered prayers.
Website: TheAmyGroup.com
Instagram: @TheAmyGroup
Facebook: facebook.com/theamygroup
Nominate Someone:
 ShoutoutDFW is built on recommendations and shoutouts from the community; it's how we uncover hidden gems, so if you or someone you know deserves recognition please let us know 
here.