Meet Tony B Roberson | Graphic Designer, Photographer, Rapper, Videographer, Writer, Creative Director, Engineer, Brand Owner, & Social Activist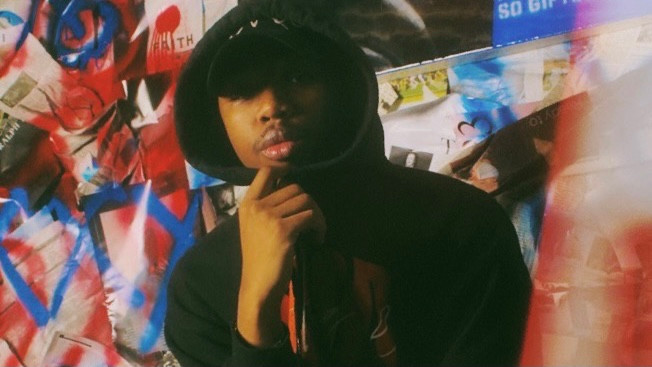 We had the good fortune of connecting with Tony B Roberson and we've shared our conversation below.
Hi Tony B, what do you attribute your success to?
There were a couple of things, first would be persistence. Throughout my sophomore year in college I was somewhat depressed and trying to figure some things out for myself. Within this time period I took about a year off from trying to do anything. Yet I wanted to still continue pursuing my dreams in my own private time. Every day and night, I was staying up until the crack of dawn after finishing my classes to work on music. I didn't really have anyone to help me put things in motion so I took on figuring things out myself. Sadly, I know and still struggle today with balancing how much sleep I get. Yet, none of that really mattered to me as long as I was able to listen to what I created on the aux in my car with no self critic. With all honesty, I critic myself pretty hard. If no one is going to be honest with you, you have to be honest with yourself. Luckily though, I have a select few of friends that I send my unreleased music and album artworks. When creating my album artwork, I always need a second eye to tell me if whether something is accurate or not. So they definitely help me out a lot.
Second, I would say branding is not practiced enough for those who want to be artist. It's more than just recording music, releasing it, and making music videos. Granted, I have my gray areas at certain moments. Yet, when speaking with fans and people who follow me on my socials, they see no gray areas. Therefore, if you can achieve that feedback as a whole then you're doing what is needed. It's important to watch what you post, retweet, or like on these social platforms. People tend to view you as what you portray yourself to be. Around the time of my junior year in college, I deleted a lot off of my social media. If you want to be treated as someone who is professional, you have to play the role as well.
Lastly, family and friends are a great factor. Conversations with my family and friends helped me figure out what was missing in the puzzle pieces to a path of success. When you began to involve others that were not necessarily there to assist you in achieving your success, you start to cloud your thought process. My girlfriend recently got me into journaling and helps me plan out things ahead of time. My closest friends provide the motivation and authentic conversations needed because they too are music artist. My family gives me some direction, though most of the time there is a generational gap between us. I know one of there main concerns is based around the thought of me "doing too much at one time". Yet, I always ask myself, "Am I doing enough?". So, sometimes it's needed to make me rethink if Im pushing myself to the fullest extent or choosing to slack for selfish reasons.
At the end of the day, I know that I have people depending on me. Whether its people from back at home or people across the states/country. It may be get stressful but there is a reason things are happening now, when they didn't back then for me.
Can you open up a bit about your work and career? We're big fans and we'd love for our community to learn more about your work.
I like to think that my mindset is what separates me apart from others. I have a goal and vision to become a greater version of myself each day. A lot of things tend to be temporary and we direct so much energy towards those moments. I have a white board in my room with a list of goals on them and reminders. One of my reminders that is on there now reads, "It is only becoming more tiring because you choose to apply yourself". A lot of choices and decisions I create are to expand and leave an impact for others to do the same. When I first started making music, I was able to touch people with my words and inspire them. Over time, I've had some rollercoaster moments, but overall I've grown to become more vulnerable within making music for the fans. It felt weird at first, because who wants to convey their most personal thoughts into a song or album? Though, I realized my motive stood more for me getting things off of my chest that were a burden from what I held inside. In theory, music happens to be my form of therapy. With planning and executing, I was able to build my brand "Hood Angel Forever". This began when a close friend of mine, Alexandria Cox, stated that she felt I was not a product of my economy. All of my life growing up I was viewed as not being "Black enough" because of how I would dress and speak. Alexandria continued to speak on the topic and thus labeled me a "Hood Angel". Afterwards, this prompted me to drop my first album of the same name, on all platforms during February 5th of 2020.
Since then, it's been a lot of marketing put into play for when Im choosing to release something to the public. So far, its been some great results. Whether it's the hoodies that are selling out in a night or achieving a 5/5 star rating on iTunes for my recent album, 'Longer Days', things are going good. In which case, I've learned about who I should and should not connect with, when it comes to the music and graphic design industry. Simply because, not everyone is as serious as you would like for them to be about their profession. Networking of course is something that happens to be a struggle for most. We often overthink about the response we might get from someone we're trying to impress. Yet, I strongly believe that's okay. Everyone grows out of their comfort zone when they feel it is best. Essentially, timing is something we fail to come to terms with every now and then. I struggle with this too, because I always feel like Im running out of time. That is until I write things down to provide a clarity for my headspace. Manifesting and speaking with God or loved ones too, helps me rationalize out some things. Prioritizing and maintaining relationships play a big part in that. The commitment I have to both of those help keep me on track for who I aspiring to become.
If you had a friend visiting you, what are some of the local spots you'd want to take them around to?
Man. This is definitely a hard choice. It may seem weird but me and my friends always tend to go to JJ's Fish & Chicken or Hendersons. Whenever we go to Hendersons, it's between the locations of either Camp Wisdom or Pleasant Run. Honestly though, I prefer the Camp Wisdom location. If I'm choosing to eat out, I like spots close to the downtown area like Vegan Food House, Spiral Diner, Fuzzy's Tacos, or some place similar. I've been hearing about True's Kitchen a lot lately, so that's been on my list of places to check out. I personally don't really like being in big crowded areas though unless it has to deal with performing or business lunches. Aside from that, the Dallas Aquarium and energy in the Deep Ellum area are my favorite to visit or hang out. Recently, I went to the Sweet Tooth Hotel Museum and enjoyed every bit of my time there.
Who else deserves some credit and recognition?
Man, my biggest shoutout goes to my parents, my girlfriend, my friends back at home (Elijah Fridia/YG Flaco, Nicolas Matthews/Soe Saige) who are also music artist. My close friend, Bryant Jackson Jr had motivated me and provided a lot of wisdom that I use mentally each day. My close friend Dylan Henderson, who's passion for success inspires me to thrive. My mentors Anfernee Johnson and Uche Oleru from Touched Media. Both members from my PR team, Devaughnta Johnson and Nailah Boyo. The support and encouragement that I received from my brother (Corey Conner), sister (Tonika Roberson), and uncle were of a great help to me. My videographer (Alex Charles) provides a lot of effort than any other videographer I've ever met. Also my fans are a big part of me because they are who relate to me when I think no one else does.
Though the biggest recognition is directed towards my girlfriend. She helped me rebrand myself, network, and provided the best feedback possible. Honestly, she is an amazing and powerful woman overall. If something doesn't impress her, then I'm definitely going to go back to the drawing board to figure something out.
Instagram: https://www.instagram.com/jstonyb/
Linkedin: https://www.linkedin.com/in/tony-b-roberson-12b08a173/
Twitter: https://www.twitter.com/jstonyb/
Facebook: https://www.facebook.com/jstonyb
Youtube: https://www.youtube.com/channel/UCHUGznOm74QcpxAs0mDPY3Q/featured
Nominate Someone:
 ShoutoutDFW is built on recommendations and shoutouts from the community; it's how we uncover hidden gems, so if you or someone you know deserves recognition please let us know 
here.