Meet Laquesha Ford-Mcquay: Inspirational Speaker, Mentor, Life Coach, Founder of Women Cloths Community Outreach Fellowship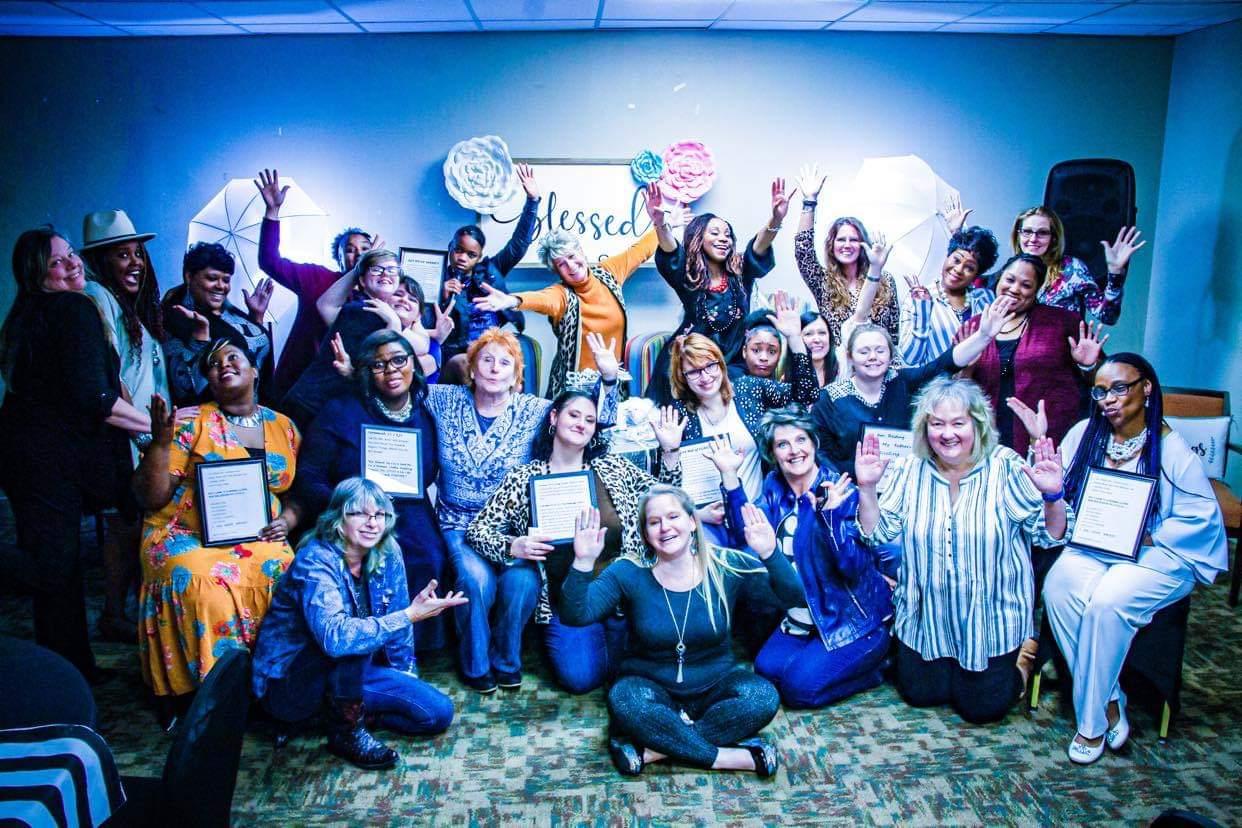 We had the good fortune of connecting with Laquesha Ford-Mcquay and we've shared our conversation below.
Hi Laquesha, where are your from? We'd love to hear about how your background has played a role in who you are today?
I'm from a very small town called Henderson, Texas. My childhood was filled with valuable and sweet memories! 🎀 My upbringing 🎀 Growing up, my parents imparted core values and principles that they knew would last a lifetime! A few of those standards and characteristics include Love, Hard Work, Consistency & Dedication. My Mom taught me how to be a genuine mannerable woman with grace. She was always very approachable! My Dad taught me how to be authentic and transparent. I never knew what he was going to say and I knew it may hurt my feelings, but I knew it would be the truth! They both created an atmosphere of structure and peace in our home free from drama and trauma. The older I get, the more I appreciate that! I can remember being in High School and having monthly family meetings at home. My parents allowed us to all express anything we wanted to them or one another as long as the conversation remained respectful. I believe this is what contributed to my ability to be able to freely express myself and communicate so well with others as an adult. What I've always taken note of from my parents and upbringing that has always influenced me the most is the fact that both my Mother and Father were both determined to give us the things they never had and not just material things. This has greatly affected the way I parent my children. I'm always imparting what my parents taught me, but also all the spiritual things I've learned along my journey that my Heavenly Father has taught me. My favorite times with my boys include Scripture/Prayer time on the way to school, Dinner after work, and Nightly Devotion before bed. Everything that was instilled in my upbringing has helped me remain strong, overcome devastating moments in life and to not only set goals but to also be sure I follow through and accomplish them. My passionate pursuit of Christ sealed my adult life in an unexplainable way. The love of God brings healing and is so powerful that it has allowed me to release love to others in an even greater measure than what was released to me from others. The love and compassion for others that was imparted to me by my parents and by God is what led me to my first Career choice which was Nursing. I have been a nurse for the past 20yrs. I only experienced one trauma outside of my home during my teenage years, but all of my painful experiences came from other relationships outside of my home. My upbringing equipped me with the inner strength and an understanding that life isn't perfect but I have support and if I work hard enough I can achieve any goal. I appreciate everything my parents imparted into me to help me be the best version of me that I could possibly be! I have the confidence and assurance to know that I can do anything I put my mind to and if even if I feel like I failed I didn't because I tried. All I have to do is seek God for direction try again believe again hope again and begin again!
Can you open up a bit about your work and career? We're big fans and we'd love for our community to learn more about your work.
We were all created to be uniquely different. I'm a Creative / A Prioneer / A Trailblazer and I believe life is Art! It's hard for a Creative to place themselves in a box that categorizes who they are. They're usually many things to many people from many different perspectives. Since I was a child I can recall my teachers sending my Parents notes about my writings and my leadership abilities. My fourth-grade teacher initiated a letter to my Parents concerning an Essay I wrote entitled "God is my Hero" I honestly believe that is one of the things that sets me apart from others is the hunger I had for God from a really early age when I really didn't even fully understand exactly what or who he even was. I just knew there was something pulling me drawing me calling me out to be different. I never fully fit in with a lot of people or a lot of things and I hated that until I got a little older and began to embrace that! About three years ago, before beginning the Outreach, I noticed that women of all backgrounds and cultures began to cross my path. These women had a history of drugs, alcohol, abusive relationships, horrible childhoods and so much more. They were different people with different issues from all walks of life! Some were outcast downcast hurting broken weary wounded and fragile! They seemed to all be out of their old circumstances yet right in the midst of huge transitions and one of the greatest transformations they've experienced in life. Each one of them had a made-up mind they were not going back to the people and places they use to be and go but just needed an extra push encouragement direction accountability and discipleship along their journey. I thought to myself "I really don't understand! What do I have in common with ex-drug addicts, strippers, people with traumatic childhoods women who feel discouraged wealthy people who aren't as happy as they pretend, etc.?" The answer became so evident when I understood that it wasn't about me or what I hadn't experienced that they had, it was all about the fact that I had one thing on the inside of me that they all needed. The love of God! After spending time in God's presence I understand that he simply wanted me to be a bright light that shines healing & love! I'm called to people who feel like they're in major transitions or coming out of a dark place in their lives and I help them to understand that there is a garden on the other side of the grave. I shine the light of God within me on their dark places and take them on a holistic journey of healing and returning to the truest authentic version of themselves post-traumatic situations. I am a witness that God takes ugly situations and makes beautiful things out of them! He gives us beauty for ashes! Hence…return to the beauty of life! The Garden.. the place where things grow bloom and blossom again! -Tears. I am a Speaker/Mentor/Life Coach and the Founder of an Outreach called Women Cloths Community Outreach Fellowship. My Outreach Mission is to extend help to the helpless hope to the hopeless healing to the broken hearted setting the captives free! We host Healing Sessions dealing with topics not usually discussed in traditional settings or that have been "swept under the rug" that no one wants to face or confront concerning their past or present. Those who share their stories in these sessions usually have never shared their stories with anyone esp., not an audience. I choose the ladies that way because the blessing is two-fold. As the women share for the first time, they are receiving healing as they share and those that hear their stories receive healing as well. It has been so amazing in such a short time to see Mother/Daughter relationships restored Women healed and made whole and set free from things that held them captive for many years. I'm also excited about expanding this Outreach and embarking on my career as a Life Coach and creating courses to help others return to their true authentic self-post various pain and trauma. The journey or path to helping others heal was not easy. It is proven that whatever you have been placed on this earth to do you have to be tested in those areas first in order to be effective. I experienced many hurts, heartaches, heartbreaks, traumas, false accusations, betrayal, and pain but the love of God heals. My passionate relationship with Christ along with the support of a few others is the only thing I can attribute to overcoming all of my challenges. I've learned that you don't have to have a pattern to follow, although it seems so risky you can create your own. A lot of people may not support what you're doing but you can't allow that to hinder your passion, many people need what you have to offer. Focus on those people. I've learned that you can be the sweetest most giving and loving person in the world, but that doesn't mean everyone will like you. In fact, some will hate you just for who you are because they wish they were you. That has nothing to do with you, but everything to do with their own insecurities rejections, and hidden pain. I've learned that love of God causes you to forgive those who hurt you the most and it can even restore the one who hurt you if you allow it. I would want the world to know that forgiveness is the key that unlocks the door to healing & deliverance. You must forgive others for what they didn't have the capacity to give you at the time you needed it the most. Also, anytime you feel like you've failed at anything all you need is the courage to begin again! My Outreach Women Cloths helps women suffering from everyday life battles to understand that they are not alone. As far as my upcoming brand I'm a Life Coach that meets people in the midst of various transitions in life and I take them by the hand and help them find their way back to a place of wholeness. I specialize in Authenticity. As far as my story… it's still being written!
Any places to eat or things to do that you can share with our readers? If they have a friend visiting town, what are some spots they could take them to?
There are so many places and many things I love about Dallas! If my best friend and I were hanging out these are just a few of the places I would take her…
Some of my favorite places to hang out in Dallas
1) The Dallas Arboretum & Botanical Garden- I love the beauty of it!
2) Klyde Warren Park- There's normally something taking place at the park and it's just a good place to hang out
3) Dallas Museum of Art- I love Art!
4) Galleria Mall- I love Shopping & hanging out at the Galleria
5) Spa Castle & King Spa- We would spend most of two of our days at each spa for relaxation and self-care
6) Downtown Fortworth- I haven't been in a while, but I use to love just hanging out and walking around downtown
7) Dallas Farmers Market- It's always interesting to me
A few of my favorite places to eat in Dallas
1) Rodizio Grill Brazillian Steakhouse- Such a great variety of good food! I love Rodizio Grill
2) Pappadeaux Seafood- I love Seafood so Pappadeaux is one of my favs!
3) Grand Lux Cafe- I love the atmosphere & variety of menu selections
4) Bread Winners Cafe & Bakery- Love this place for breakfast or brunch
5) Cheesecake Factory- I absolutely LOVE cheesecake & a lot of their dishes as well We would definitely visit a few of these places daily & more!
Who else deserves some credit and recognition?
I dedicate this article to Jesus, The Lover of my Soul, my parents Clinton and Glenda Ford.
Instagram: https://instagram.com/simply_authentically_me?igshid=14ntv9qhqce31
Linkedin: LaQuesha Ford-Mcquay
Facebook: https://www.facebook.com/laquesha.fordmcquay & https://facebook.com/Women-Cloths-Community-Outreach-Fellowship-51546778884066
Other: Women Cloths Email: womenclothscommunityoutreach@yahoo.com
Image Credits
Amandi Goldman Gross316Ink Photography