Meet Cathy and Josh Zuniga | Event Planner & Dance Instructor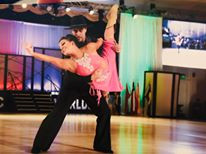 We had the good fortune of connecting with Cathy / Josh Zuniga and we've shared our conversation below.
Hi Cathy / Josh, what's something about your industry that outsiders are probably unaware of?
Because our business overlaps two industries, event planning and dance instruction I think it is important to understand that both face very similar issues and ones that I don't think outsiders are aware of. People in the event industry, as well as the dance instruction side are for the most part self employed, meaning they have to provide their own insurance, as well as they are dependent on their clients for all of their income. This year with the COVID pandemic, it has totally crushed the event industry as well as dance. Events have been almost completely shut down around the country, and dance classes also cancelled. While there has been some limited one on one dance instruction, with masks and gloves, it is not like a normal week of instruction would be. In addition to dance classes being cancelled, as professionals who also compete and have students who compete, all dance events have been cancelled. Most dance instructors teach social classes and students, but they also teach competition students and travel with them around the world for events. This is couples, ballroom, country and swing events. Teachers make a great deal of their income from events, as the students pay their travel expenses, as well as dance entries and time spent preparing for those events that lead up to a world championship event. Event planners also have faced great challenges during this pandemic. Events were cancelled for most of the year because of the limitation of large gatherings. While some small events have happened, it is not a normal wedding year, or corporate business year. The majority of events were pushed to next year, but there are still concerns about how that will be handled. So being creative with social distancing, helping people plan around the concerns and still be able to enjoy special events has been stressful and certainly taxing. Most outsiders who hire dance teachers for say their wedding dance have no idea that every song is actually a specific dance style. Professional teachers want them to learn the correct style and no matter how simple the choreography might be, at least they learn the tempo and why each song is a different dance style. It is frustrating when someone calls for a wedding dance, they provide a song and say they want to learn a waltz to that song, and it is not a waltz. Helping them to see and understand the dances and why a song is specific is one thing we try to do to educate them on that journey. Another frustration is when people call and want to get dance lessons and think they can learn to dance in an hour or two. Dance is an art and no matter how simple you might want it to be, learning to dance takes time, and while we can normally help you to look wonderful and provide you with simple choreography in about ten hours, it is not something you can do the week of the wedding. Anyone that wants to learn how to dance needs to understand it takes time, and one dance style with just footwork basics and a few basic moves can easily take ten hours, and it all depends on the people, as everyone learns at different rates and has their own strengths. Most outsiders who hire event planners think they do everything, and while we do, it is not really what we are hired for. An event planner is there to help you maintain a budget, help you with ideas to do that, help you hire the people who can pull the vision together within the budget, and make sure all of those people do their job, and then on the day of event pull everything together. Unfortunately, most people who hire a planner have no idea that we spend upward of fifty to sixty hours preparing for an event of 100 to 150 people. Then we have at least two to three people spending about twelve man hours on the day of the event. So all in every event can take a planner about one hundred hours. But when people want to hire a planner they feel it should be something very inexpensive and so educating them on what is involved can help them understand, but still very doubtful they truly understand. Even day of coordination takes about forty man hours, because we start a month prior to the event and work with all vendors to prepare timelines and execution of the event, and again we are there for day of work. I certainly do not feel that people truly value planners or dance instructors as much as they should until they go through the experience and learn as the process progresses, then they have a deeper appreciation. This year has financially impacted many of the self employed in the industry, and will take time for recovery. It has been devastating for the industry and many will not survive. We are thankful that most of our clients on both fronts have stayed with us, and we feel so blessed to have had time this year to reflect on all our positives, and none of them so far being for COVID.
Can you open up a bit about your work and career? We're big fans and we'd love for our community to learn more about your work.
While event planning and dance are creative endeavors each to their own, it is what is in our soul. A passion for creating an event, is the same as a passion for creating choreography for a dance. Really embracing that passion and sharing it with others is what makes success. Nothing worth having is easy, and that is true on both sides of this business. On the dance side, Josh is a professional dancer and teacher, but he is also still an active competitor and so taking time for his own practice and choreography can be a challenge. Balancing time is important and so something that has to be taken into account as each week gets planned. Planning travel as well and what events to attend, are all part of being a strong professional that takes care of everyone. Being a world champion many times over takes a lot of work, but overall the pride that comes with it, and the excitement from the audience is all worth it. On the event side it is somewhat the same. We have to prepare events to a vision for a client and help them to understand why they can or can't have what they want based on budget, and or help them to have other ideas that will work. We guide them and help them along the way as we want them to be happy. One of the main challenges for a planner is that some clients are not happy, and no matter what we do they just are going to not be happy, and that for us is very difficult as we always strive for happy clients. Out of thousands of events I am glad that we have only had 3 that had any issues with their event, and to be honest we could not have done more than we did to help them. People sometimes try to take advantage of us, but we really just try to be fair with everyone.
If you had a friend visiting you, what are some of the local spots you'd want to take them around to?
Well certainly we love to make sure we take any visiting friend to spots we know they would love, as well we want to have them experience spots we love, and get a true taste of the area. We love to have visitors experience Tex Mex and so we definitely will visit a number of our faves, Taco Cabana for breakfast tacos, Papa Lopez for some great tex mex dishes as well as MiCocina, Uncle Julios, Lupe Tortilla, Mesas, Anamia's and one of our true faves, Joe T Garcias. Wow there are so many we love. Now of course we have to have BBQ in Texas so we will visit Rudy's which is our favorite as well as making sure we also take them to Whataburger, because you have to have that while in Texas. The original pancake house is another breakfast spot for us, and then we also love some Einstien's for a quick bite. Now we will make sure they get to experience the dancing scene, so we will visit, Red River, and Guitars and Cadilliacs, but it would not be complete without a trip to Billy Bob's Texas in Fort Worth and the stock yards. We want them to see downtown Dallas and take in some of the great scenic points there, but we like to get a little off the beaten path so we would take them to some of the spots we like. Fossil Rim, Blue Ostrich Winery and area, Lake Granbury, and Lake Texoma. Depending on the time of year we would want to visit the Dallas Arboretum for Fall Fest or 12 days of christmas. There is so much to do in the area but it depends on what your visitors enjoy and best ways to help them have fun.
Who else deserves some credit and recognition?
All of our clients are like family and without them we would not be where we are. Certainly the love and support of all our dance family is one we want to recognize. Trusting us to not only take care of them on the dance floor but being able to just have them in our lives is such a blessing. The encouragement and support that dancers provide to each other is something I wish more people could do in life.
Website: www.paperieandco.com
Instagram: paperiedallas
Linkedin: https://www.linkedin.com/in/cathy-zuniga-66a15213/
Twitter: https://twitter.com/Paperie_and_Co
Facebook: https://www.facebook.com/Paperieandcozchamp
Other: We have many of the dance videos on You Tube but we do keep them private, I am happy to share some of those with you – https://youtu.be/Li_p_uGRBq4 https://youtu.be/3K2BwGFActk https://youtu.be/lNgfZiE-twM
Nominate Someone:
ShoutoutDFW is built on recommendations and shoutouts from the community; it's how we uncover hidden gems, so if you or someone you know deserves recognition please let us know
here.